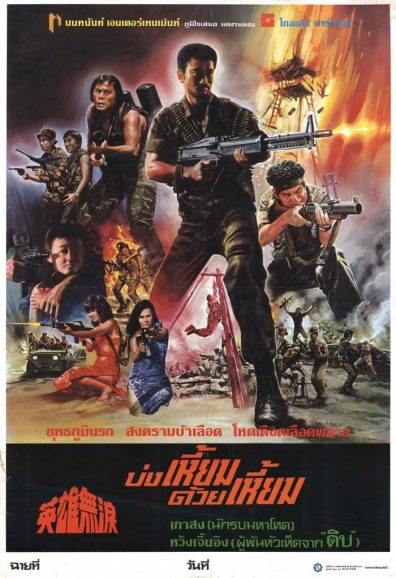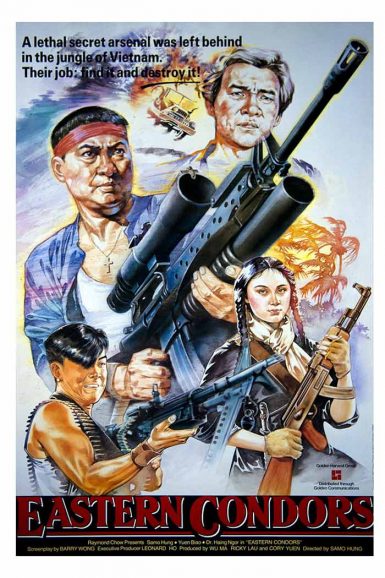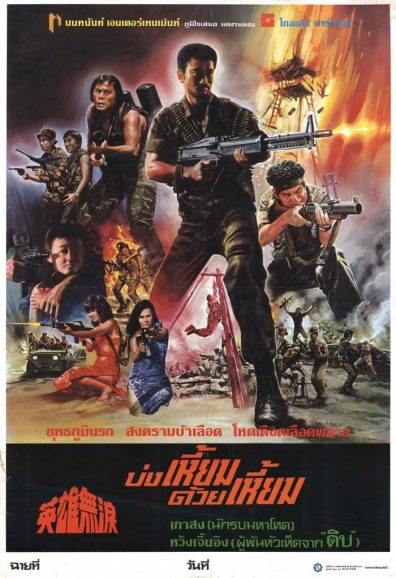 Heroes Shed No Tears
This was director John Woo's last picture before making his big international breakthrough with Chow Yun Fat in A Better Tommorow. Woo follows a scruffy crew of Chinese mercenaries led by Eddie Ko Hung (Swordsman III: The East is Red) as they run an ultra-violent gauntlet through the jungle into the Golden Triangle, on a mission to arrest a drug cartel leader. Things fall apart in spectacularly bloody fashion, with an insanely sadistic Vietnamese general (Lam Ching-Ying, the one-eyebrow priest of the Mr. Vampire series) going up against Ko Hung and his men. Relentlessly downbeat, with a reputation as filmmaker Woo's most gruesomely harrowing effort (e.g. eyeballs shot out, eyelids sewn shut, etc.,).
"Horrifically gory and violent… All the basic ingredients that gel in A Better Tomorrow, Bullet in the Head, and The Killer are present…And just like Shakespeare fans ignore Titus Andronicus, most Woo fans have skipped over this mean-spirited little number in favor of his higher profile, more stylish films. And you know, just like I love Titus Andronicus, I love this film." – Teleport City
Director

John Woo
Starring

Eddy Ko, Lam Ching-ying, Ma Ying-Chun
Year

1986
Country

Hong Kong
Format

English subtitled 35mm
Running Time

82 minutes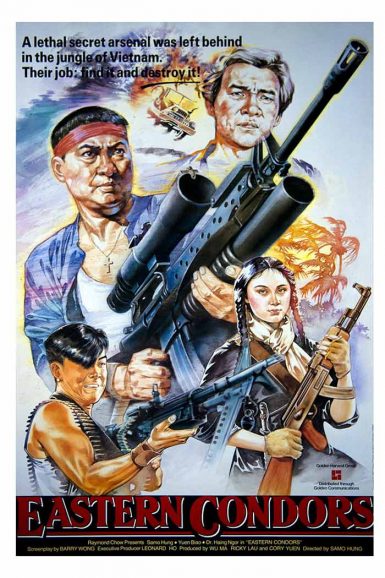 Eastern Condors
Directed by and starring beloved Hong Kong action guru Sammo Hung, Eastern Condors remains to this day one of Hung's most popular films. Co-starring the almost as famous eighties HK star Yuen Biao ( Zu: Warriors from Magic Mountain) and the late Haing S. Ngor (The Killing Fields). A gang of convicted Chinese-American hoodlums are offered a huge sum of money and legal residency in the states if they will venture deep into the Vietnamese jungle to blow up a secret munitions dump American soldiers left behind after their exit from the conflict. The men accept and join up with female Cambodian guerrillas (including Joyce Godenzi, The Seventh Curse) to assault the now Vietcong-held site. Insanely enjoyable!
"A world-class war movie that recalls everything from certified tough-guy classics like The Dirty Dozen to Sylvester Stallone's silly Rambo epics (with a dash of Michael Cimino's harrowing The Deer Hunter thrown in for good measure), Eastern Condors is an absurdly entertaining head rush of ultra-violent martial mayhem, campy humor, manly melodrama, and phenomenal stuntwork guaranteed to have Hong Kong action fanatics leaping out of their seats with excitement… over-the-top in the best sense" – Joey O'Bryan, The Austin Chronicle
Director

Sammo Hung
Starring

Sammo Hung, Biao Yuen, Haing S. Ngor
Year

1987
Country

Hong Kong
Format

English subtitled 35mm
Running Time

97 minutes