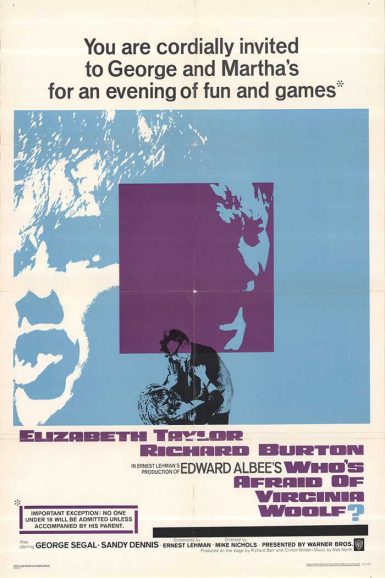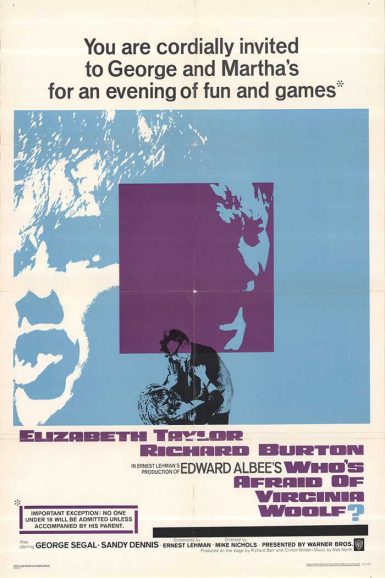 Who's Afraid of Virginia Woolf?
Elizabeth Taylor picked up her second Best Actress Oscar for her volcanic performance in the masterful big screen adaptation of the Edward Albee play Who's Afraid of Virginia Woolf?, while the film made history as only the second movie to be nominated in every eligible category, scoring a total of five statues. Taylor and her real-life husband Richard Burton play a volatile married couple whose bitter, tumultuous, alcohol-fueled relationship erupts across one night while entertaining a young twosome (George Segal and Sandy Dennis) at home.
"One of the most scathingly honest American films ever made." – Stanley Kauffmann, The New York Times
"The screen has never held a more shattering and indelible drama than Who's Afraid of Virginia Woolf? Edward Albee's stage play was a masterpiece. The makers of this film have created from it a motion picture masterpiece. It will be nominated for every category it fits in next year's Academy Awards, and it deserves to win them all. It will tote up an equally impressive score at the boxoffice. Who's Afraid of Virginia Woolf? is an instant film classic, and Warner Bros. deserves the highest credit for making it a movie without compromise." – The Hollywood Reporter
Director

Mike Nichols
Starring

Elizabeth Taylor, Richard Burton, George Segal, Sandy Dennis
Year

1966
Country

USA
Format

35mm
Running Time

131 minutes
Upcoming Showtimes
2:00 pm
Who's Afraid of Virginia Woolf?