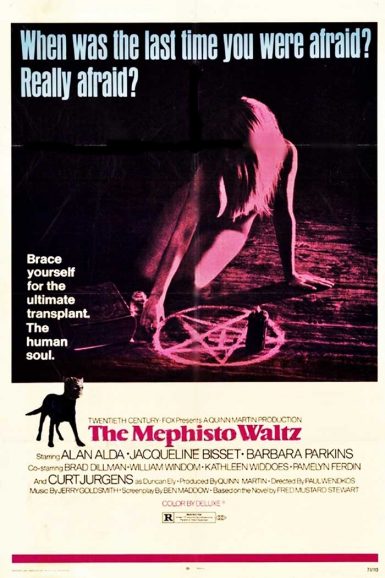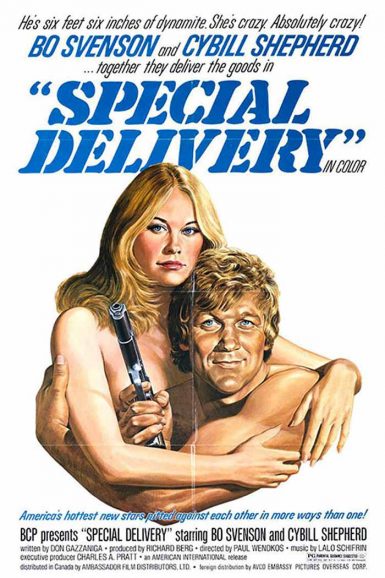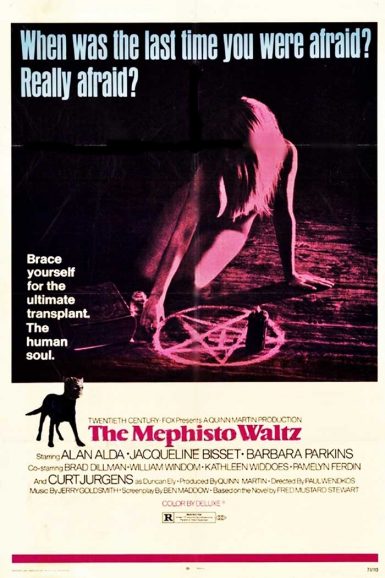 The Mephisto Waltz
Alan Alda is Myles, a music journalist and frustrated pianist, who interviews the leukemia-stricken Duncan (Curt Jurgens), a virtuoso on the instrument. What Myles doesn't know is that Duncan is also a Satanist, along with his sexy daughter Roxanne (Barbara Parkins of Valley of the Dolls), and that the two have plans to transfer Duncan's soul into Myles' body upon the old man's death. Myles' wife Paula (Jacqueline Bisset) doesn't like becoming friends with the strange couple. When Duncan dies, Myles' personality changes, and he suddenly becomes an accomplished pianist. Paula's alarm bells go off and get louder when she has a dream about their daughter's death, followed by the real thing. Suddenly, she finds herself in uncharted supernatural territory.
"…dream sequences… a healthy dose of Satanic ritual and incantation… bizarre murders and body exchanges… and, of course, plenty of illicit sexual encounters… with just enough exposed flesh to create a heady mixture of arousal and disgust." – PopMatters
View the complete set of US lobby cards for The Mephisto Waltz on the New Beverly forum.
Garret Mathany discusses The Mephisto Waltz on the New Beverly blog.
Director

Paul Wendkos
Starring

Alan Alda, Jacqueline Bisset, Barbara Parkins, Bradford Dillman, William Windom
Year

1971
Rated

R
Country

USA
Format

35mm
Running Time

115 minutes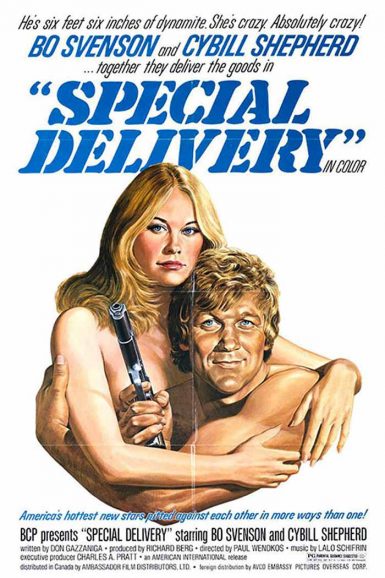 Special Delivery
In Paul Wendkos' heist comedy Special Delivery, a group of Vietnam vets hard up for hard cash hold up a bank. With the cops in hot pursuit, the only robber to make a getaway (Bo Svenson) has to stash the cash in a mailbox, with plans to hide out and wait until the mailman makes his late-night pickup. But sparks begin to fly when the woman (Cybill Shepherd) who lives across the street spots the drop and wants a share of the loot. And she may not be the only one with eyes on the money. The stellar supporting cast includes Gerrit Graham, Jeff Goldblum, Vic Tayback, and more!
Director

Paul Wendkos
Starring

Bo Svenson, Cybill Shepherd
Year

1976
Country

USA
Format

16mm
Running Time

99 minutes