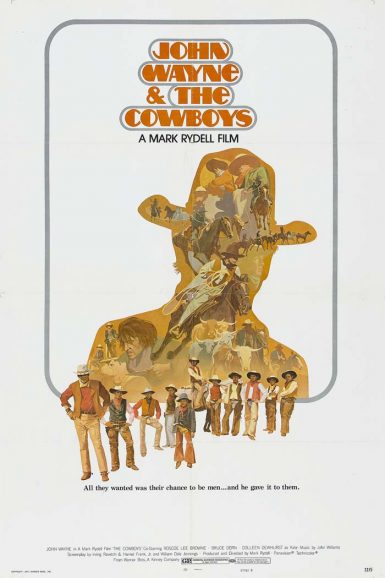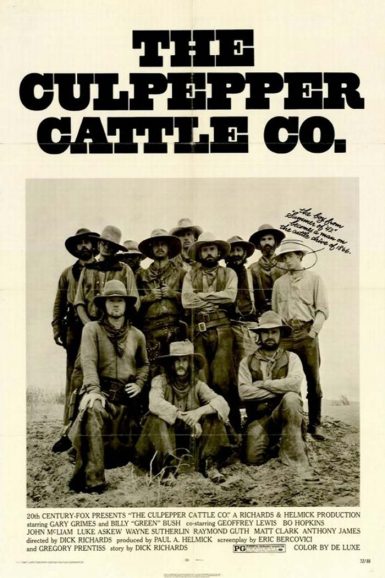 The Cowboys (IB Tech Print)
Vibrant IB Technicolor 35mm print!
The Culpepper Cattle Co.
Buy Tickets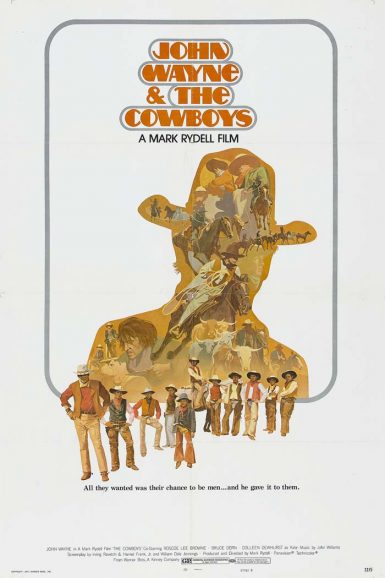 The Cowboys (IB Tech Print)
In The Cowboys, John Wayne is Wil Andersen, a cattle-rancher who loses his ranch hands when they get wind of a gold rush, and give up the back-breaking work of bringing cattle to market for the opportunity to get rich quick. With time not on his side, the Duke is persuaded by Anse Peterson (Slim Pickens) to consider using local school kids to take their place, and given his limited options, he decides to take the young boys on the hardscrabble 400 mile trail ride, where he teaches them to become young men – and school is in session.
Bruce Dern plays the most sinister character in his acting canon as Long Hair, a rejected ranch hand that leads a gang of cattle rustlers that's bird dogging the Duke's cattle drive. John Wayne famously told Dern during shooting that audiences would "hate" him for playing such a pitiless character, and Dern has said his career suffered for the extreme prejudice he exacts on the screen icon.
Director

Mark Rydell
Starring

John Wayne, Roscoe Lee Browne, Bruce Dern, Colleen Dewhurst
Year

1972
Country

USA
Format

35mm
Running Time

126 minutes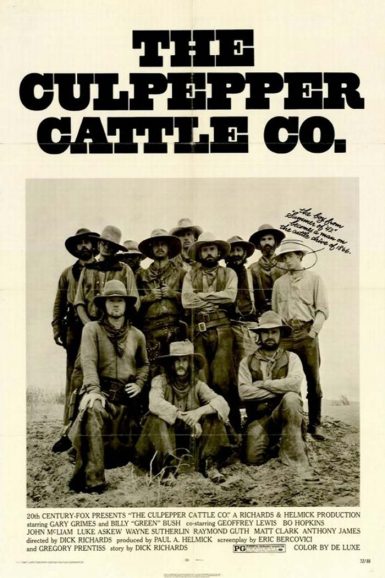 The Culpepper Cattle Co.
Dick Richards (Farewell My Lovely) made his directorial debut with this unforgiving demythologizing of the Old West. Gary Grimes (The Summer of '42) is Ben, a naïve young whippersnapper reluctantly hired on by unsentimental trail boss, Culpepper (Billy Green Bush, of Five Easy Pieces) for his upcoming cattle drive. Hardboiled Culpepper is doubtful that Ben has got the sagebrush smarts and cojones to become an efficient cowboy. In the tradition of The Wild Bunch, Richards' revisionist effort depicts all the spontaneous, casual brutality that can lurk just around the next bend in the road. All manner of villains are encountered, from egomaniacal trail hands, thieving trappers and one-eyed highwaymen to fatcat, 'I'm-entitled-to-it-all' empire builders (John McLiam) and duplicitous, hypocritical preachers. With a seventies dream supporting cast, including Luke Askew (Cool Hand Luke), Bo Hopkins (The Wild Bunch), Charles Martin Smith (Pat Garrett and Billy the Kid), Geoffrey Lewis (Every Which Way But Loose) and Matt Clark (The Outlaw Josey Wales).
"The Culpepper Cattle Co. is one of the best of the revisionist westerns of the early 70s, just behind Bad Company and Robert Aldrich's searing Ulzana's Raid." – Glenn Erickson, DVD Savant
"Well acted by a fantastic cast of familiar faces and masterfully filmed by the director and his crew, you will feel the dirt, sweat and funk in this tale of hard life and true grit." – Brian Bankston, Cool Ass Cinema
View a collection of stills from The Culpepper Cattle Co. on the New Beverly forum.
Director

Dick Richards
Starring

Gary Grimes, Billy Green Bush, Luke Askew, Bo Hopkins, Geoffrey Lewis
Year

1972
Country

USA
Format

35mm
Running Time

92 minutes