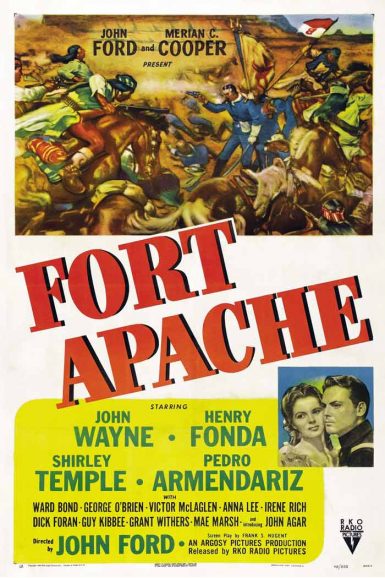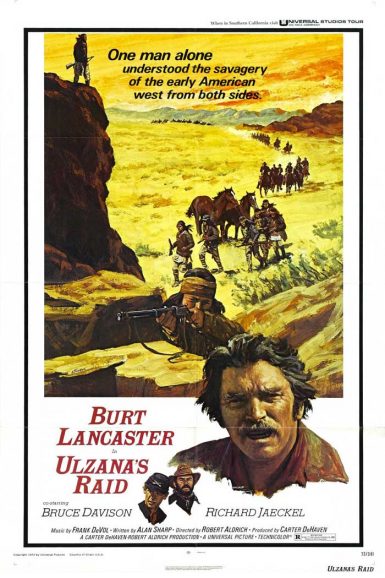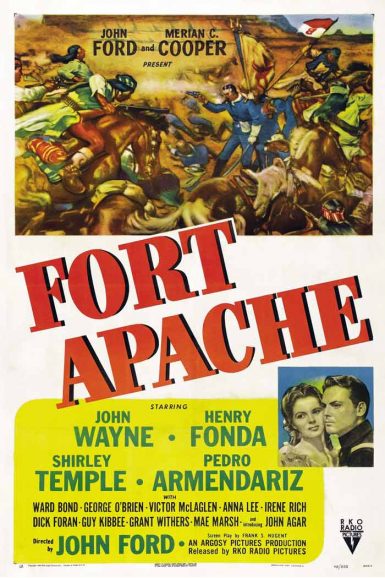 Fort Apache
At Fort Apache, troops are stunned to learn that command of their regiment will go to the arrogant and glory hungry Lieutenant Colonel Owen Thursday (Henry Fonda), instead of the highly qualified Captain Kirby York (John Wayne), who is well-respected amongst the Apache tribe. As Thursday prepares for a reckless charge into the frontier, disregarding York's rebukes, his daughter Philadelphia (Shirley Temple) falls for a handsome, bright-eyed soldier despite her father's disapproval about their class differences. Glory, honor, life, and death are on the line in John Ford's monumental Fort Apache.
"Cast is as tremendous as the scope achieved by Ford's direction" – Variety
"For fans of the genre this is some of Ford's most meticulous work." – David Parkinson, Empire Magazine
"Folks who are looking for action in the oldest tradition of the screen, observed through a genuine artist's camera, will find plenty of it here." – Bosley Crowther, The New York Times
Director

John Ford
Starring

John Wayne, Henry Fonda, Shirley Temple, Pedro Armendariz, Ward Bond, George O'Brien, Victor McLaglen, Anna Lee, Irene Rich, Dick Foran, Guy Kibbee, Grant Withers, Mae Marsh, John Agar
Year

1948
Country

USA
Format

35mm
Running Time

128 minutes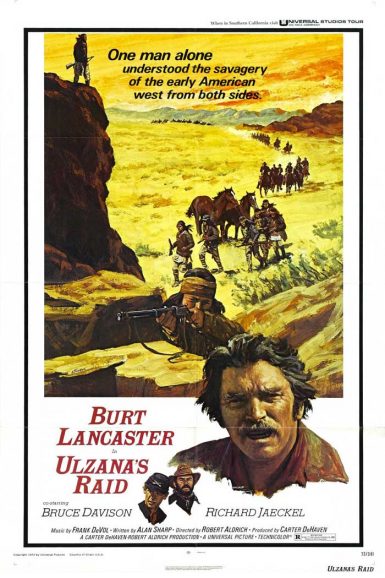 Ulzana's Raid
When escaped Apache Ulzana (Joaquin Martinez) and his band of warriors break free from the confines of their reservation, they set out on a bloodlust spree to kill homesteaders, and a small group of Calvary soldiers are tasked with capturing or killing Ulzana and his men. The soldiers are led by inexperienced officer Lt. Garnett DeBuin (Bruce Davison), who's Christian upbringing gives him a naïve understanding of what the Apache are capable of and why. Burt Lancaster is veteran scout McIntosh, whose tired eyes have seen too much killing from both the white man and the Apache, and who foretells of the carnage to come. Apache scout Ke-Ni-Tay (Jorge Luke) knows the art of Ulzana's war and is a man McIntosh trusts, but with the advantage of knowing the territory and how to stealthily move through the rugged terrain, Ulzana and his warriors prove to be formidable enemies. The ensemble performances are authentic with Burt Lancaster's steely restraint proving to be one of his all-time best.
Garret Mathany discusses Ulzana's Raid on the New Beverly blog.
Director

Robert Aldrich
Starring

Burt Lancaster, Bruce Davison, Jorge Luke, Richard Jaeckel, Joaquín Martínez
Year

1972
Country

USA
Format

35mm
Running Time

103 minutes