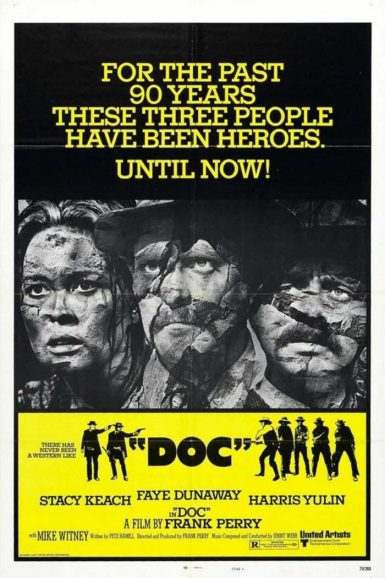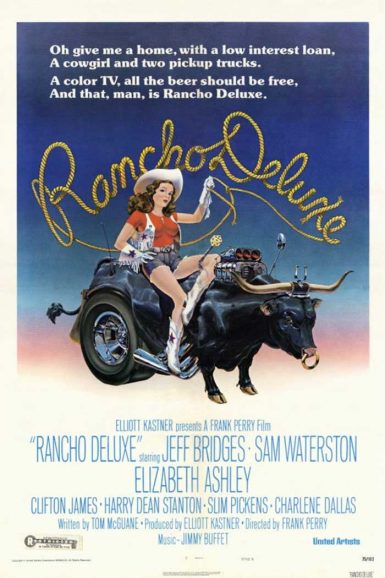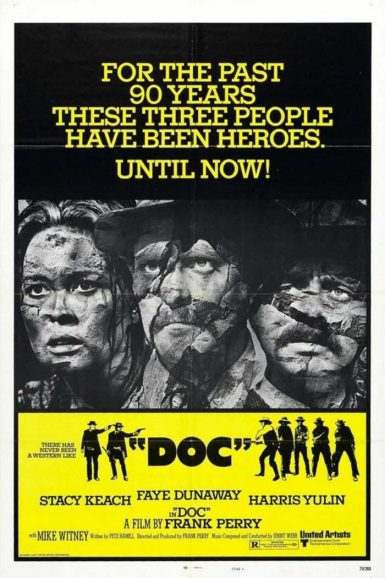 "Doc"
Director Frank Perry deconstructs the legends of Doc Holliday (Stacey Keach) and Wyatt Earp (Harris Yulin) with a vengeance in this superb revisionist take on what went down in Tombstone at the OK Corral. Alcoholic former dentist and gunslinging gambler Holliday settles in Arizona to help treat his tuberculosis, wins one of the Clanton gang's wives, Kate (Faye Dunaway) in a game of poker and runs into old friend, Wyatt (Harris Yulin). Keach hits just the right tone with his portrayal of the dissolute idealist who is alternately at odds with those closest to him but also a loyal friend. Yulin's Earp is a conflicted, ambitious man, believing in the rule of law, but also a calculating politician campaigning for sheriff, ready to go up against the most powerful interests in town – which just happen to be the Clantons.
"Perry's approach to those strange events so many years ago in Tombstone is altogether fascinating. It is also a good western. Perry – and Pete Hamill, who wrote the original screenplay – are also brand-new to the western. And so they have created their own genre, in a way, just as McCabe and Mrs. Miller seemed to be discovering the western for itself." – Roger Ebert
Ariel Schudson discusses Doc on the New Beverly blog.
Director

Frank Perry
Starring

Stacy Keach, Faye Dunaway, Harris Yulin, Michael Witney
Year

1971
Country

USA
Format

35mm
Running Time

96 minutes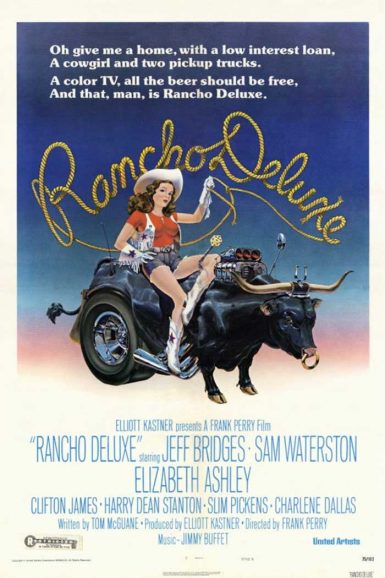 Rancho Deluxe
Frank Perry directs this charmingly oddball comedy-drama written by Thomas McGuane (The Missouri Breaks, 92 in the Shade) about too young, lazy contemporary cattle rustlers (Jeff Bridges, Sam Waterston). The two have a genial contempt for a big time cattle rancher (Clifton James) who bought his spread after selling his chain of beauty parlors. Married to young, sexy Elizabeth Ashley, James' character is oblivious to Ashley's regular failed attempts to seduce his hapless ranch hands. Curt and Burt (Harry Dean Stanton and Richard Bright). When James has had enough of the cattle rustling mischief, he hires elderly, apathetic range detective Slim Pickens to find the culprits.
"Rancho Deluxe never aspires to be a great drama, western, or satire of either. Somehow, it ends up being all of the above…there's a difference between a movie that flounders and one that drifts. This one drifts magnanimously. If the object of a movie was to be as low key and goofy as possible, Rancho Deluxe would be a masterpiece." – Joe Valdez, The Distracted Globe
"An underrated anti-western about modern-day cattle rustlers." – TV Guide
Ariel Schudson discusses Rancho Deluxe on the New Beverly blog.
Director

Frank Perry
Starring

Jeff Bridges, Sam Waterston, Elizabeth Ashley, Clifton James, Slim Pickens
Year

1975
Rated

R
Country

USA
Format

35mm
Running Time

93 minutes