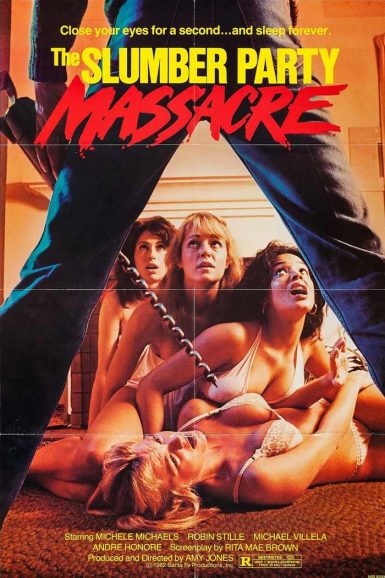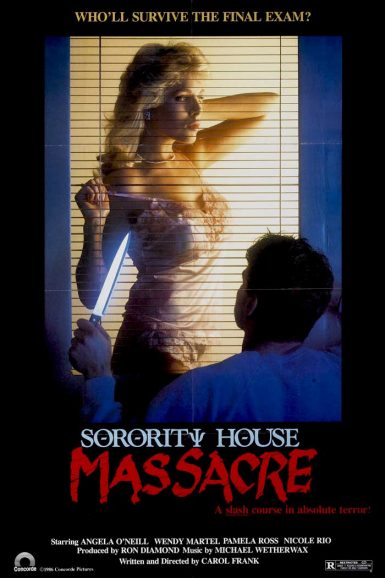 The Slumber Party Massacre (Special Guests)
Sorority House Massacre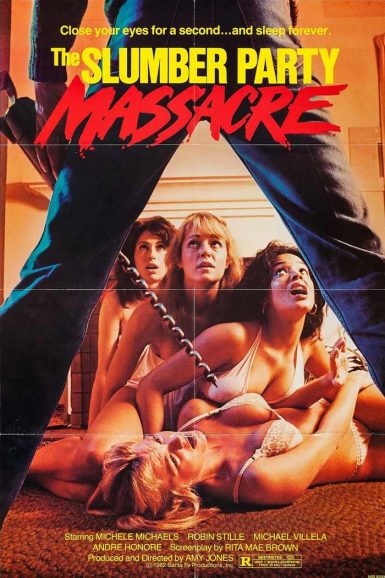 The Slumber Party Massacre (Special Guests)
Director Amy Holden Jones and co-star David Millbern will join us IN PERSON, schedules permitting, to discuss!
While our allotment of advance tickets has sold out online, some additional tickets will be available to purchase at the theater the night of the show on a first come, first served basis.
Penned by feminist icon and Rubyfruit Jungle author Rita Mae Brown as a full-fledged parody, director Amy Holden Jones wisely balances the line, playing it straight so the film works both as a white knuckle thrill-ride and a pointed commentary on the male-driven stalk-and-slash cycle. And The Slumber Party Massacre is one of the most-beloved of the era, the ultimate driller killer slashterpiece, a streamlined tour de force pulsing with energy that barrels forward while piling up bodies, pizza, snappy dialogue and phallic imagery as a wide-eyed, power-tool-wielding maniac crashes the high school basketball team's pajama jam. One thing's for sure, no one's getting any sleep tonight!
Director

Amy Holden Jones
Starring

Michelle Michael, Robin Stille, Michael Villella, Andrew Honore, Debra De Liso, David Millbern
Year

1982
Rated

R
Country

USA
Format

35mm
Running Time

77 minutes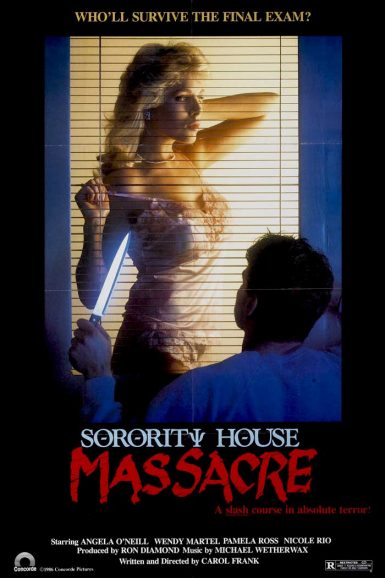 Sorority House Massacre
Think college tests are tough? The Thetas are about to take a final exam where the stakes are not pass / fail but live / die. A surprisingly late entry in the Halloween knock-off craze, writer / director Carol Frank's Sorority House Massacre is a hypnotic dream puzzle via slice 'n dice slasher, equal parts Elm Street blurred reality and Michael Myers unstoppable terror, a potent & stylish mid-decade mind-melter packed wall-to-wall with teased hair, pastel fashion and outrageous attitude. While slow motion nightmares and ominous blood-fueled visions plague the new sorority sister, a crazed killer escapes a mental institution intent on striking again. Could the two be connected?
Director

Carol Frank
Starring

Angela O'Neill, Wendy Martel, Pamela Ross, Nicole Rio
Year

1986
Rated

R
Country

USA
Format

35mm
Running Time

74 minutes