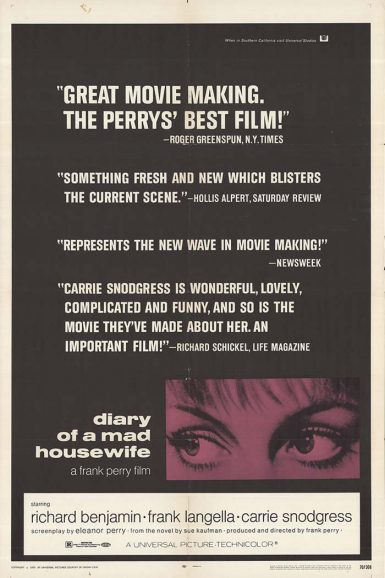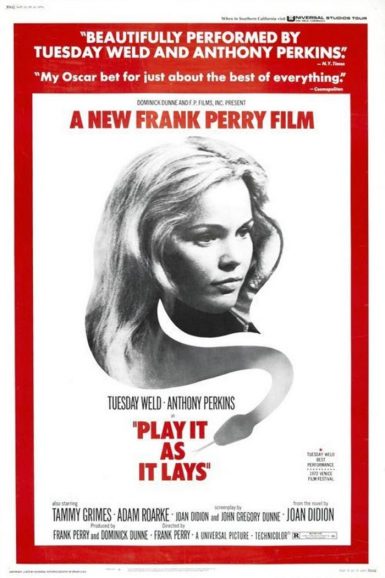 Diary of a Mad Housewife
Not Available on DVD!
Play It As It Lays
Not Available on DVD!
Buy Tickets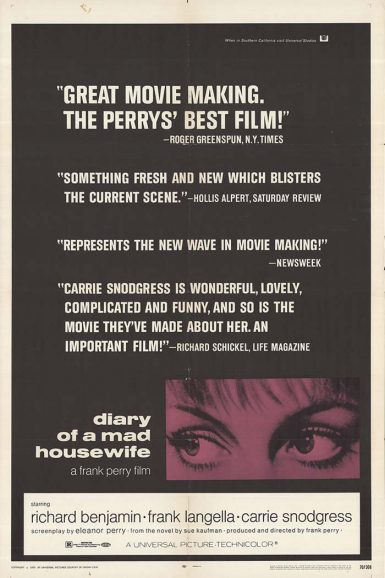 Diary of a Mad Housewife
Frank Perry once again directs an Eleanor Perry script adaptation, this time from Sue Kaufman's eponymous novel. Richard Benjamin (Portnoy's Complaint, the original Westworld) is an ambitious lawyer grabbing for the top rung of the corporate ladder in New York's high society. His mission reaches fetishized heights as he dominates his beleagured wife (Carrie Snodgress) and two daughters, so much so that Snodgress takes a secret lover (Frank Langella), a man as egocentric as her hubby, in a misguided attempt to blow off steam. This cinematic dissection of big city, middle class family life is expertly balanced between merciless satire and heartrending drama, never losing its moorings. Snodgress received a Best Actress Oscar nomination and won a Golden Globe in the same category. Keep your eyes peeled for a startling, early appearance by Alice Cooper in a wild party scene. In an unrelated musical footnote, Neil Young reportedly was so smitten by Snodgress' performance, he penned his song "A Man Needs a Maid" after seeing the film, and it led to several years of romance between the two.
"Diary of a Mad Housewife escapes its genre, its understanding of relationships and motives, and becomes the kind of present and lucid mystery that signifies great movie making." – Roger Greenspun, The New York Times
View a collection of international posters for Diary of a Mad Housewife on the New Beverly forum.
Ariel Schudson writes about Frank & Eleanor Perry on the New Beverly blog.
Director

Frank Perry
Starring

Richard Benjamin, Frank Langella, Carrie Snodgress, Lorraine Cullen
Year

1970
Rated

R
Country

USA
Format

35mm
Running Time

95 minutes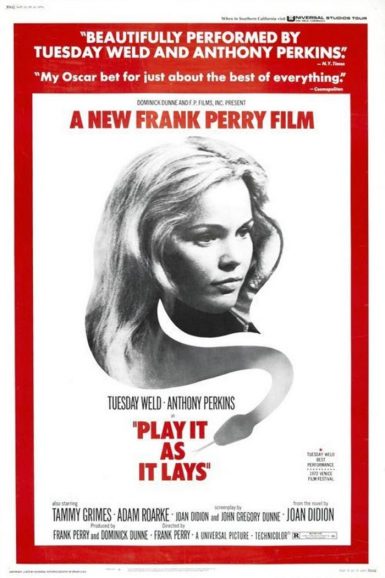 Play It As It Lays
Frank Perry adapts Joan Didion's acclaimed debut novel Play It As It Lays, crafting a lyrical ode to an American angel of death and desire. Maria Wyeth's built a successful acting career from humble small town root, but her life falls apart behind the scenes. Her abusive husband is also her director (Adam Roarke), she's pregnant with an unwanted child pre-Roe V. Wade, and the 4-year-old daughter she does have is institutionalized. She can't help but aimlessly drive L.A. freeways, bitch casually with depressed, gay best friend, B.Z. (Anthony Perkins), and lounge, lethargic and lilting, everywhere in between. A scathing scream into the bitter, dizzying emptiness of it all, this film is as beautiful as it is cruel.
Kim Morgan discusses Play It As It Lays on the New Beverly blog.
Director

Frank Perry
Starring

Tuesday Weld, Anthony Perkins, Tammy Grimes, Adam Roarke
Year

1972
Rated

R
Country

USA
Format

35mm
Running Time

99 minutes