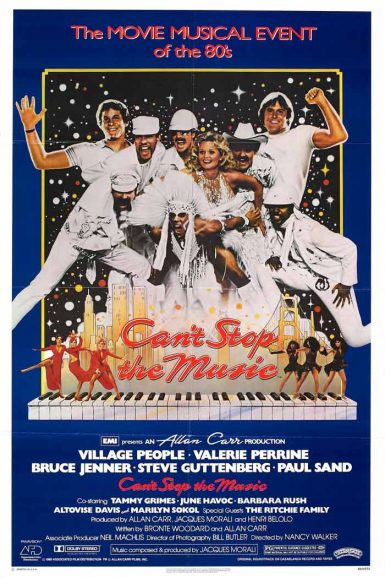 Can't Stop the Music
The most jaw-droppingly exuberant movie musical of the '80s creates a semi-fictional, too-good-to-be-true tale about the legendary formation of disco supergroup the Village People. Steve Guttenberg co-stars as a New York disc jockey who, with the help of his superstar supermodel roommate (Valerie Perrine), assembles a group of Greenwich Village friends to record a demo of his catchy tunes. With the Village People playing a winking version of themselves, Can't Stop the Music is irresistible, infectious high camp packed with ridiculously entertaining musical numbers, goofy comedy, and hordes of handsome young men – you've never seen anything like it!
Marc Edward Heuck writes about Can't Stop the Music for the New Beverly blog.
Director

Nancy Walker
Starring

Village People, Valerie Perrine, Caitlyn Jenner, Steve Guttenberg, Paul Sand
Year

1980
Rated

PG
Country

USA
Format

35mm
Running Time

124 minutes