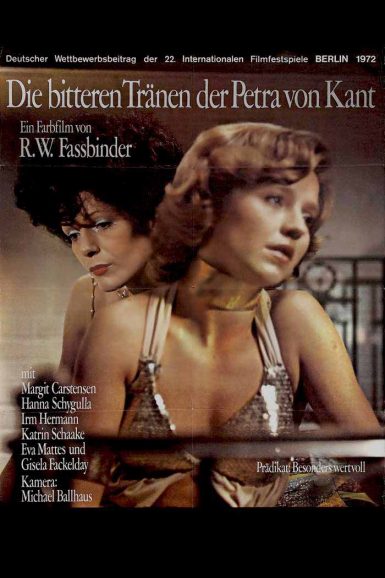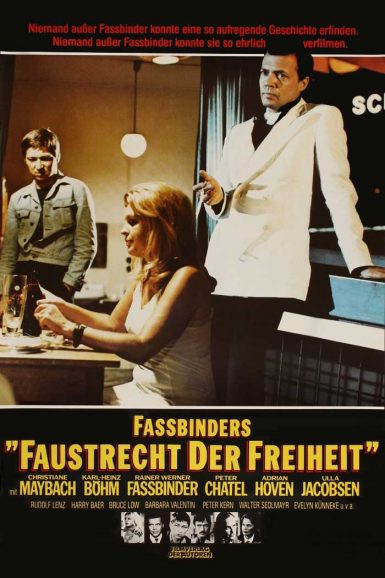 The Bitter Tears of Petra von Kant
Fox and His Friends
Buy Tickets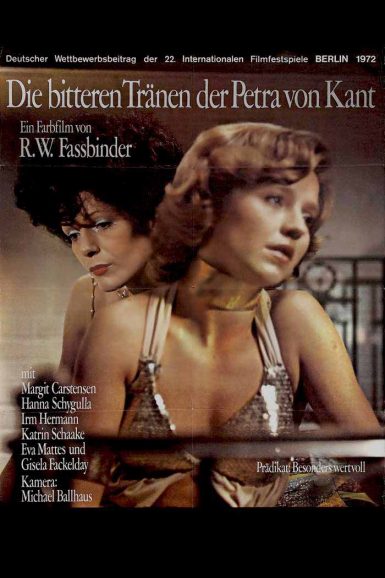 The Bitter Tears of Petra von Kant
A turning point in Rainer Werner Fassbinder's brief, but unbelievably prolific career, The Bitter Tears of Petra von Kant marked his shift from Godard-inspired enfant terrible to Sirkian romantic. His characters were no longer to deliver dry polemics, but heave, cry, and laugh with implosive energy. His abusive fashion designer Von Kant distills Fassbinder's manifest obsessions with restless creative appetites, as her life soars and sinks on the affections of a vapid young model. Shot with insane visual acuity by the iconic Michael Ballhaus, this film is an art house pillar and one of the most memorable creations from the German provocateur.
"A brilliantly directed and performed psychodrama." – Michael Scheinfeld, TV Guide
"The set and costume design and the hothouse atmosphere represent so much high-camp gloss; but once again this careful stylization enables Fassbinder to balance between parody of an emotional stance and intense commitment to it. He films in long, elegant takes, completely at the service of his all-female cast, who are uniformly sensational." – Time Out
Director

Rainer Werner Fassbinder
Starring

Margit Carstensen, Hanna Schygulla, Irm Hermann, Katrin Schaake, Eva Mattes, Gisela Fackelday
Year

1972
Country

West Germany
Format

English subtitled 35mm
Running Time

124 minutes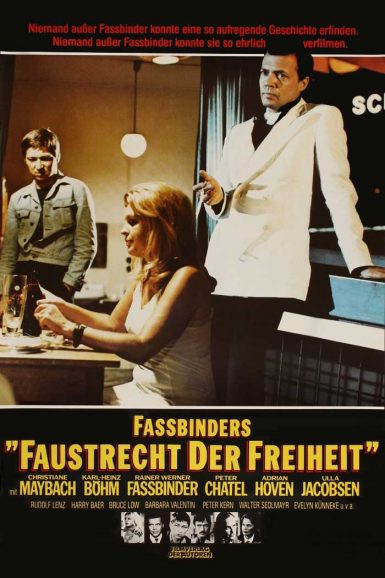 Fox and His Friends
A heartbreaking tragedy and incisive class drama, Rainer Werner Fassbinder's Fox and His Friends stars the director himself as Fox, a working-class gay hustler who wins the lottery and, soon after, the affections of a bourgeois antique dealer. But such divergent backgrounds loom over the star-crossed lovers, and successive misfortunes suggest that perhaps love cannot conquer all. Fassbinder was an addict and a libertine who slept with partners of all gender identities and expressions, and no film quite captures the turmoil of his personal life like this one.
"Here is a movie about characters who define themselves by their sexuality, but the movie doesn't. It takes the sexuality as a given, and defines them by their values and morals." – Roger Ebert
Director

Rainer Werner Fassbinder
Starring

Peter Chatel, Rainer Werner Fassbinder, Karl-Heinz Böhm, Adrian Hoven, Christiane Maybach, Harry Bär, Kurt Raab, El Hedi ben Salem
Year

1975
Country

West Germany
Format

English subtitled 35mm
Running Time

123 minutes