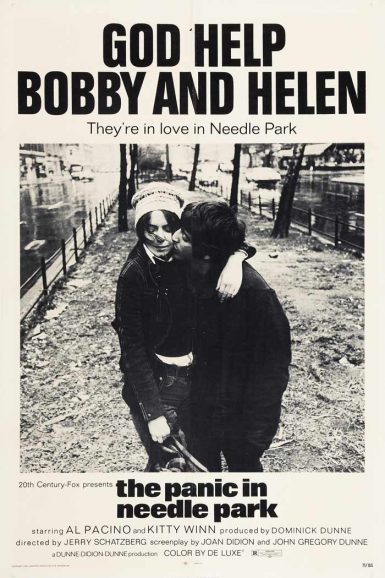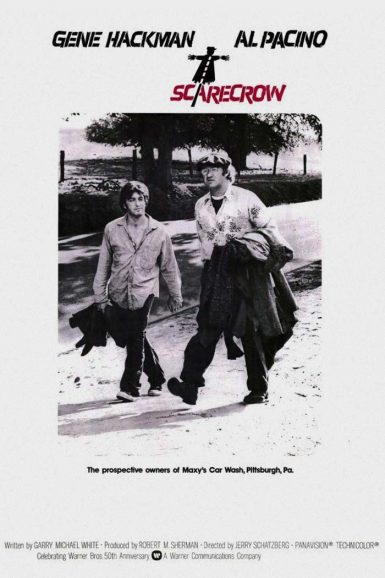 The Panic in Needle Park
Scarecrow (IB Tech Print)
Vibrant IB Technicolor Print!
Buy Tickets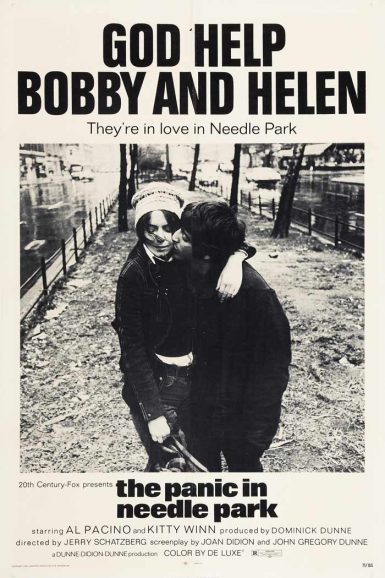 The Panic in Needle Park
The seductive hands of addiction role up the sleeves of Bobby (Al Pacino) and Helen (Kitty Winn), in director Jerry Schatzberg's uncompromising trip through heroin hell in The Panic in Needle Park, a film that still stands today as one of the greatest anti-drug films ever made. After Helen experiences a traumatic abortion, and returns to her boyfriend Marco (Raul Julia), she catches the eye of his friend Bobby – a small time thief and junkie. After Bobby wins her over with his tenderness and charisma, the two move in together, and Bobby's world of hustling and trying to score heroin, so too becomes Helen's life. In what was only the second big screen efforts of Schatzberg, Pacino and Winn, the triumvirate create a love story that is engrossing and heartbreaking, as the young couple tries to reconcile the love for each other, and the heroin that is destroying them – with all the disappointments and betrayals that their addiction injects.
"The movie lives and moves. It is not filled with quick cutting or gimmicky editing, but Jerry Schatzberg's direction is so confident that we cover the ground effortlessly. We meet the characters, we get to know the world." – Roger Ebert
"Schatzberg moves with considerable force over the urban territory of Midnight Cowboy, using hand-held cameras and a sustained editing rhythm to convey the couple's gradual descent into hell as mercilessly as he shows the needles entering his characters' veins" – Time Out
Howard S. Berger writes about director Jerry Schatzberg on the New Beverly blog.
Kim Morgan discusses The Panic in Needle Park on the New Beverly blog.
Director

Jerry Schatzberg
Starring

Al Pacino, Kitty Winn, Alan Vint, Richard Bright, Kiel Martin
Year

1971
Rated

PG
Country

USA
Format

35mm
Running Time

110 minutes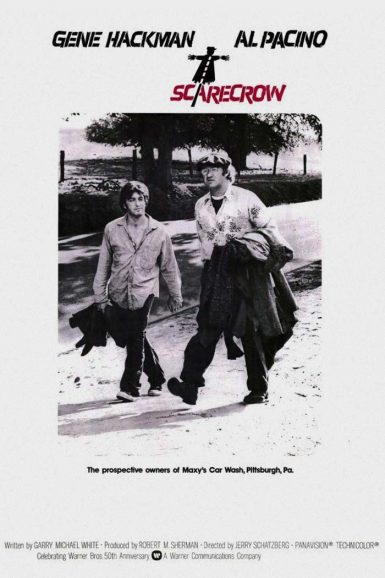 Scarecrow (IB Tech Print)
With bittersweet humor, Scarecrow follows two hardscrabble drifters and friends stuck on the outs looking for a chance to start over. Silver tongued charmer and self-described "meanest sum-bitch alive," Max (Gene Hackman) convinces sensitive ex-sailor Lion (Al Pacino) to go in on a car wash venture and an accompanying odyssey across the country to Pittsburgh for promised start-up cash. This lyrical dual portrait is Steinbeck for the Seventies, a ballad for soldiers of misfortune and their ill-advised dreams and heartfelt flaws. Warmly directed by Jerry Schatzberg and shot by Vilmos Zsigmond, this New Hollywood gem showcases Hackman and Pacino at their most creative and overall brims with the urgency and vitality which defined that halcyon period in American film.
"A virtuoso piece of acting by Hackman and Pacino" – Roger Ebert
"Hollywood movies have rarely spoken such tough and tender truths." – Keith Uhlich, Time Out
"The passing years have proven Scarecrow's continuing appeal as a low-key character study, a downbeat ode to the downtrodden, an elegy for the American dream gone sour. Director Jerry Schatzberg and DP Vilmos Zsigmond craft a visually rich and evocative film as attuned to the rhapsodic vistas of the American pastoral as it is to the squalid dive bars and inhumane work farms that provide the grungy backdrop for screenwriter Garry Michael White's loose-limbed drama." – Budd Wilkins, Slant Magazine
View a collection of promotional material for Scarecrow on the New Beverly forum.
Howard S. Berger writes about director Jerry Schatzberg on the New Beverly blog.
Kim Morgan discusses Scarecrow on the New Beverly blog.
Director

Jerry Schatzberg
Starring

Gene Hackman, Al Pacino, Dorothy Tristan, Ann Wedgeworth, Richard Lynch, Eileen Brennan, Penelope Allen
Year

1973
Rated

R
Country

USA
Format

IB Technicolor 35mm
Running Time

112 minutes