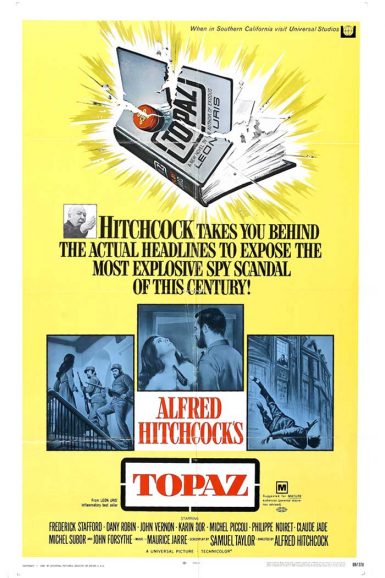 Topaz (IB Tech Print)
Vibrant I.B. Technicolor 35mm Print!
Buy Tickets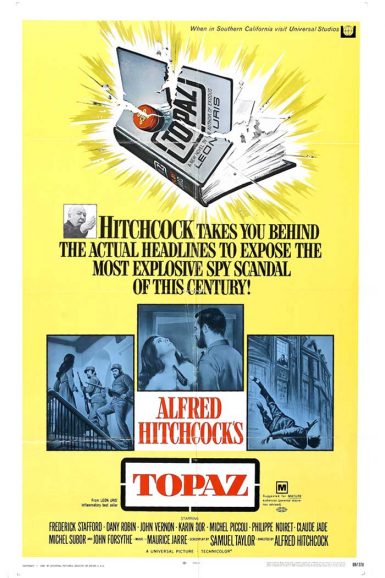 Topaz (IB Tech Print)
Hitchcock takes you behind the actual headlines to expose the most explosive spy scandal of the century! Based on the Cold War novel by Leon Uris, Topaz is a twisted tale of treacherous intrigue and stealthy cloak-and-dagger excitement. When a high-ranking Soviet officer defects to the West, the CIA enlists the help of a French operative to find out the truth behind rumors of Russian missiles being staged in Cuba. But to untangle the dangerous truth, he'll have to navigate an international web of lies.
"Topaz is not only most entertaining. It is, like so many Hitchcock films, a cautionary fable by one of the most moral cynics of our time." – Vincent Canby, The New York Times
"Few directors are capable of this kind of structural experimentation so late in their careers, and Hitchcock deserves much credit for his audacity." – Dave Kehr, Chicago Reader
Director

Alfred Hitchcock
Starring

Frederick Stafford, Dany Robin, John Vernon, Karin Dor, Michel Piccoli, Philippe Noiret, Claude Jade, Michel Subor, John Forsythe
Year

1969
Country

USA
Format

I.B. Technicolor 35mm
Running Time

125 minutes