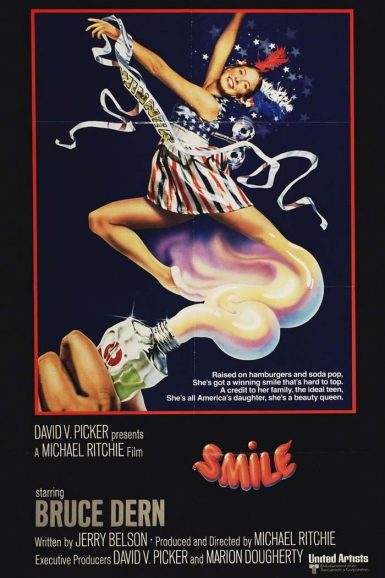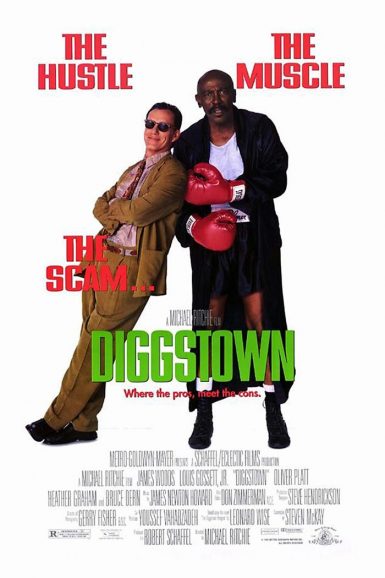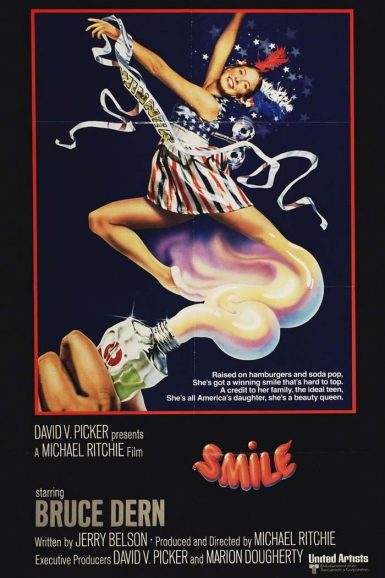 Smile
Acclaimed director Michael Ritchie takes his satirical sword to beauty pageant culture in the 1975 film Smile. The movie takes place in the week leading up to the California Young American Miss competition, where local winners from all over the Golden State gather to compete for a chance to go to the national contest. The ensemble cast consists of the many teenage competitors, some innocent and others cutthroat, and the various adults making a living off of the commodification of their youth and beauty, including pageant staff, judges and a very full of himself Hollywood choreographer. Bruce Dern, Geoffrey Lewis, Annette O'Toole and a young Melanie Griffith bring the laughs as the pageant world is skewered mercilessly in this ahead of its time comedy.
"Smile, which is Mr. Ritchie's best film to date (better than both Downhill Racer and The Candidate), questions the quality of our fun, while adding to it." – Vincent Canby, The New York Times
Kim Morgan discusses Smile on the New Beverly blog.
Marc Edward Heuck discusses Smile on the New Beverly blog.
Director

Michael Ritchie
Starring

Bruce Dern, Barbara Feldon, Michael Kidd, Geoffrey Lewis, Eric Shea, Nicholas Pryor
Year

1975
Country

USA
Format

35mm
Running Time

113 minutes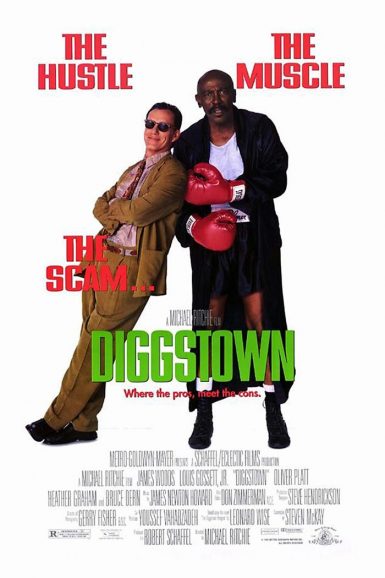 Diggstown
With a superb cast and a sports-comedy, heavy weight champion of a director in Michael Ritchie, Diggstown proved that with the right pieces in place, the con game genre was far from stale. James Woods gives a passionate, slick performance, as fast talking ex-con Gabriel Cane, who's just been released from prison. Cane and his grifting partner "Fitz," played with sloppy charm by Oliver Platt, look to run a scam on John Gillon, a cobra of a boxing promoter and businessman (played with a steely slow burn of contempt by Bruce Dern), when they claim boxer 'Honey' Roy Palmer – a knockout performance by Lou Gossett Jr. – can beat any 10 Diggstown men in a 24-hour period. The angle shooting gets dirtier and deadlier, the stakes get higher, and the blood on the canvas is believable – in this sweet science of a midnight sting.
"The Ritchie of old – relaxed, cheerfully rebellious, a friend to underdogs and scalawags – is all over Diggstown, which could have been made the day after The Bad News Bears without anyone being the wiser. As a rascally con-man running a high-stakes boxing hustle, James Woods joins the pantheon of Ritchie heroes like Redford in The Candidate, Matthau in The Bad News Bears, and even Chevy Chase in Fletch" – Scott Tobias, A.V. Club
"Not since Smile and Semi-Tough, both released in the mid-1970's, has Michael Ritchie directed anything quite as entertaining as Diggstown, a funny and vulgar fable about con artists so cynical that signs of simple skepticism can be taken for religious epiphanies." – Vincent Canby, The New York Times
On the New Beverly blog, Garret Mathany interviews character actor Kim Robillard about working on Diggstown.
Director

Michael Ritchie
Starring

James Woods, Louis Gossett Jr., Bruce Dern, Oliver Platt, Heather Graham, Randall 'Tex' Cobb, Kim Robillard
Year

1992
Rated

R
Country

USA
Format

35mm
Running Time

98 minutes