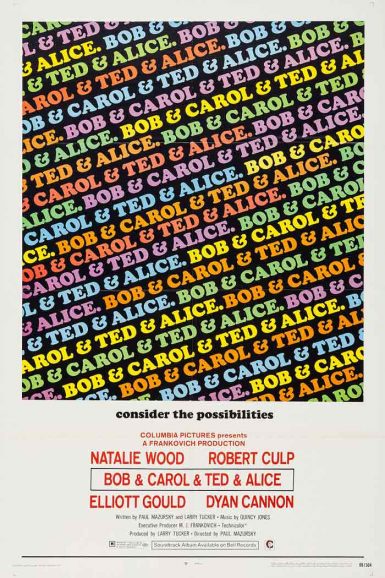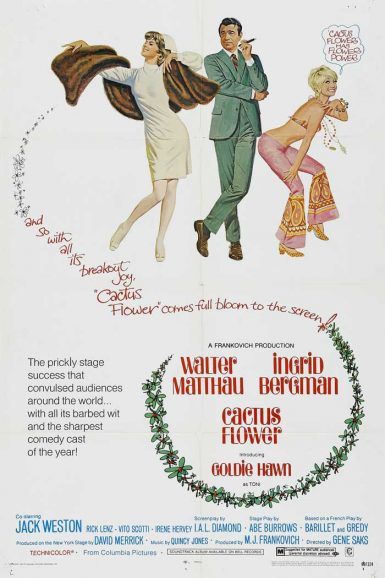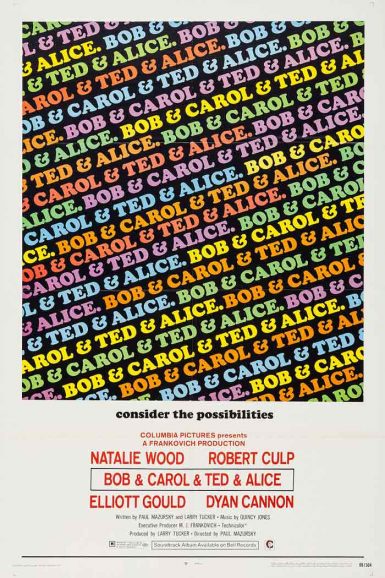 Bob & Carol & Ted & Alice
In an age of revolution, this timely human story straddles the line between comedy and drama with energy and elegance. Bob & Carol (Robert Culp and Natalie Wood) are a married couple who find a new lease on honesty after attending an Esalen-like new age therapy retreat. Their earnestness profoundly affects best friends Ted & Alice (Elliott Gould and Dyan Cannon, both in Oscar-nominated performances) who cautiously explore this new kind of vulnerability too. Affairs and dalliances come to the fore as they all start acknowledging their sexual wants/desire/neuroses. A refreshing, steamy, nonjudgmental take on marriage and honesty, Bob & Carol & Ted & Alice is perfect movie about couples who were too old to be hippies but too young to have old-fashioned hangups.
"The genius of Bob & Carol & Ted & Alice is that it understands the peculiar nature of the moral crisis for Americans in this age group, and understands that the way to consider it is in a comedy. What is comedy, after all, but tragedy seen from the outside?" – Roger Ebert
View a collection of Bob & Carol & Ted & Alice lobby cards on the New Beverly forum.
Marc Edward Heuck discusses Bob & Carol & Ted & Alice on the New Beverly blog.
Kim Morgan discusses Bob & Carol & Ted & Alice on the New Beverly blog.
Director

Paul Mazursky
Starring

Natalie Wood, Robert Culp, Elliott Gould, Dyan Cannon
Year

1969
Rated

R
Country

USA
Format

35mm
Running Time

105 minutes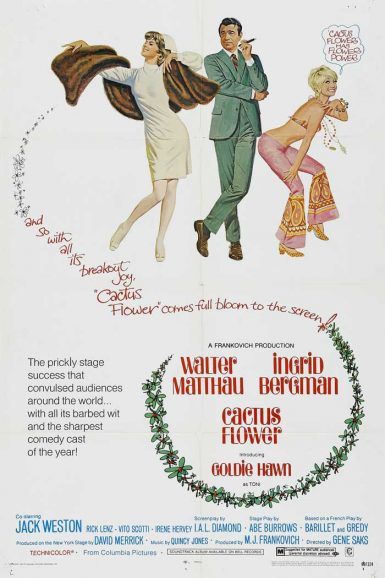 Cactus Flower
Goldie Hawn won an Academy Award in her first major movie role as Toni Simmons in the film adaptation of the Broadway comedy smash Cactus Flower – setting the tone for a career that has lasted decades, with a filmography that has few rivals in the romantic comedy department. Walter Matthau plays dentist Dr. Julian Winston, who starts a fling with the beautiful and much younger Toni, but with the deceitful caveat that he is married with children (he's not). Distraught over the relationship, Toni attempts suicide, prompting Dr. Winston to propose to Toni – but first he needs a wife to divorce. Ingrid Bergman is wonderful as Matthau's sharp-tongued loyal assistant who carries an unrequited torch for him, and oblivious to her feelings, Matthau's lovable cad of a doctor asks her to be his pretend wife. Director Gene Saks nails the chemistry and comedy from the triumvirate of Hawn, Matthau, and Bergman – while the late 60's fashion and music adorn the screen with color and sound.
"It really is Matthau, Miss Bergman and (with a marvelously expressive face) Miss Hawn who make Cactus Flower a success." – Roger Ebert
"The play was a slicky entertaining, razzmatazz package and barrage of wise gags and even wiser cracks… The Columbia adaptation, with a dandy cast headed by Ingrid Bergman, Walter Matthau and a newcomer, young Goldie Hawn, has more charm, credibility, flow and even bloom." – Howard Thompson, The New York Times
Director

Gene Saks
Starring

Walter Matthau, Ingrid Bergman, Goldie Hawn, Jack Weston, Rick Lenz, Vito Scotti, Irene Hervey
Year

1969
Country

USA
Format

35mm
Running Time

103 minutes