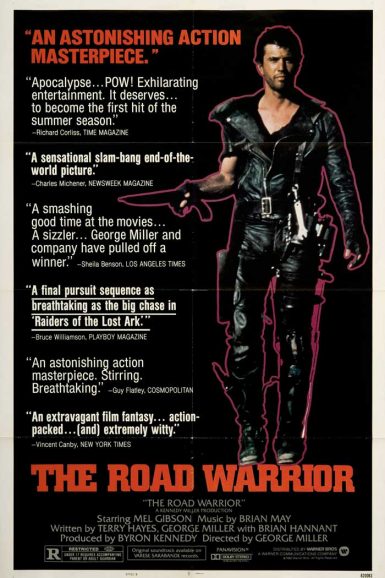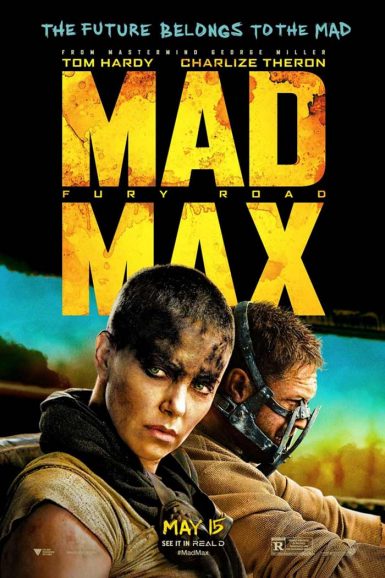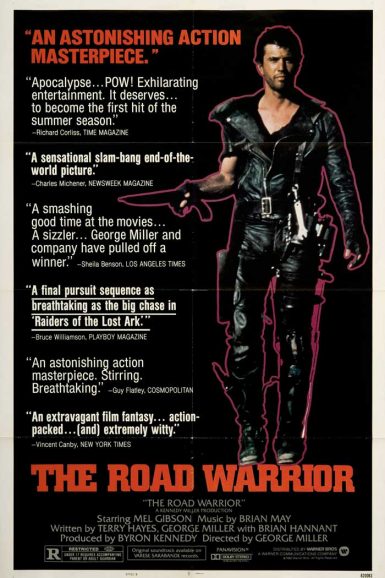 The Road Warrior
The Road Warrior roars into the New Bev in glorious 35mm! Picking up several years after the original Mad Max ends, our nomadic hero roams the post-apocalyptic outback in search of food and fuel. But when he finds a refinery settlement hoarding an invaluable stockpile of gasoline, he fatefully agrees to help defend them against a vicious band of barbarian raiders. The Road Warrior is a pedal to the metal action masterpiece, expertly directed by George Miller, tightly edited and featuring some of the best vehicular stunt work ever lensed; its unforgettable attitude, costumes & design launching a generation of knockoffs. The film remains a jaw-dropping stunner and a rite of passage for all cinematic thrill-seekers.
"The special effects and stunts in this movie are spectacular; [The Road Warrior] goes on a short list with Bullitt, The French Connection, and the truck chase in Raiders of the Lost Ark as among the great chase films" – Roger Ebert
View the full set of Spanish lobby cards for Mad Max 2 on the New Beverly forum.
Director

George Miller
Starring

Mel Gibson, Bruce Spence, Mike Preston, Max Phipps, Vernon Wells, Kjell Nilsson, Emil Minty, Virginia Hey
Year

1981
Rated

R
Country

Australia
Format

35mm
Running Time

94 minutes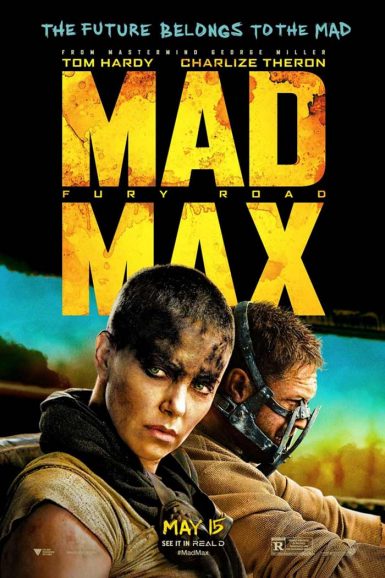 Mad Max: Fury Road
Filmmaker George Miller returns to the legendary franchise that made him a star with Mad Max: Fury Road, a stunning, hyper-charged & fuel-injected post-apocalyptic action masterpiece that will leave you breathless! On the run from a tyrannical leader with the despot's wives in tow, Imperator Furiosa (Charlize Theron as the cinematic badass of the decade) must forge an alliance with wasteland drifter and former captive Mad Max (Tom Hardy taking over the iconic role), if any of them are going to make it out alive. Fury Road rockets out of the gate and never lets up, propelled by jaw-dropping, death-defying stuntwork and Oscar-winning editing, production design, costumes, makeup and sound.
"A kinetic, hallucinatory, boldly feminist chase flick that, with its vibrant color palette, harrowing stunt work and show-don't-tell style of yarn-spinning, leaves every Marvel movie and every Fast & Furious in its irradiated dust." – Chris Kilek, NPR
Director

George Miller
Starring

Tom Hardy, Charlize Theron, Nicholas Hoult, Hugh Keays-Byrne, Josh Helman, Zoë Kravitz
Year

2015
Rated

R
Country

Australia/USA
Format

35mm
Running Time

120 minutes