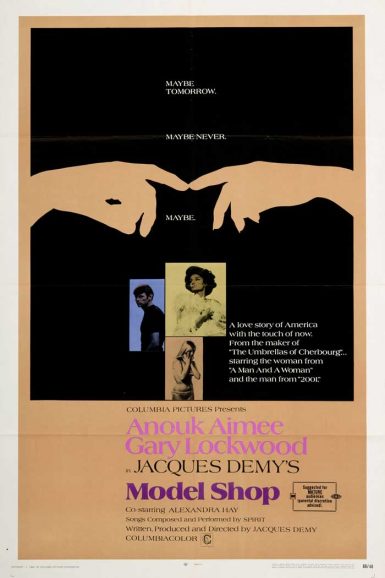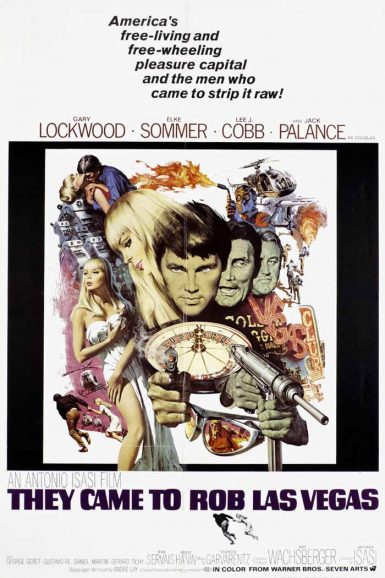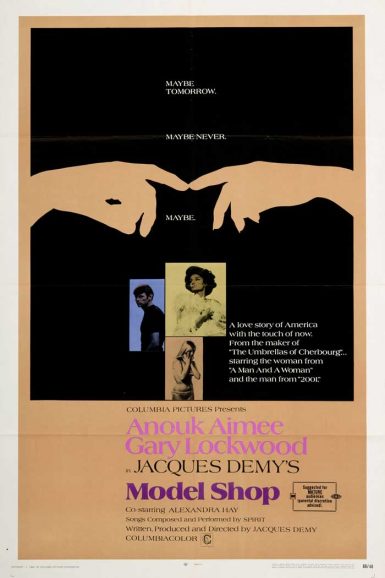 Model Shop
Like a traveler who falls in love with a place without really knowing why, Jacques Demy's first and only American film, Model Shop, lilts around late-sixties Los Angeles looking for beauty and connection in some simple, profound ways. An emotionally lost young man (Gary Lockwood) follows a weary European model (Anouk Aimee) into the amateur studio where she gets paid to let customers take boudoir photos of her. Voyeurism, consumerism, and war are all discussed as the long smoggy day and endless auto trips across town begin to shift the course of their alienated, wistful lives. Demy captured Angelino locations galore for this heavy-hearted romance, and following his gaze across the newly minted city (the real star of the film) has all the swooning nostalgia of an old hippie travelogue from the peak of an era.
Kim Morgan writes about Model Shop on the New Beverly blog.
Director

Jacques Demy
Starring

Anouk Aimée, Gary Lockwood, Alexandra Hay
Country

France/USA
Format

35mm
Running Time

97 minutes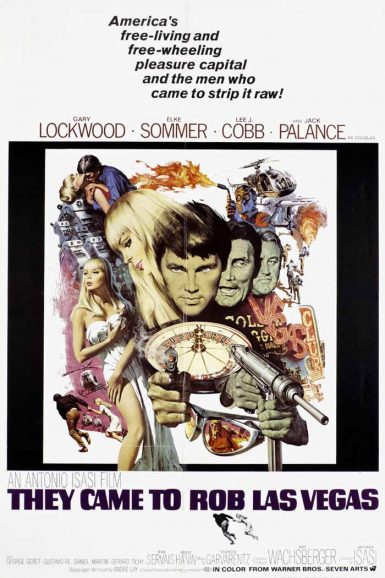 They Came to Rob Las Vegas
"The scene was the wildest freak-out in Vegas history…and the gig was to grab it all!" Gary Lockwood plays a Las Vegas blackjack dealer who devises a supposedly foolproof plan to rob one of the armored trucks transporting millions of casino loot. He puts together a crack team of thieves, each with their own specialty. Slinky Elke Sommer is Lockwood's paramour who is also working for bigger-than-life, mob-connected Lee J. Cobb, owner of the armored truck fleet. An over-the-top Jack Palance steps in as the head U. S. Treasury agent once the heist becomes a reality. Although the film was an American–Spanish co-production, French film stars Jean Servais (Jules Dassin's Rififi) and Roger Hanin, both of whom appeared in numerous 1950s French crime pictures, have small but important supporting roles.
"Like most cult films, it's essentially a B-movie that earns the cult label through an extra degree of artistry, inventiveness, energy, and, for lack of better term, craziness." – Cary Watson, Jettison Cocoon
Ariel Schudson discusses They Came to Rob Las Vegas on the New Beverly blog.
Director

Antonio Isasi-Isasmendi
Starring

Gary Lockwood, Elke Sommer, Lee J. Cobb, Jack Palance
Rated

R
Country

Spain/Italy/France/West Germany
Format

16mm
Running Time

125 minutes