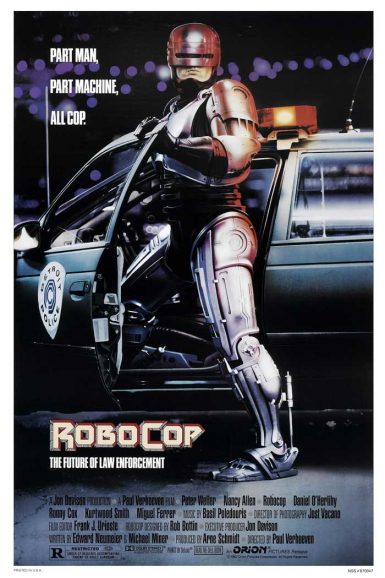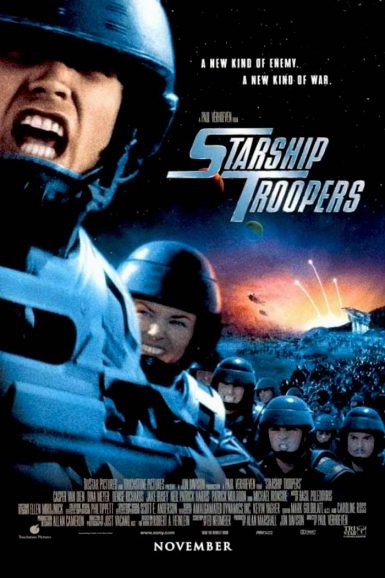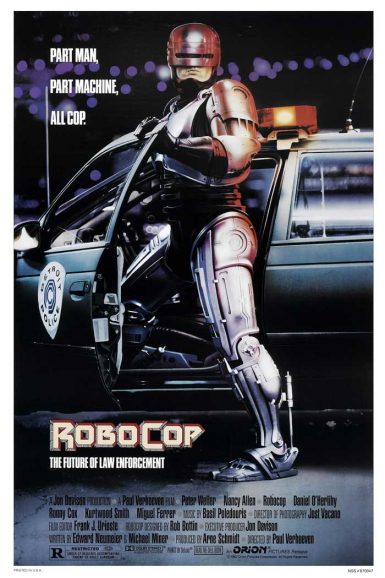 RoboCop
Dead or alive, you're coming with me! In the near future, a dystopian Detroit is ruled by criminals and killers. When a police officer is gunned down in the line of duty, he returns to the force as a crime-fighting cyborg, part man, part machine, all cop. Paul Verhoeven's RoboCop is intensely action packed, exquisitely designed and savagely satirical, one of the greatest genre films of the '80s, working equally as ultra-violent exploitation, subversive black comedy, and politically charged science fiction.
"Most thriller and special-effects movies come right off the assembly line. You can call out every development in advance, and usually be right. RoboCop is a thriller with a difference." – Roger Ebert
"Despite a level of lurid violence that may offend many, this movie has a motor humming inside. It's been assembled with ferocious, gleeful expertise, crammed with humor, cynicism and jolts of energy. In many ways, it's the best action movie of the year." – Michael Wilmington, Los Angeles Times
"Vile, violent, and very funny. The pace is breakneck, and when the wit does run out, way-out weaponry and whole-scale destruction keep the appalled excitement burning." – Mark Salisbury, Time Out
"RoboCop is a comic book movie that's definitely not for kids. The welding of extreme violence with four-letter words is tempered with gut-level humor and technical wizardry. RoboCop is as tightly worked as a film can be, not a moment or line wasted." – Variety
Mark Ayala discusses RoboCop on the New Beverly blog.
Ariel Schudson discusses RoboCop and its flood of movie tie-ins on the New Beverly blog.
Director

Paul Verhoeven
Starring

Peter Weller, Nancy Allen, Dan O'Herlihy, Ronny Cox, Kurtwood Smith, Miguel Ferrer, Robert DoQui, Ray Wise
Year

1987
Rated

R
Country

USA
Format

35mm
Running Time

102 minutes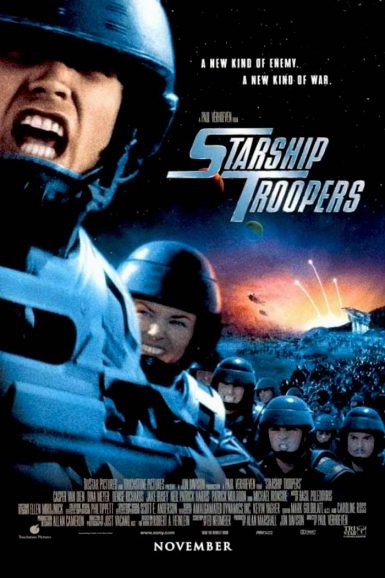 Starship Troopers
Without a doubt, Paul Verhoeven's gleefully subversive adaptation of Starship Troopers is one of Hollywood's great satirical spectacles. Verhoeven himself admitted to never finishing Robert Heinlein's arch-conservative sci-fi source material, instead crafting a scathing vision of the novel which took Heinlein's militarism to task just as triumphantly as Johnny Rico and his class of soldiers take on the space bug menace. Set against mushrooming planetary (see: nationalist) fervor in the face of interstellar war, the utterly thrilling, splat-tastically violent, coming-of-age saga grew out of Verhoeven's original impetus to tell a story of young Nazis earnestly caught up in the movement on the eve of WWII. Featuring memorable supporting appearances by Michael Ironside, Neal Patrick Harris, and Clancy Brown.
"A spectacularly gung-ho sci-fi epic that delivers two hours of good, nasty fun. The scope and abundance of the special effects – from the countless and incredibly vivid marauding bugs to the plethora of agile aircraft of the Earth's space fleet – may well surpass anything seen before" – Todd McCarthy, Variety
Cracked lists 6 Mind Blowing Ways Starship Troopers Predicted the Future
Business Insider lists 9 things Starship Troopers totally nailed about today's technology
The Atlantic explores how Starship Troopers is one of the most misunderstood movies ever.
View the full set of Spanish lobby cards for Starship Troopers on the New Beverly forum.
Director

Paul Verhoeven
Starring

Casper Van Dien, Dina Meyer, Denise Richards, Jake Busey, Neil Patrick Harris, Clancy Brown, Michael Ironside
Year

1997
Rated

R
Country

USA
Format

35mm
Running Time

129