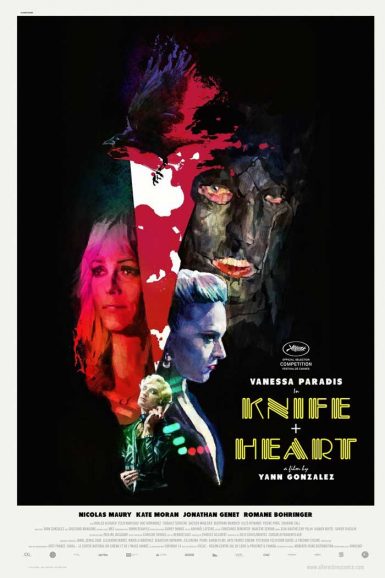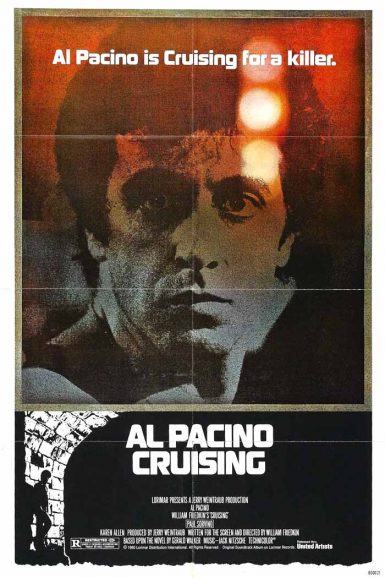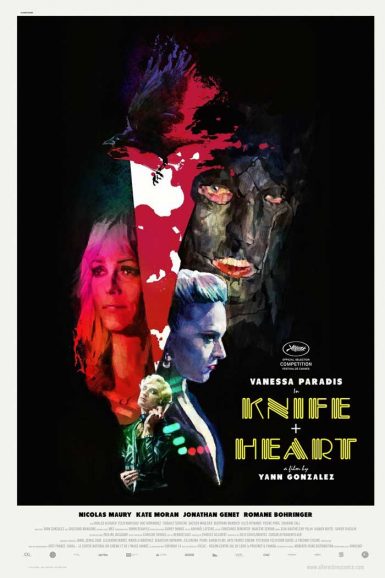 Knife + Heart
A queer horror masterpiece! In Yann Gonzalez's strikingly twisted giallo update, a masked killer is stalking the cast and crew of a gay porno shoot in late '70s France. While beautiful bodies get picked off one by one, the movie's producer (Vanessa Paradis) tries to keep her most ambitious film on track. Backed by a throbbing soundtrack by M83, Knife + Heart is stylish and kinky, beautifully lensed, and filled with macabre humor and heart.
"This magical, erotic, disco-tinged horror-thriller is like cinematic candy." – Katie Walsh, Los Angeles Times
"Gonzalez contains his love of screen excess with a deliberation that never feels contrived or cheap." – Glenn Kenny, The New York Times
"Equal parts kinky and kitsch, rendered with the kind of meticulous attention to lighting, composition, and sound that all but guarantees a cult following." – Peter Debruge, Variety
Director

Yann Gonzalez
Starring

Vanessa Paradis, Nicolas Maury, Kate Moran, Jonathan Genet, Romane Bohringer
Year

2018
Country

France
Format

English subtitled 35mm
Running Time

102 minutes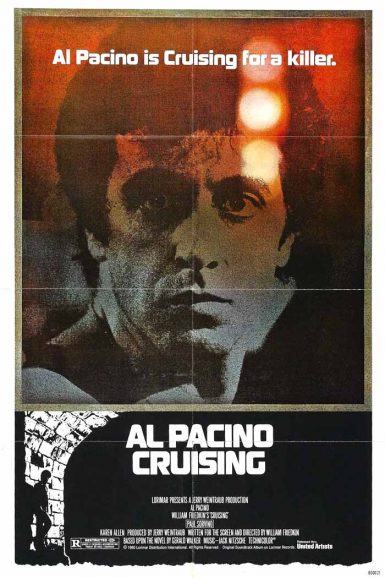 Cruising
In William Friedkin's intense and controversial thriller, NYPD officer Steve Burns (Al Pacino) is sent to work undercover in the S&M leather bars of the West Village to track down a serial killer targeting gay men. But descending deeper into the role takes a toll on his relationships and his damaged psyche as he witnesses the brutality of both the killer and the police towards the community.
"Viewed from almost three decades' distance, Cruising now looks like a masterly work of psychological disorientation, guilty only of a certain insensitivity – in putting the most extreme imaginable example of gay sexual subculture into a mainstream film – but innocent of any homophobic intention. Pacino's performance as the undercover cop who gets drawn into the leather underworld is extraordinary and sensitive, and the film's frank depiction of the pre-AIDS night world of gay Manhattan remains shocking. No one would get away with it now, or even try." – Andrew O'Hehir, Salon.com
Director

William Friedkin
Starring

Al Pacino, Paul Sorvino, Karen Allen, Richard Cox, Don Scardino and Joe Spinell
Year

1980
Rated

R
Country

USA
Format

35mm
Running Time

102 minutes