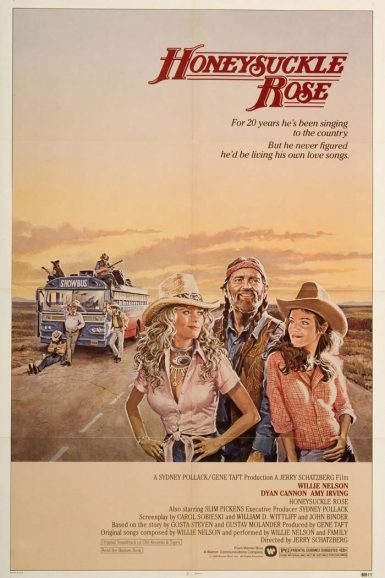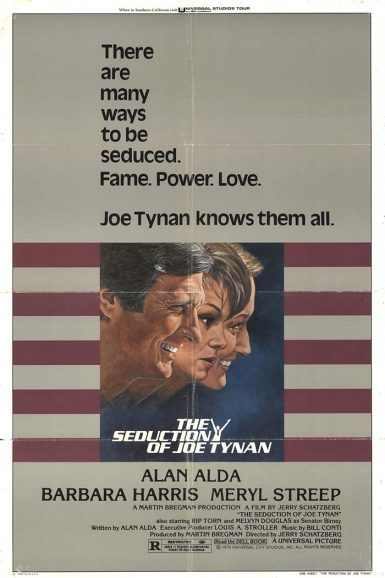 Honeysuckle Rose
The Seduction of Joe Tynan
Buy Tickets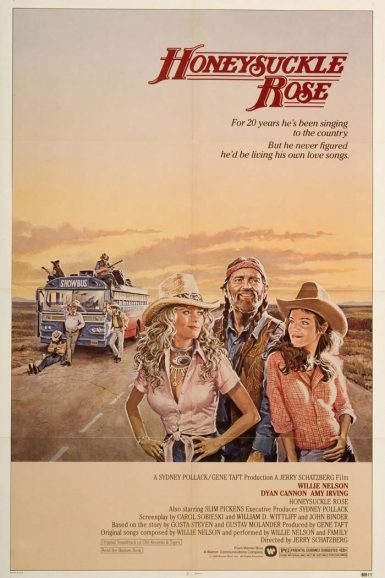 Honeysuckle Rose
Willie Nelson stars in a role that's close to home, as country singer Buck Bonham, in the musical drama Honeysuckle Rose. Buck is an aging country singer on the verge of breaking through to the mainstream, who happens to fall for his new guitarist Lily Ramsey (Amy Irving), despite having a loving wife (Dyan Cannon) and child waiting for him at home. Buck must decide what he wants more, a new spark of love and life on the road or the domesticated family existence back in Texas that he has come to take for granted. Almost a concert film with a plot, Honeysuckle Rose is chockablock with live footage of Willie & his band performing various hits, including "On the Road Again" which was specifically written for this film. For fans of Nelson and his music, it is a must see.
"It has its charms, and one is certainly the presence of Willie Nelson himself, making his starring debut at the age of 47 and not looking a day over 60. He's grizzled, grinning, sweet-voiced and pleasant, and a very engaging actor… director Jerry Schatzberg uses an easy-going documentary style to show us life on the band bus, at a family reunion, and backstage at big concerts. All of these scenes are filled to overflowing with colors; this is one of the cheeriest, brightest looking movies I've ever seen, starting with Willie's own amazing costumes and including the spectrum at the concerts, reunions, picnics, etc." – Roger Ebert
Howard S. Berger writes about director Jerry Schatzberg on the New Beverly blog.
Director

Jerry Schatzberg
Starring

Willie Nelson, Dyan Cannon, Amy Irving, Slim Pickens
Year

1980
Rated

PG
Country

USA
Format

35mm
Running Time

119 minutes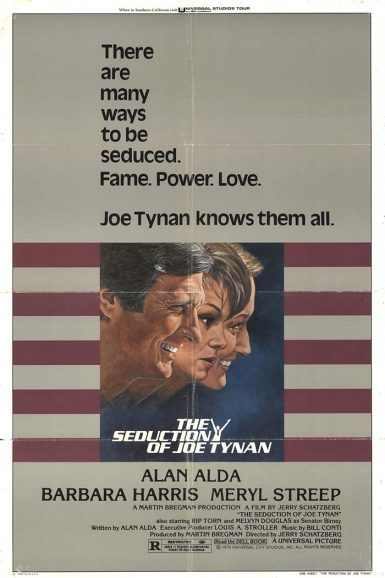 The Seduction of Joe Tynan
At the height of his TV stardom, Alan Alda wrote and starred in The Seduction of Joe Tynan, a witty fable about an all-too-human New York senator just emerging on the national stage amidst many contentious personal and political crises; his kids are fed up and out of control, his wife (Barbara Harris) wants him to spend more time at home, his mentor (Melvyn Douglas) is suffering from early-stage dementia, his womanizing Capital Hill rival (Rip Torn) is thumping a segregationist to the Supreme Court, and he's having an affair with the demure labor lawyer (Meryle Streep) who's digging up dirt for him on everybody. Directed with nuance by under-appreciated New Hollywood poet Jerry Schatzberg, this surprising, rich, and relevant film is part-Frank Capra-part-Network-part-sex-comedy, exuberant and cerebral.
"Jerry Schatzberg directs the film with a sleek yet relaxed precision that mirrors Joe's own breezy confidence." – Richard Brody, The New Yorker
"The principal thing that keeps The Seduction of Joe Tynan engrossing is the level of acting it sustains throughout. Rip Torn brings a new dimension to political sleaziness in the role of a skirt-chasing (and catching) Southern Senator, and Melvyn Douglas is suitably alarming as an elder statesman on the verge of senility." – Janet Maslin, The New York Times
Howard S. Berger writes about director Jerry Schatzberg on the New Beverly blog.
Director

Jerry Schatzberg
Starring

Alan Alda, Barbara Harris, Meryl Streep, Rip Torn, Melvyn Douglas, Charles Kimbrough
Year

1979
Rated

R
Country

USA
Format

35mm
Running Time

108 minutes