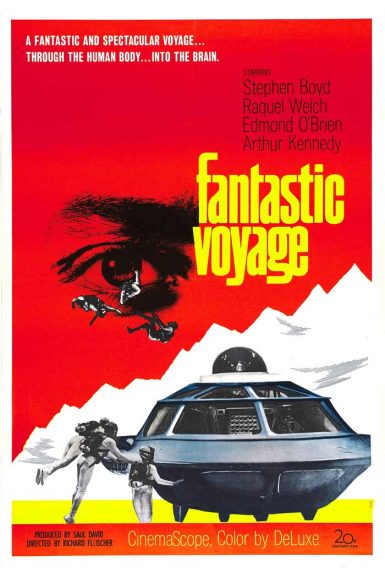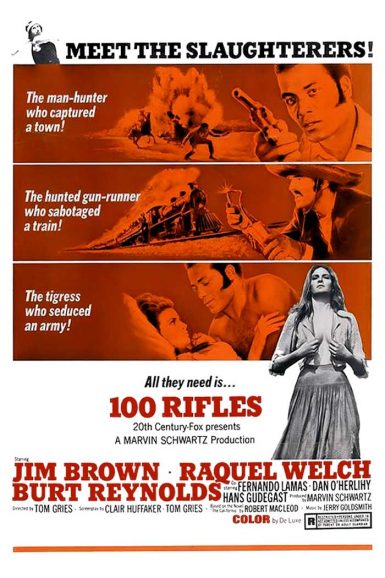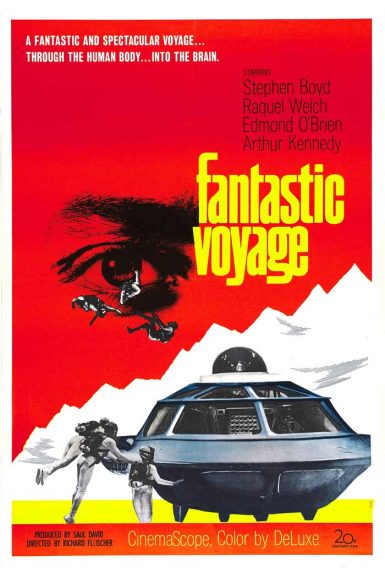 Fantastic Voyage
The suspense is relentless in Fantastic Voyage as the Soviet Union and the United States have developed technology that allows them to shrink atoms and objects, but their matter-reducing capabilities only lasts for one hour. When scientist Dr. Jan Benes (Jean Del Val) has a formula that allows the miniaturization to last indefinitely, American CIA agent Grant (Stephen Boyd) attempts to help the doctor escape from behind the Iron Curtain and shepherd the formula to American soil. After an assassination attempt leaves Dr. Benes in a coma with a blood clot in his brain, Grant becomes part of a five-person crew that includes a pilot (William Redfield), a Doctor (Donald Pleasence), a surgeon (Arthur Kennedy), and his assistant (Raquel Welch), who are miniaturized aboard a Naval submarine (the Proteus) and injected into Dr. Benes bloodstream to perform surgery from inside the body. It's a race against a 60-minute clock, as the Proteus is attacked by Dr. Benes' anti-bodies, and Grant is armed with the knowledge that one of the crew members may be a saboteur. Fantastic Voyage was nominated for five Academy Awards, winning Oscars for Best Special Effects and Best Art Direction.
"The lavish production, boasting some brilliant special effects and superior creative efforts, is an entertaining, enlightening excursion through inner space – the body of a man." – Variety
Director

Richard Fleischer
Starring

Stephen Boyd, Raquel Welch, Edmond O'Brien, Donald Pleasence, Arthur O'Connell, William Redfield, Arthur Kennedy
Year

1966
Country

USA
Format

35mm
Running Time

100 minutes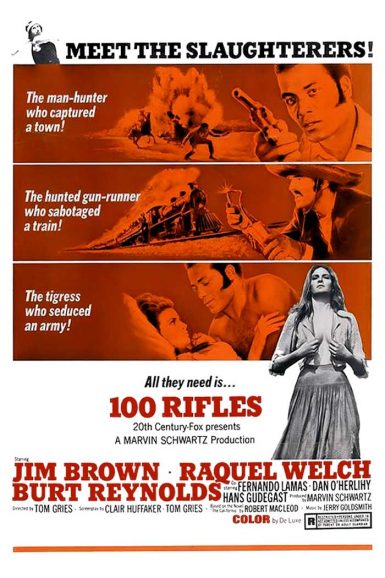 100 Rifles
After Yaqui Joe (Burt Reynolds) steals $6,000 from a bank in Arizona to buy 100 Rifles for the Yaqui Indians in Sonora, so they can take up arms against the ruthless General Verdugo (Fernando Lamas), Arizona Lawman Lyedecker (Jim Brown) sets out to retrieve the six grand and bring Yaqui Joe to justice. The suspicious Verdugo associates Lyedecker with Yaqui Joe, and the two men are forced to work together after they are rescued from Verdugo's firing squad by the Yaqui rebels – led by Sarita (Raquel Welch) who has revenge on her mind and Verdugo in her sights. The dust and bullets fly off the screen as Verdugo and his soldiers track the Yaqui fighters back to their village and take children as hostages in order to trade for the rifles, with Jerry Goldsmith's score pacing the action as Sarita, Yaqui Joe, and Lyedecker lead the Indians into a showdown with Verdugo. Raquel Welch is every bit the silver screen icon in a trainstopping outdoor shower scene – turning from sexy to deadly before the water dries.
Director

Tom Gries
Starring

Jim Brown, Raquel Welch, Burt Reynolds, Fernando Lamas, Dan O'Herlihy
Year

1969
Country

USA
Format

35mm
Running Time

110 minutes