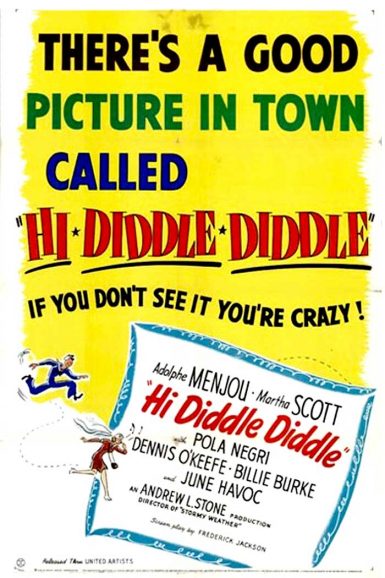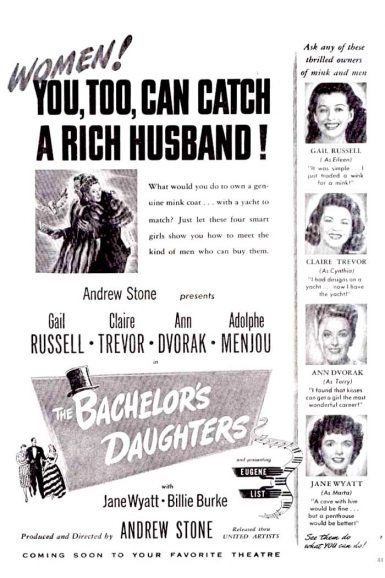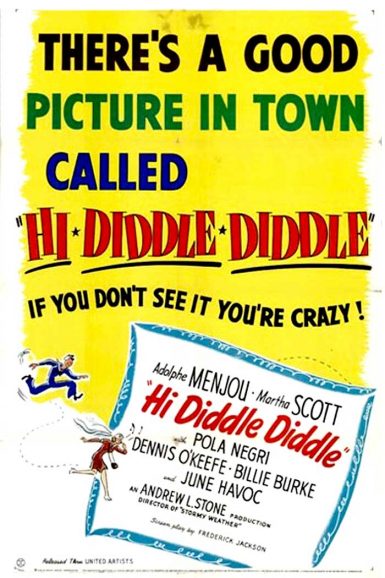 Hi Diddle Diddle
Most film buffs familiar with director/screenwriter Andrew L. Stone recognize him for his realistic thrillers (see schedule later this month). Many don't know that before Stone began his run of suspense pictures, he started out making musicals (such as the African-American milestone Stormy Weather) and comedies. Here are two rare screwball farces he directed for his own production company that were released through indie distributor United Artists. In this first, Dennis O'Keefe (star of noirs T-Men and Raw Deal) plays Sonny Phyffe, a sailor with a conman dad named Hector (Adolphe Menjou), an opera singer for a stepmother (a rare appearance by silent film star Pola Negri) and a fiancée, Janie (Martha Scott) whom he's trying to wed before his ship sets sail. An elaborate bait-and-switch game of stolen diamonds, plunges on the stock market, over-protective parents (Billie Burke as Janie's high-strung mom) and jilted former suitors turns into a spin-the-bottle tournament on who will be conned out of their fortune next, and if there's any way to make things right again before the newlyweds leave on their honeymoon.
Director

Andrew L. Stone
Starring

Adolphe Menjou, Martha Scott, Pola Negri, Dennis O'Keefe, Billie Burke
Year

1943
Rated

Approved
Country

USA
Format

16mm
Running Time

72 minutes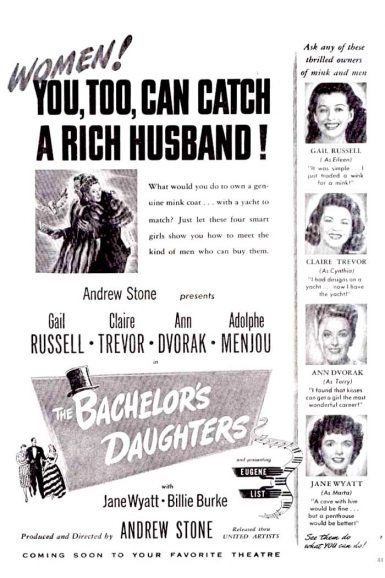 The Bachelor's Daughters
Four shopgirls (Gail Russell, Claire Trevor, Ann Dvorak and Jane Wyatt) convince their department store floor walker (Adolphe Menjou) to pose as their wealthy father at a Long Island mansion they have leased, all to flesh out their elaborate scheme to attract rich young men as potential husbands. Billie Burke fills in for them as their capricious mother. Look for Clayton Moore (1950s star of "The Lone Ranger" TV program) in a small role.    
Director

Andrew L. Stone
Starring

Gail Russell, Claire Trevor, Ann Dvorak, Adolphe Menjou, Billie Burke, Jane Wyatt
Year

1946
Rated

Approved
Country

USA
Format

16mm
Running Time

88 minutes