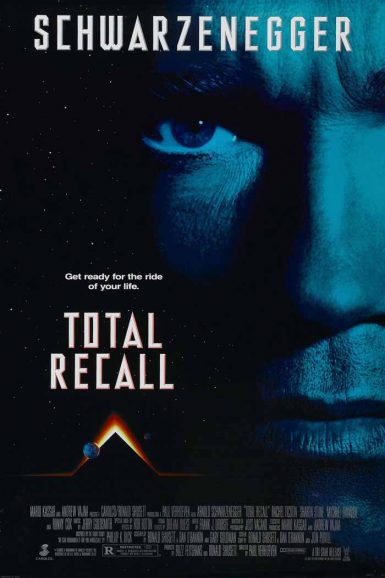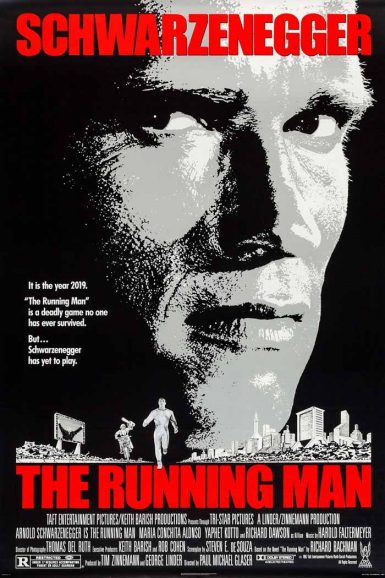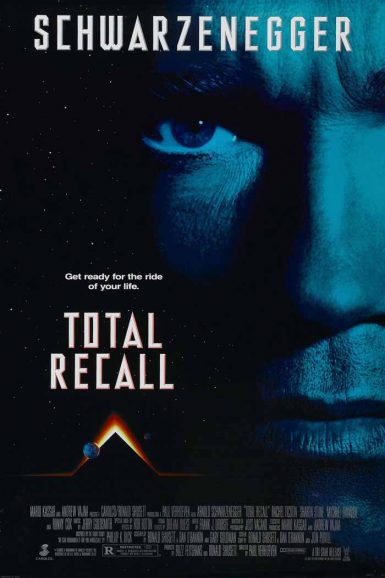 Total Recall
The uber-memorable, ultra-violent interplanetary adventure Total Recall is prime Schwarzenegger. As amnesiac-ed interplanetary super spy Douglas Quaid, he goes on a thrilling, ass-kicking odyssey to Mars to reclaim what he once knew and learn why the governor of Mars and his armed thugs (led by Michael Ironside) want to know what he knows so badly. Only he can discover his hidden destiny and help the downtrodden mutants of Mars. Based on a mind-bending Philip K. Dick short story, this visionary, rampaging blockbuster was one of the most expensive movies ever made at the time and a most successful outing for Arnie himself.
"One of the most complex and visually interesting science fiction movies in a long time." – Roger Ebert
"The fierce and unrelenting pace, accompanied by a tongue-in-cheek strain of humor in the roughhouse screenplay, keeps the film moving like a juggernaut." – Variety
"Director Paul Verhoeven has come up with a vigorous, superviolent interplanetary thriller that packs in wallops with metronomic regularity." – Janet Maslin, New York Times
Ariel Schudson discusses Arnold Schwarzenegger on the New Beverly blog.
Director

Paul Verhoeven
Starring

Arnold Schwarzenegger, Rachel Ticotin, Sharon Stone, Ronny Cox, Michael Ironside, Marshall Bell
Year

1990
Rated

R
Country

USA
Format

35mm
Running Time

113 minutes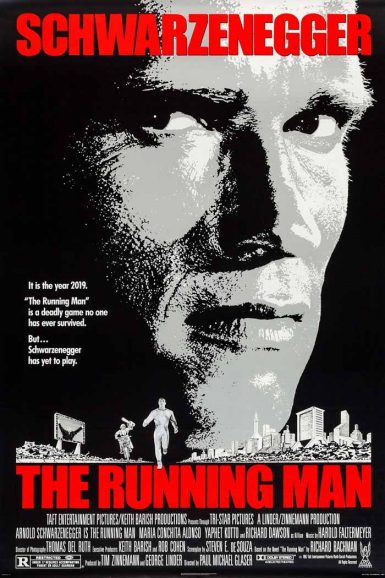 The Running Man
"It's time to start running!" Arnold Schwarzenegger is Ben Rogers, a man wrongly convicted by the government he serves, and upon his capture, bargains with "Killian" (a sublime performance by Richard Dawson) to compete in the top-rated, gladiator style, gauntlet of death game show – The Running Man – where contestants who survive are granted a state pardon. When Amber (Maria Chonchita Alonso) finds out that the news story that got Rogers convicted was a frame job, she too is thrown into the televised gladiator maze as a co-conspirator. Yaphet Kotto is Arnold's running mate, and together they must survive the likes of "Subzero" (Professor Toru Tanaka), "Buzzsaw" (Gus Rethwisch), "Fireball" (Jim Brown), and the legendary "Captain Freedom" (Jessie Ventura). Adapted from a Stephen King story, the film reaches its 30th anniversary, and screenwriter Steven E. de Souza (a man whose films have grossed over $2 billion at the box office) crafted a fast moving, entertaining dystopian world – where a loudmouth television showman could wield tremendous influence. Who would've thought.
"The stunts, special effects and timely escapes are flashily directed by Paul Michael Glaser" – Vincent Canby, The New York Times
"That titanic Teuton Arnold Schwarzenegger is back in action in The Running Man, a fast-paced, futuristic purée of Beat the Clock, Max Headroom, professional wrestling and The Most Dangerous Game. Pumped and primed for self-parody, the burly star proves as funny as he is ferocious in this tough guy's commentary on America's preoccupation with violence and game shows." – Rita Kempley, The Washington Post
View a collection of The Running Man lobby cards on the New Beverly forum.
Director

Paul Michael Glaser
Starring

Arnold Schwarzenegger, Maria Conchita Alonso, Yaphet Kotto, Jim Brown, Jesse Ventura, Erland van Lidth
Year

1987
Rated

R
Country

USA
Format

35mm
Running Time

101 minutes