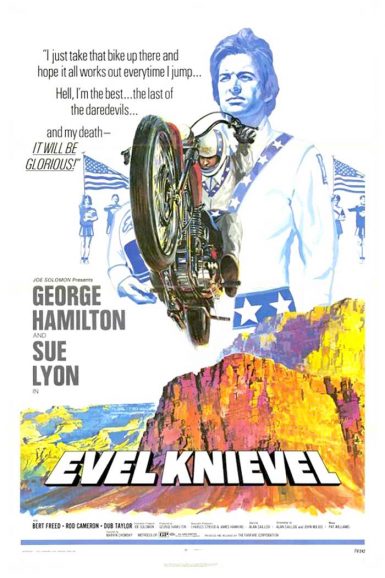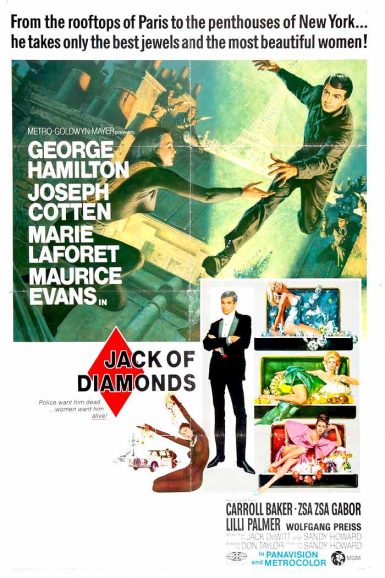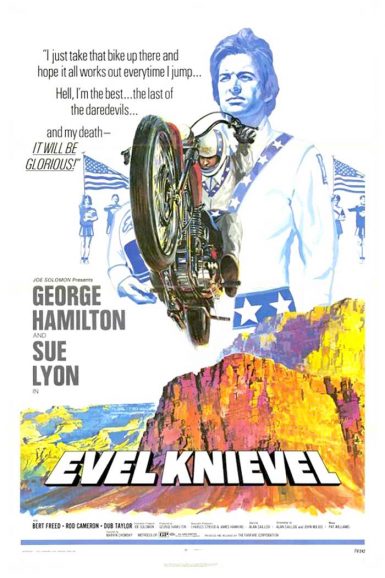 Evel Knievel
As he prepares to attempt a world record motorcycle jump, stuntman Evel Knievel (George Hamilton) reflects on the experiences that led to this critical moment in his career. From making mischief in his stuffy hometown, to meeting his wife Linda (Sue Lyon) and establishing himself as a bonafide daredevil, Bobby Knievel finds his life's calling in pursuing the impossible. Evel Knievel, which includes footage of the infamous Caesar's Palace stunt and a world record attempt filmed specifically for the film, is a testament of the passion, grit, and never-say-die spirit that bore a legend.
Director

Marvin J. Chomsky
Starring

George Hamilton, Sue Lyon, Bert Freed, Rod Cameron, Dub Taylor
Year

1971
Country

USA
Format

35mm
Running Time

88 minutes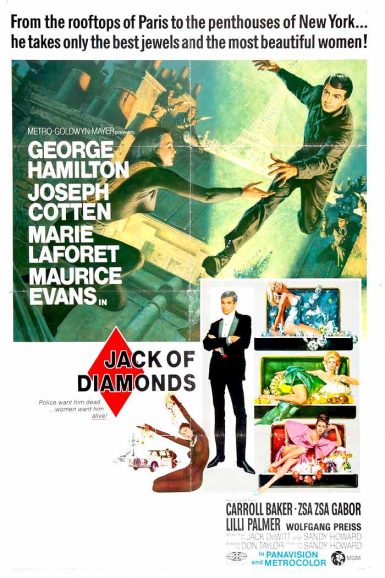 Jack of Diamonds
Before he was Zorro or Dracula, George Hamilton was the gentlemanly jewel thief Jeff Hill in Jack of Diamonds. Jeff is mentored in the art of cat burglary by the master thief known as The Ace of Diamonds (Joseph Cotton), who has decided he no longer wishes to tempt fate and is set to retire, but not before passing on his secrets. Jeff uses his dashing good looks to charm beautiful women and relieve them of their "best friend," with Zsa Zsa Gabor, Carroll Baker and Lilli Palmer – all playing themselves – falling victim to his thievery. Jeff is recruited by rival thief Olga (Marie Laforet) who introduces him to Nicolai (Maurice Evans) who are planning to steal the "World Series" of jewels from an impenetrable vault in Paris. The heist genres parkles in Diamonds, as even the most meticulous planning may not be enough to outwit the police and insurance investigator Von Schenk (Wolfgang Preiss), who is closing in on all of them.
Director

Don Taylor
Starring

George Hamilton, Joseph Cotten, Marie Laforet, Maurice Evans, Carroll Baker, Zsa Zsa Gabor, Lilli Palmer, Wolfgang Preiss
Year

1967
Country

West Germany/USA
Format

16mm
Running Time

93 minutes