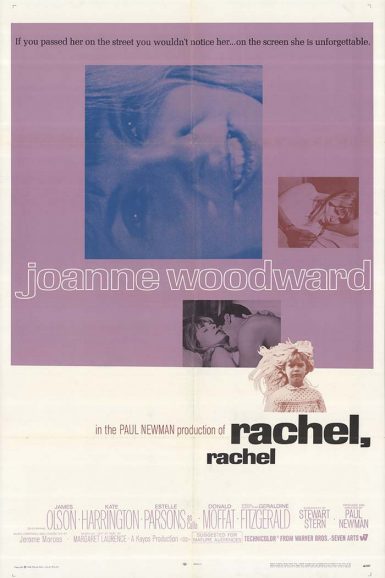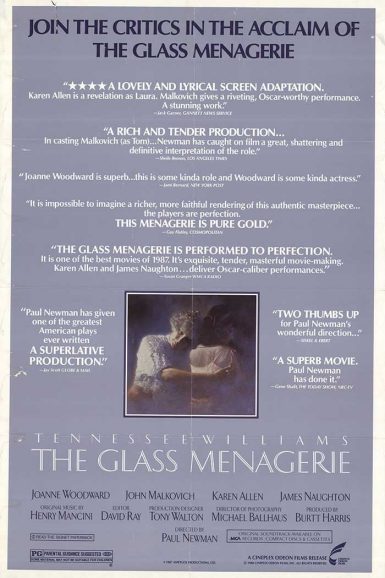 Rachel, Rachel (IB Tech Print!)
Vibrant IB Technicolor 35mm Print!
The Glass Menagerie
Not Available on DVD!
Buy Tickets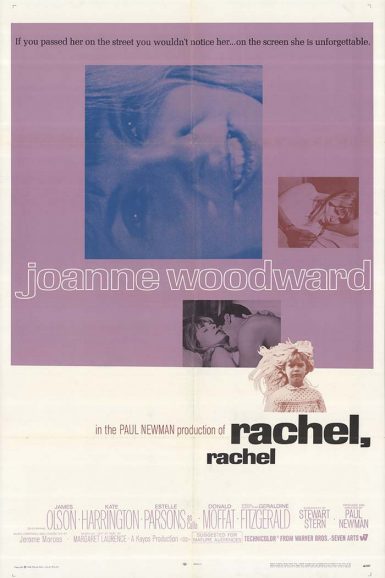 Rachel, Rachel (IB Tech Print!)
Paul Newman directs his wife Joanne Woodward to an Academy Award nominated performance in his first directorial outing, Rachel, Rachel. The film follows thirty-something virginal schoolteacher Rachel, who lives with her overbearing mother in the small town of her youth. She's in a state of stunted adulthood until, over summer break, a childhood acquaintance returns to town, and Rachel gets her first taste of love and infatuation. Things don't go quite as planned though, and Rachel must navigate this new journey as best she can, if she's to escape the shackles of her mundane small town existence. Woodward gives a tour de force performance, navigating the late-in-coming trials and tribulations of adulthood, not without mistake but always with honesty and sincerity. She makes the film, and neophyte director Newman is lucky to have had her in the role.
"It is in the transcendent strength of Joanne Woodward that the film achieves a classic stature. There is no gesture too minor for her to master. She peers out at the world with the washed-out eyes of a hunted animal. Her walk is a ladylike retreat, a sign of a losing battle with time and diets and fashion. Her drab voice quavers with a brittle strength that can command a student but break before a parent's will. By any reckoning, it is [her] best performance." – TIME
Director

Paul Newman
Starring

Joanne Woodward, James Olson, Kate Harrington, Estelle Parsons, Donald Moffat, Terry Kiser, Geraldine Fitzgerald
Year

1968
Rated

R
Country

USA
Format

IB Technicolor 35mm
Running Time

101 minutes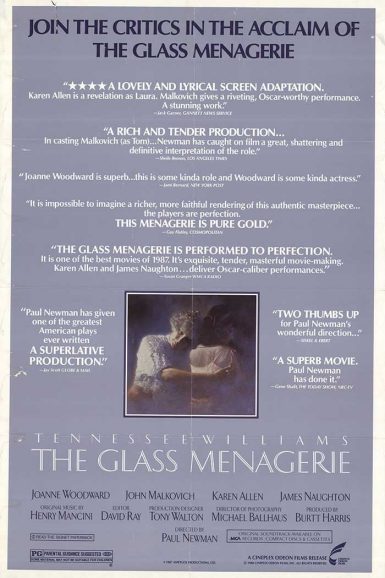 The Glass Menagerie
Paul Newman directs a reverent adaptation of Tennessee Williams' classic play The Glass Menagerie, keeping the action seemingly stage bound while filling the small cast with bravura performances. Joanne Woodward is Amanda Wingfield, an aging Southern belle of a stifling household, whose memories may be more romanticized than real. As she obsesses over finding a gentleman caller for her fragile daughter (Karen Allen), she suffocates the dreams of her frustrated son (John Malkovich).
Director

Paul Newman
Starring

Joanne Woodward, John Malkovich, Karen Allen, James Naughton
Year

1987
Rated

PG
Country

USA/Canada
Format

35mm
Running Time

134 minutes