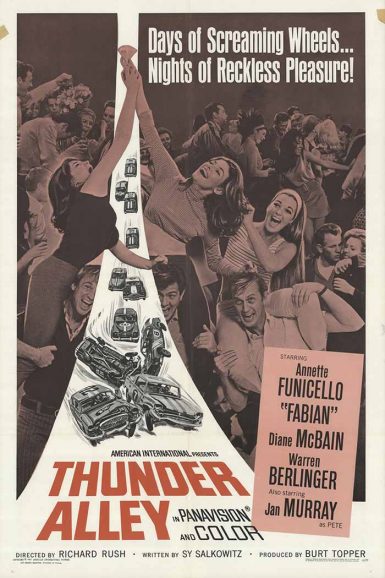 Ride the Wild Surf
From Makaha to Sunset Beach, from the Banzai Pipeline to Waimea Bay, the big surf daddy of them all. Jody, Chase, and Steamer are the guys who go where the action is, searching for wave after wave of wild excitement. Will a summer in paradise with their stunning sweethearts distract them from their chance to beat Eskimo, a world-class surfer and their biggest rival? Shot in the pristine waters of Hawaii with a legendary cast, it's one of the most spectacular sights the islands have to offer: young surfers riding high, going nose-to-nose to see who will be the last man to Ride the Wild Surf.
Director

Don Taylor
Starring

Fabian, Shelley Fabares, Tab Hunter, Barbara Eden, Peter Brown, Anthony Hayes, Susan Hart, James Mitchum
Year

1964
Country

USA
Format

35mm
Running Time

101 minutes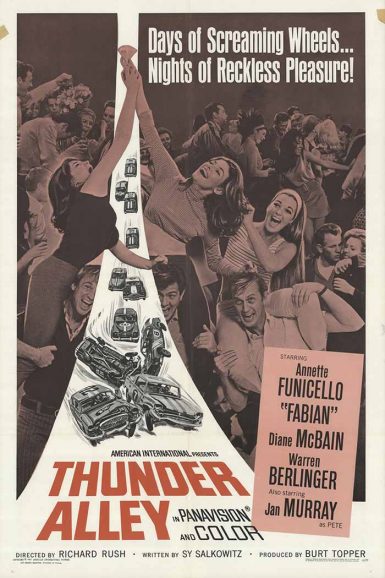 Thunder Alley (1967)
Racecar driver Tommy Callahan is searching for a fresh start after a blackout on the track causes the death of another driver. He joins a "thrill circus" as a stunt driver where he meets fellow driver Francie and her boyfriend Eddie. Tommy soon begins mentoring Eddie in race car driving, but his continued blackouts prove to be a cause for concern. Friendship turns to rivalry between Eddie and Tommy, their conflict certain to come to a head when the foes bring their showdown to the starting line.
Director

Richard Rush
Starring

Annette Funicello, Fabian, Diane McBain, Warren Berlinger, Jan Murray
Year

1967
Country

USA
Format

16mm
Running Time

89 minutes