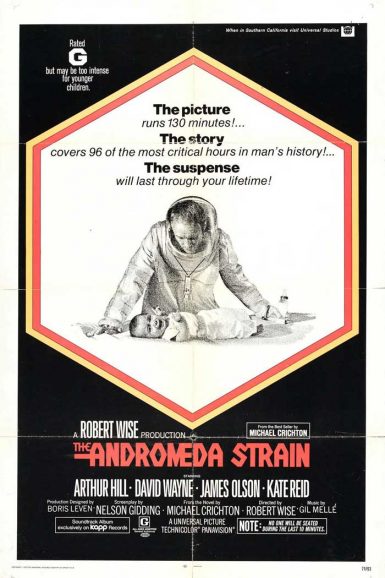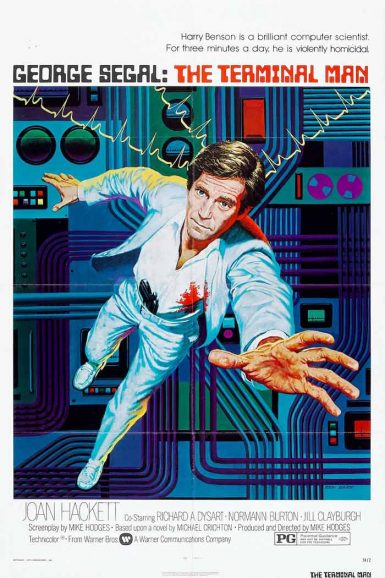 The Andromeda Strain
The Terminal Man (IB Tech Print!)
Vibrant IB Technicolor 35mm Print!
Buy Tickets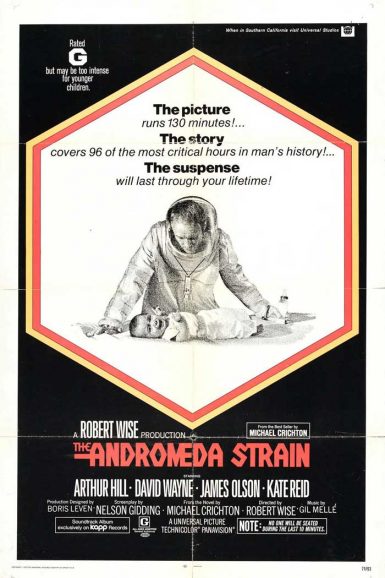 The Andromeda Strain
Michael Crichton's breakthrough novel The Andromeda Strain launched his prolific career as a speculative fiction author. This Robert Wise-helmed adaptation meticulously follows the book's hyper-tense story about a crack team of specialized scientists combating a deadly virus from outer space. They are forced to construct and descend through a state-of-the-art decontamination lab housed deep underground (designed by FX whiz Douglas Trumbull). And at each new level, the stakes grow higher. Are they on the verge of a great extraterrestrial discovery or the deadliest threat in human history? This paranoid thriller is not for the hypochondriac, and comes with a warning: Unpleasant things happen to lab animals.
"A splendid entertainment that will get you worried about whether they'll be able to contain that strange blob of alien green crystal. But if you find yourself experiencing Andromeda on only the story level, pull back for a moment and watch those people and those machines." – Roger Ebert
Howard S. Berger discusses The Andromeda Strain on the New Beverly blog.
Director

Robert Wise
Starring

Arthur Hill, David Wayne, James Olson, Kate Reid, Paula Kelly
Year

1971
Country

USA
Format

35mm
Running Time

131 minutes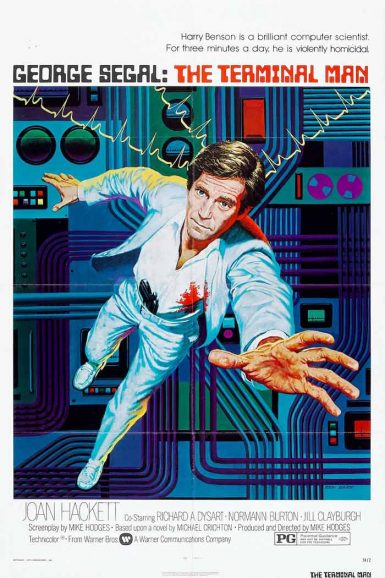 The Terminal Man (IB Tech Print!)
George Segal is The Terminal Man, a troubled convict who undergoes a state-sponsored experimental microcomputer implantation to help calm the angry, violent episodes that led to his incarceration. Of course, the state-of-the-art technology runs amok, stimulating even more rage and violence. The film is a thoughtful treatise on free will vs. social control, a less bombastic Clockwork Orange, but no less fascinating, probing with its own aphoristic lens. This is dark, raw science fiction, rendered hard-boiled by brash direction from Mike Hodges (Get Carter, Pulp) and Segal's chilling lead performance, and it's a cautionary prophecy for a computerized mankind.
Print courtesy of the National Film & Sound Archive of Australia

"Well before the Terminator–RoboCop boom of the 80s, this tackles sci-fi questions of the difference between human and robot in the context of a high-powered thriller." – Empire Online
Howard S. Berger discusses The Terminal Man on the New Beverly blog.
Director

Mike Hodges
Starring

George Segal, Joan Hackett, Richard Dysart, Normann Burton, Jill Clayburgh
Year

1974
Rated

PG
Country

USA
Format

IB Technicolor 35mm
Running Time

107 minutes