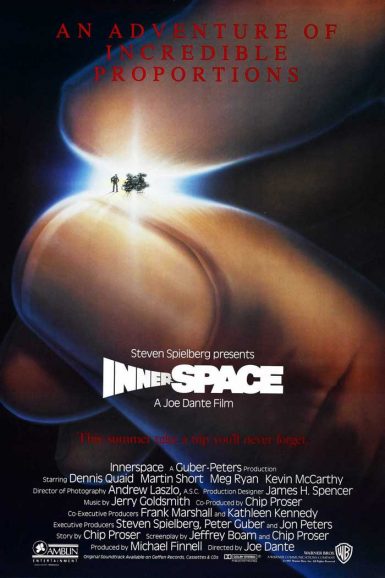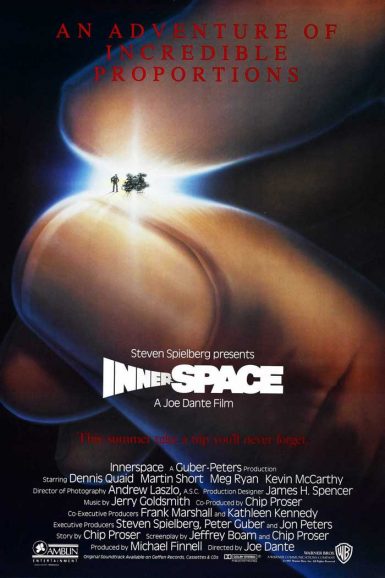 Innerspace
This summer take a trip you'll never forget as we celebrate the 30th anniversary of Joe Dante's Innerspace! The race is on when a miniaturized naval aviator (Dennis Quaid) is injected into an unwitting hypochondriac (Martin Short). With only 24 hours of oxygen in his teeny-tiny internal submersible, this supremely odd couple will have to work together to recover the stolen top secret technology, convince the pilot's girlfriend (Meg Ryan) of the truth, and avoid dangers at every turn. It's a madcap sci-fi fantasy packed with enthusiastic laughs, Oscar-winning visual effects, character actor cameos and a score by Jerry Goldsmith.
"Short has infinitely more possibilities and makes the most of them, coming into his own as a screen personality as a mild-mannered little guy who rises to an extraordinary situation." – Variety
"It has been made in a style best described as enthusiastic." – Janet Maslin, The New York Times
"The performances are so engaging and the effects are so enthusiastic that even when the movie runs long, it's only because it has too many ideas." – Roger Ebert
---
PLUS
The original 13-chapter 1936 Flash Gordon serial flies into the New Beverly in glorious 35mm! Chapter 11: In the Claws of the Tigron screens before Innerspace with future exciting installments playing before select Sci-Fi Summer screenings in July.
---
Director

Joe Dante
Starring

Dennis Quaid, Martin Short, Meg Ryan, Kevin McCarthy
Year

1987
Rated

PG
Country

USA
Format

35mm
Running Time

120 minutes