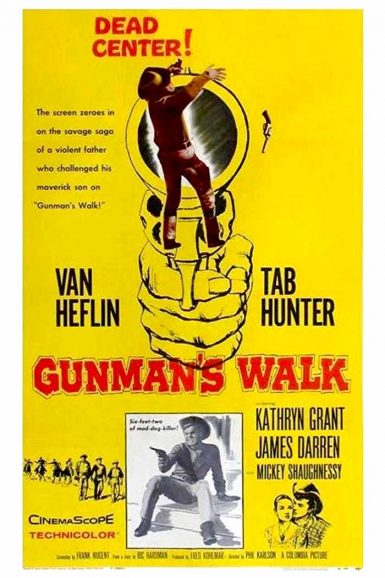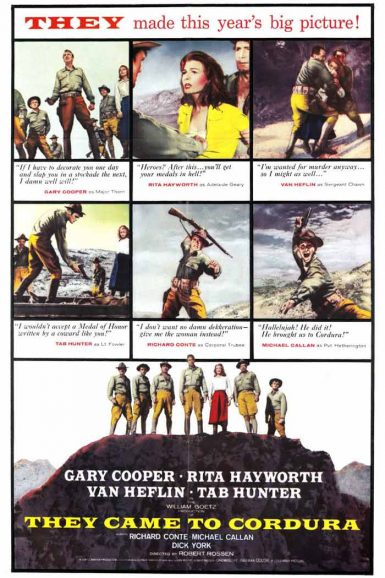 Gunman's Walk
Gorgeous 35mm print from the Sony Archives!
They Came to Cordura
Gorgeous 35mm print from the Sony Archives!
Buy Tickets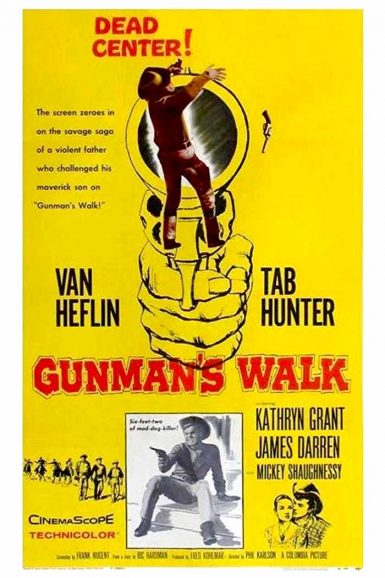 Gunman's Walk
The past sins of former gunslinger Lee Hackett (Van Heflin) have come home to roost in his oldest, hellraising son Ed (Tab Hunter), while his youngest son Davy (James Darren) is uncomfortable with a gun belt around his waist. Ed is eager to step out of his father's tall shadow that tamed the old west, but his reckless nature causes the death of trail hand Paul (Bert Convy), who is the brother of Clee (Kathryn Grant), a half Sioux woman that Davy is in love with. Lee Hackett is disgusted by his son's relationship, and his belief in strength through a gun is only rivaled by his racism. Lee bribes a man named Jensen Sieverts (Ray Teal) to lie for his son in open court and dispute the testimony of two Indians who saw Ed cause Paul's death. When Ed's darker nature takes over and his gun brings even more death, Lee Hackett has to face that he's raised a cold-blooded killer, and he might be the only one to stop him. A marvelous plot, stunning Cinemascope vistas, and exceptional performances makeup Gunman's Walk.
Director

Phil Karlson
Starring

Van Heflin, Tab Hunter, Kathryn Grant, James Darren, Mickey Shaughnessy
Year

1958
Country

USA
Format

35mm
Running Time

97 minutes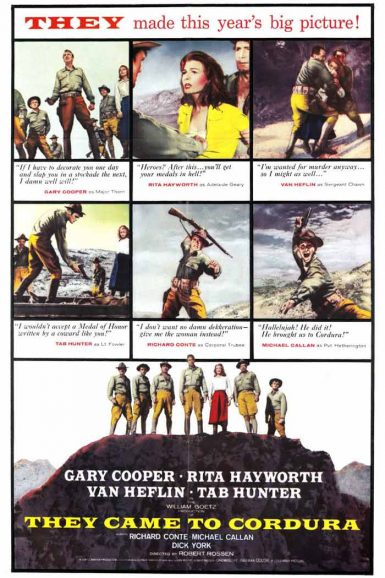 They Came to Cordura
Both a psychological query into the dark nature of courage as well as a tremendous Cinemascope western adventure, They Came to Cordura exemplifies the best of 1950's Hollywood. Gary Cooper stars as a disgraced Army major re-assigned to observe battles from afar and nominate soldiers for the military's most prestigious decoration, The Medal of Honor, during skirmishes between the U.S. and Pancho Villa on the eve of American's involvement in WWI. He leads a private detail of these select "heroes" across the desert to the base at Cordura to wait out fighting so they can live to receive their commendations, and also escort a spitfire prisoner (Rita Hayworth) who's accused of giving aid and shelter to the enemy. The harrowing circumstances prove chance enough for the Major to exhibit his own kind of bravery, and contemplate the self-conscious pursuit of glory.
Director

Robert Rossen
Starring

Gary Cooper, Rita Hayworth, Van Heflin, Tab Hunter, Richard Conte, Michael Callan, Dick York
Year

1959
Country

USA
Format

35mm
Running Time

123 minutes