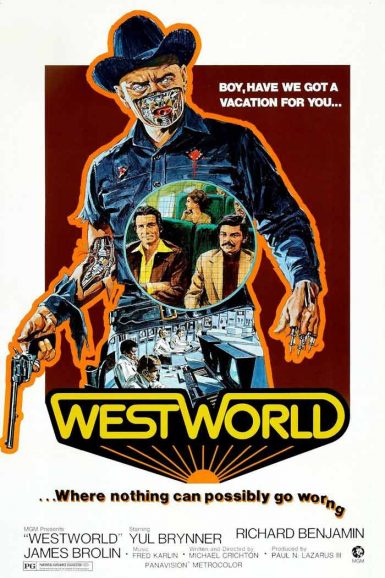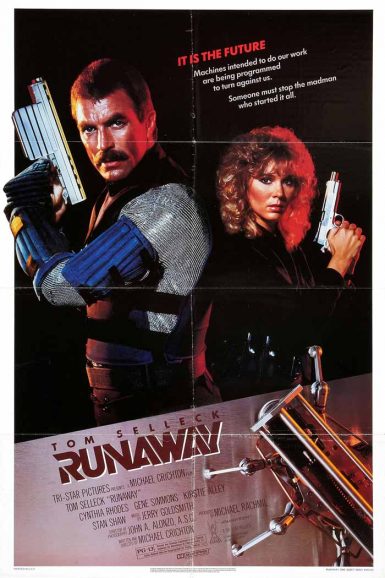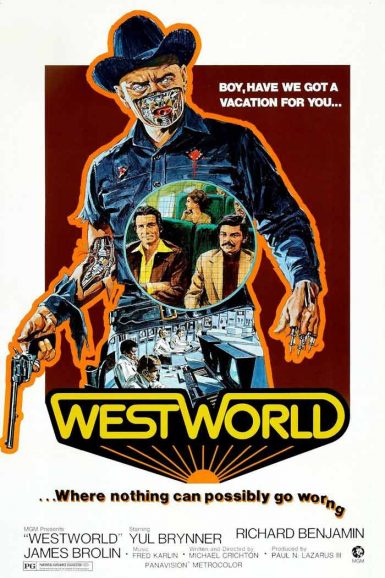 Westworld
From the penetrating mind of Michael Crichton comes his thrilling directorial debut: Westworld. Richard Benjamin and James Brolin star as two best buddies indulging in an expensive vacation at the elaborate simulacra theme park Westworld. But among the immersive sights, sounds, and skins of the Old West, something goes wrong with the lifelike androids and they start shooting back, especially a tenacious, terrifying gunslinger embodied with utter intimidation by chrome-domed Yul Brynner. This probing, darkly comic sci-fi/western is clearly still relevant today with the successful TV remake, which makes sense, as the story sharply portrays the shocking price of dreams as they descend into blood-soaked nightmares. Boy, have we got a vacation for you!
"Westworld is an excellent film, which combines solid entertainment, chilling topicality, and superbly intelligent serio-comic story values. Michael Crichton's original script is as superior as his direction." – Variety
"Crichton has lived up to his literary promise, thinking us into a corner before he pulls the trigger. A sharp, far-reaching sci-fi that will be remembered for Brynner's monotone maniac and a classic premise; Westworld is a thrilling What If?" – Gavin Brainbridge, Empire Online
Director

Michael Crichton
Starring

Yul Brynner, Richard Benjamin, James Brolin, Norman Bartold, Alan Oppenheimer, Victoria Shaw, Dick Van Patten, Linda Gaye Scott
Year

1973
Rated

PG
Country

USA
Format

35mm
Running Time

88 minutes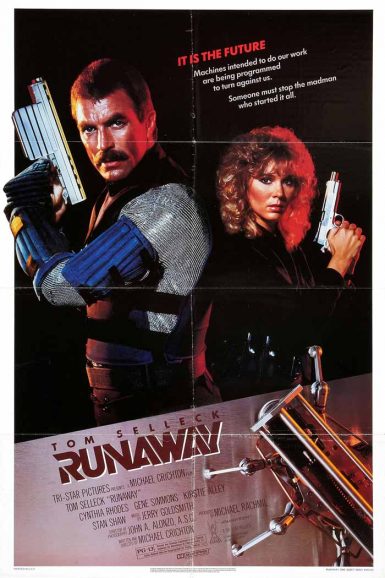 Runaway
Tom Selleck is Jack Ramsay, a cop who hunts down malfunctioning robots in the science fiction film Runaway. Written and directed by famed novelist Michael Crichton (Jurassic Park), the movie involves Ramsay stumbling upon a plot by a nefarious doctor, played by Gene Simmons, to create killer robots and sell the technology involved to the highest bidder. Simmons' turn must be seen to be believed, as he chews up the scenery and everything else in sight. Selleck grounds the film with his everyman leading fella chops, and takes the viewer on a wild ride through this incredible, though not entirely impossible futurist tale.
"Runaway was a really great popcorn movie… It was very futuristic, it had robots and all sorts of stuff, and it was a nice movie. It was a good movie that I'm very proud of." – Tom Selleck
"Assured, thoroughly cinematic filmmaking, its flourish of ingenious gadgetary not overwhelming its human dimension." – Kevin Thomas, Los Angeles Times
Director

Michael Crichton
Starring

Tom Selleck, Cynthia Rhodes, Gene Simmons, Kirstie Alley, Stan Shaw, G.W. Bailey, Chris Mulkey
Year

1984
Rated

PG-13
Country

USA
Format

35mm
Running Time

99 minutes