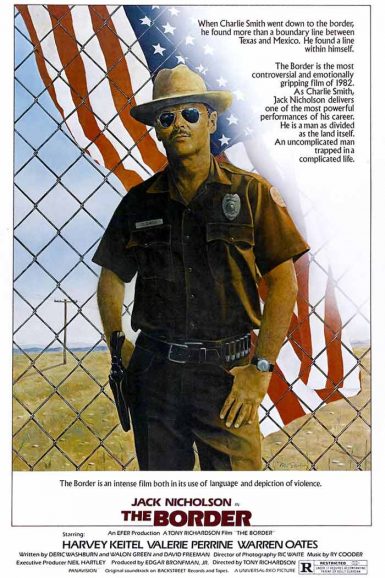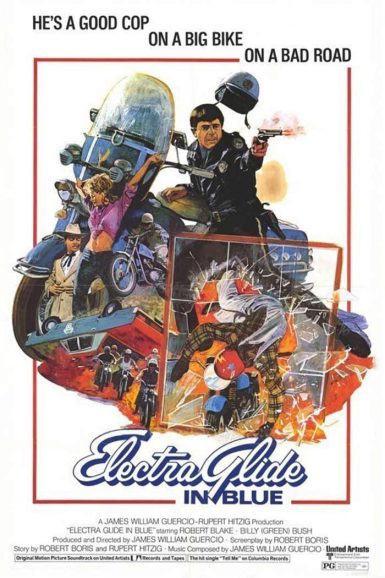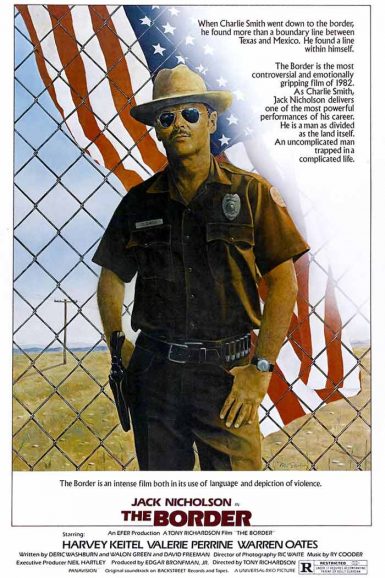 The Border
America's border issues, and all the complicated gray areas that provide no easy answers, are played out through the eyes of Charlie Smith (Jack Nicholson), a pay-check to pay-check Los Angeles based Border Patrol Agent, who transfers to El Paso in order to buy a duplex and appease his deep as a bottle-cap wife Marcy (Valerie Perrine). Charlie gets leveraged financially as Marcy opens up a credit account to furnish the house and has an above ground swimming pool installed in the backyard. With little options, he is shown how the "wetback" pay-off game is played by Cat (Harvey Keitel), his neighbor and fellow El Paso Border Patrol Guard, played with an ambivalent lack of morality for the Mexican immigrants he exploits. Warren Oates is perfect as the complicit, go along, get along supervisor Red, who doesn't want the unit's side money racket spoiled. Nicholson's slow burn builds to an inferno, as the corrupt system moves from bribes, to murder and child kidnapping – driving Charlie to return a stolen baby to its mother – no matter the cost.
Director

Tony Richardson
Starring

Jack Nicholson, Harvey Keitel, Valerie Perrine, Warren Oates
Year

1982
Rated

R
Country

USA
Format

35mm
Running Time

108 minutes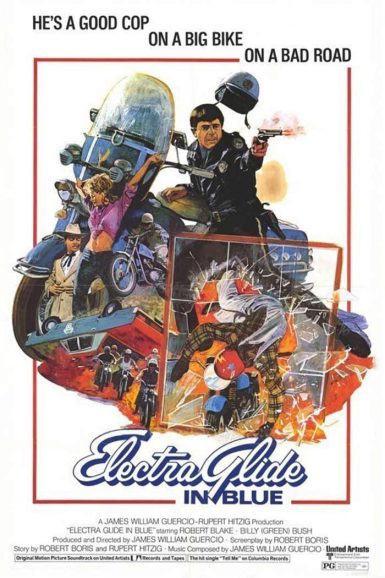 Electra Glide in Blue
Robert Blake stars as Arizona motorcycle cop John Wintergreen in the 1973 action-drama film Electra Glide in Blue. Big John, as he is nicknamed, is an undersized beat cop who yearns to join the Homicide division. He gets his big break when a local man's murder is framed as a suicide, and his intuition gets him recruited by the investigating detective. Wintergreen and the aforementioned gumshoe try to find the killer, all the while encountering a colorful cast of characters, such as the town's loose cannon hobo, a two timing barmaid and drug dealing hippies. Wintergreen sticks to his guns and goes by the book, even when confronted with corruption and deception of the highest order. The only film directed by musician and band manager James William Guercio, Electra Glide in Blue fits in well with the New Hollywood era of films from the late 60s and early 70s, what with its depiction of the moral depravity of authority figures and its general sense of nihilism. The film features laudable lensing by Conrad Hall, and an excellent lead performance by Robert Blake, former child actor and later star of television's Baretta.
"Offers much more in its politics, style and genre than any film to emerge from the '70s counterculture … If Easy Rider should be the film that encapsulates the decade of the '60s, Electra Glide in Blue deserves that distinction for the decade that followed." – Robert Nishimura, Indiewire
"A neglected cult-classic that could have only come from (or have been made in) the early '70s. It's a quirky but unforgettable movie – part character study, part examination of an emerging youth culture – featuring some outstanding camerawork from future Oscar-winning cinematographer Conrad Hall." – Wook Kim, TIME
"As angry and subversive an American nightmare as was unleashed during Vietnam … madly inventive, totally distinct, and very funny, all of which serve to balance out its natural bitterness, and suggest the importance of personality and analytical power in conjunction with duty … Electra Glide in Blue is a remarkable whole, at once antic in its somberness and good-humored in its fury." – Chris Cabin, Slant
View a collection of Electra Glide in Blue lobby cards on the New Beverly forum.
Kim Morgan discusses Electra Glide in Blue on the New Beverly blog.
Director

James William Guercio
Starring

Robert Blake, Billy Green Bush, Mitchell Ryan, Jannine Riley, Elisha Cook Jr, Royal Dano
Year

1973
Country

USA
Format

35mm
Running Time

112 minutes