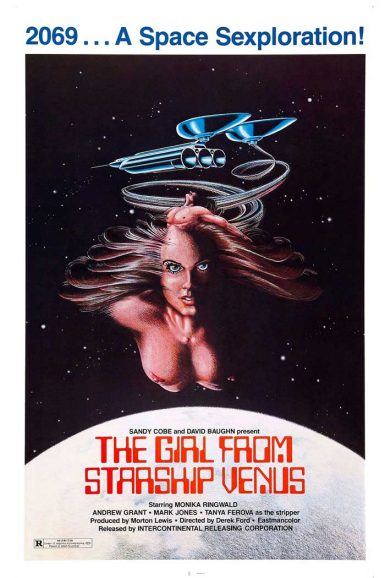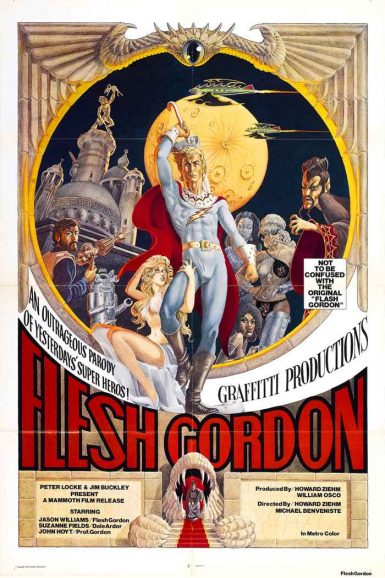 The Girl From Starship Venus
Flesh Gordon (Director In Person!)
Director Howard Ziehm will join us IN PERSON, schedule permitting, to introduce his film!
Buy Tickets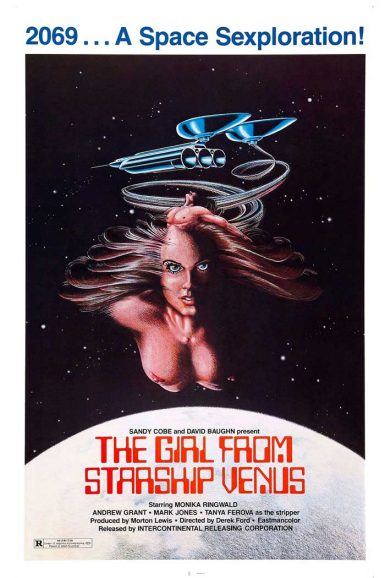 The Girl From Starship Venus
2069… A Space Sexploration! In the softcore sci-fi satire The Girl From Starship Venus, a Venusian spacecraft lands in London and its alien visitor transforms into a beautifully buxom human female, resulting in a swinging string of hilariously sexy encounters in porn shops, massage parlors and strip joints in a campy quest to investigate the inhabitants of our strange planet. German cheesecake model Monika Ringwald stars, drawing big laughs from deadpan comedy in a film that Quentin Tarantino calls one of the top 20 grindhouse classics!
"Even as a kid I knew I would get things from The Girl From Starship Venus that I wouldn't get from the Hollywood films" – Quentin Tarantino
Marc Edward Heuck discusses The Girl From Starship Venus on the New Beverly blog.
---
PLUS
The original 13-chapter 1936 Flash Gordon serial flies into the New Beverly in glorious 35mm! Chapter 9: Fighting the Fire Dragon screens before The Girl From Starship Venus with future exciting installments playing before select Sci-Fi Summer screenings in July.
---
Director

Derek Ford
Starring

Monika Ringwald, Mark Jones, Andrew Grant, Tony Kenyon, David Rayner, Beatrice Shaw
Year

1975
Rated

R
Country

UK
Format

35mm
Running Time

81 minutes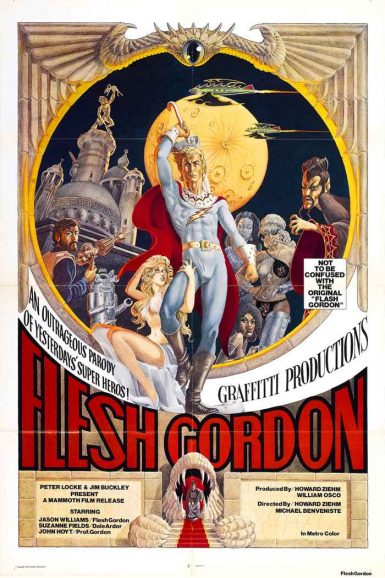 Flesh Gordon (Director In Person!)
Just added! Flesh Gordon director Howard Ziehm will join us IN PERSON, schedule permitting, to introduce his film!
Porn pioneers Bill Osco, Howard Ziehm and Michael Benveniste conjured this soft sexploitation spoof, with Flesh (Jason Williams) and Dale Ardor (Suzanne Fields) the only survivors of a plane incapacitated by sex rays from space. Encountering Dr. Jerkoff (Joseph Hudgins), who has already built a phallic spaceship to travel to the planet Porno to investigate, the three blast off to the domain of galactic emperor, Wang the Perverted (William Hunt). Despite tortures and encounters with odd monsters such as Penisauruses, Flesh escapes, aided by libidinous Queen Amora. Wang shoots down their ship, but Flesh survives to reunite with Dr. Jerkoff. Wang's intentions of marrying Dale are foiled when Nellie (Candy Samples), chief of the Amazonian lesbians kidnaps her. Flesh and Jerkoff rescue Dale, aided by gay Prince Precious and his forest tribe. When Jerkoff confronts Wang with a new weapon, Wang brings to life the giant idol, the Great God Porno to prevent his prey from escaping.
"A goofy, corny, sexually outrageous tribute… complete with up-to-date special effects, kitschy costumes, and godawful acting… a huge amount of fun" – Mondo Digital
Mick Garris discusses Flesh Gordon for Trailers From Hell.
View the full set of German lobby cards for Flesh Gordon on the New Beverly forum.
Director

Howard Ziehm and Michael Benveniste
Starring

Jason Williams, Suzanne Fields, Joseph Hudgins, William Dennis Hurt, Candy Samples
Year

1974
Country

USA
Format

35mm
Running Time

67 minutes