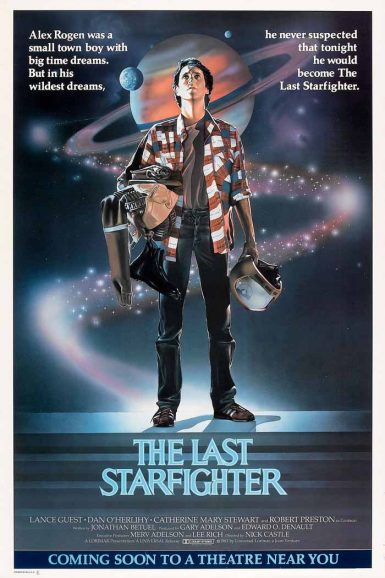 The Last Starfighter
When his skills at the trailer park's arcade garner interstellar recognition, an everyday teen is whisked away from his humdrum Earthly life for a journey beyond imagination! Now Alex (Lance Guest) will have to rise to the challenge of becoming one of the galaxy's best pilots, in order to battle a horde of alien invaders. Featuring cutting edge computer effects and thrilling deep space dogfights, The Last Starfighter is an exciting adventure that's truly out of this world!
"The special effects are mind-expanding: computer-generated animation that is so good it's barely distinguishable from the conventional kind. Great fun, with some truly comical moments; a must for pulp-heads and video-junkies." – Time Out
Witney Seibold discusses The Last Starfighter on the New Beverly blog.
Director

Nick Castle
Starring

Lance Guest, Dan O'Herlihy, Catherine Mary Stewart, Robert Preston
Year

1984
Rated

PG
Country

USA
Format

35mm
Running Time

101 minutes