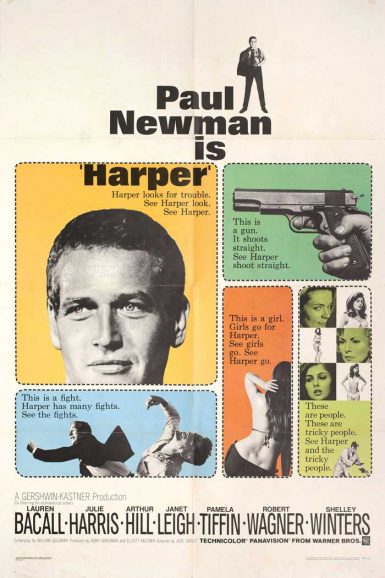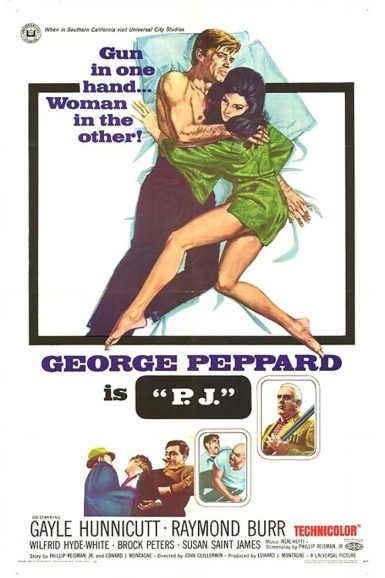 Harper (IB Tech Print)
P.J. (IB Tech Print)
Buy Tickets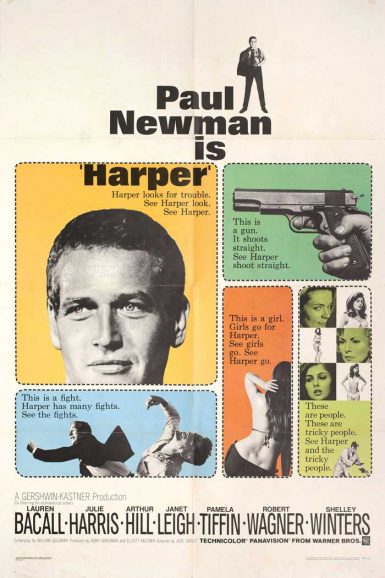 Harper (IB Tech Print)
Hollywood heavyweight of cool Paul Newman stars in the title role of Harper, a "new type" of private detective whose life seems to be headed in the wrong direction, until an intriguing case is referred to him by his friend and family lawyer (Arthur Hill) to find the missing-multi-millionaire husband of Elaine Sampson (Lauren Bacall). The late William Goldman adapted the crime thriller The Moving Target from acclaimed crime author Ross Macdonald, and director Jack Smight, along with legendary cinematographer Conrad L. Hall, take the noir-gumshoe-genre out of the black and white shadows of the past, and up the California coast into the technicolor swinging sixties. A truly all-star cast the likes of Lauren Bacall, Julie Harris, Janet Leigh, Arthur Hill, Robert Wagner, Shelley Winters and Strother Martin, breathe life into Goldman's script, and give Newman's wisecracking Harper (whose performance seems to have one hand in your popcorn) outstanding onscreen adversaries, who skillfully help to hold the complex plot together.
"By combining flamboyant suspense with a sunbaked slice of life and lots of good mean fun, director Smight makes every clue a pleasure to follow." – TIME Magazine
"A slam-bang mystery yarn, derived from a novel by Ross Macdonald, that could be right off the Raymond Chandler shelf. And the screenplay by William Goldman crackles, snaps and pops with all sorts of familiar surprises and bubbles of biting dialogue." – Bosley Crowther, The New York Times
Director

Jack Smight
Starring

Paul Newman, Lauren Bacall, Julie Harris, Arthur Hill, Janet Leigh, Pamela Tiffin, Robert Wagner, Shelley Winters
Year

1966
Country

USA
Format

I.B. Technicolor 35mm
Running Time

121 minutes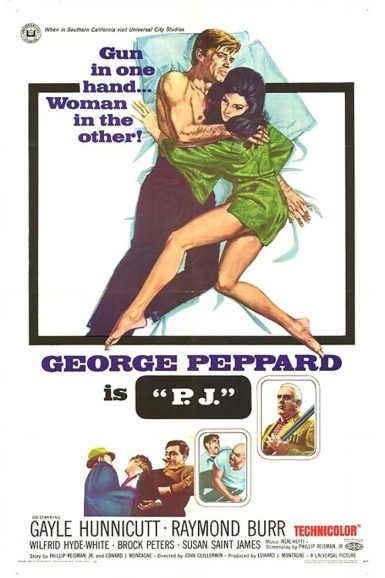 P.J. (IB Tech Print)
Gun in one hand, a woman in the other! George Peppard is P.J., a hard-drinking New York private eye always on the hunt for his next paycheck. But when he reluctantly takes a gig to protect the mistress of a mysterious millionaire, he'll soon be swept into a perilous world of murder and intrigue… all the while falling for the woman in his charge. A rarely-seen and not-to-be-missed neo-noir, P.J. features Raymond Burr and Gayle Hunnicutt in stellar supporting roles.
"It seems to me Peppard should be appreciated by the same kind of people who like Bogart movies." – Roger Ebert
Director

John Guillermin
Starring

George Peppard, Raymond Burr, Gayle Hunnicutt, Brock Peters, Wilfrid Hyde-White, Susan Saint James
Year

1968
Country

USA
Format

I.B. Technicolor 35mm
Running Time

109 minutes