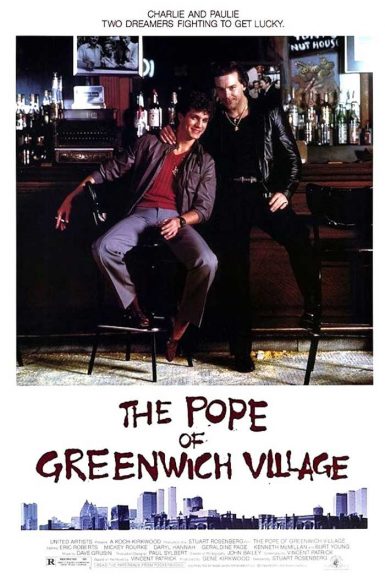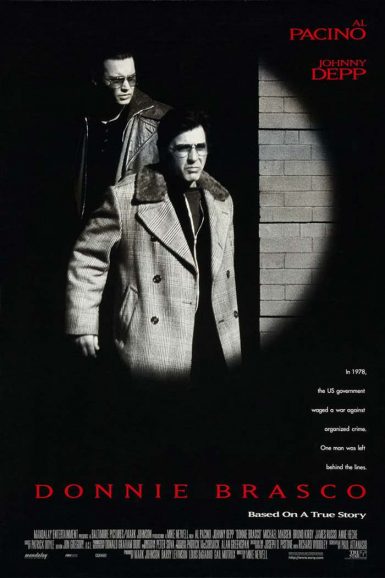 The Pope of Greenwich Village
Donnie Brasco
Buy Tickets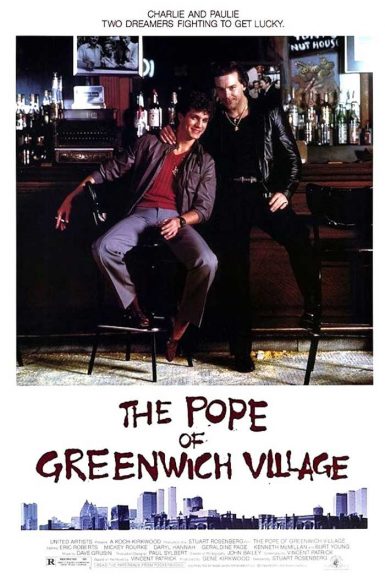 The Pope of Greenwich Village
Charlie (Mickey Rourke) is a restaurant manager and small-time hustler aspiring for more. Paulie (Eric Roberts) is his desperate, hotheaded cousin who thinks he may have just found it: the easiest money they'll ever make, and it's just sitting there! But the heist goes sour and attracts the ire of local mobsters. These two goombahs are taking huge risks, and their Little Italy lives start to feel a whole lot bigger. An irreverent coming-of-age tale and urban jungle crime story, The Pope of Greenwich Village captures the sensory experience of New York City, from the cut of a nice suit to wailing police sirens to the feeling of fifty thousand dollars right in your hand.
"This movie is an actor's dream"  – Roger Ebert
"The Pope Of Greenwich Village benefits immensely from Rosenberg's decision to film on location in Little Italy, which gives every scene a lived-in feel. As photographed by John Bailey—at the time, the go-to cinematographer for Paul Schrader (American Gigolo, Cat People, Mishima: A Life In Four Chapters, Light Of Day)—the city's streets, restaurants, back rooms, and lofts are as much a character as Charlie and Paulie, a dreamer and a schemer trying to get ahead in a world where the chips are stacked against them." – Craig J. Clark, The Dissolve
View the full set of Spanish lobby cards for The Pope of Greenwich Village on the New Beverly forum.
Director

Stuart Rosenberg
Starring

Eric Roberts, Mickey Rourke, Daryl Hannah, Geraldine Page, Kenneth McMillan, Tony Musante, M. Emmet Walsh, Burt Young
Year

1984
Rated

R
Country

USA
Format

35mm
Running Time

121 minutes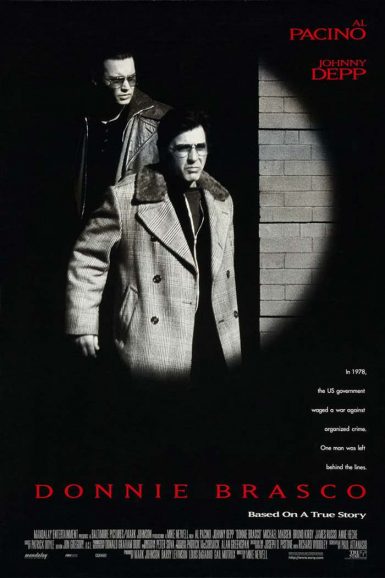 Donnie Brasco
Johnny Depp is undercover special agent Joe Pistone, who infiltrates the mob as Donnie Brasco – "He's a jewel guy." Donnie is brought into the mafia crew by Lefty, a nuanced role by Al Pacino and the two men form a deep bond, with Lefty becoming a mob mentor to Donnie, "A wiseguy's always right, even when he's wrong." Michael Madsen is formidable as Sonny Black, an ambitious, mid-level mob manager, that must make sure his blue-collar crew of Lefty, Donnie, Nicky (Bruno Kirby) and Paulie (James Russo) are kicking back enough "vig" to the men up the mob ladder above them. You won't find any teased hair, eyeliner or eccentric wardrobe accessories on Depp as Brasco, just the tape recorder he hides in his boot, the leather jacket he wears to blend in and his soulful eyes that are constantly observing. The violence in Donnie Brasco is bloody and often unpredictable, with a dismemberment scene that would make Jeffrey Dahmer squeamish.
Garret Mathany discusses Donnie Brasco on the New Beverly blog.
Director

Mike Newell
Starring

Al Pacino, Johnny Depp, Michael Madsen, Bruno Kirby, James Russo, Anne Heche
Year

1997
Rated

R
Country

USA
Format

35mm
Running Time

127 minutes