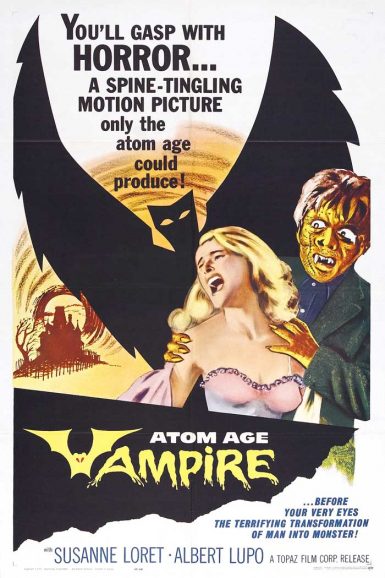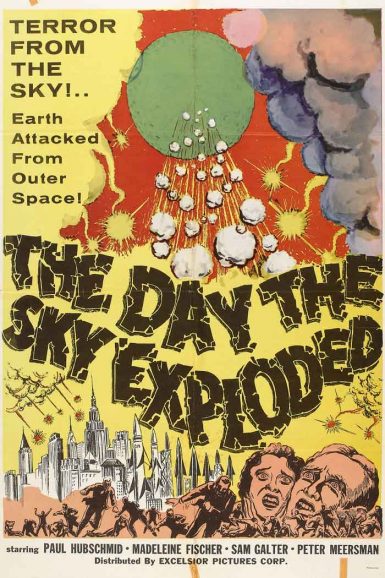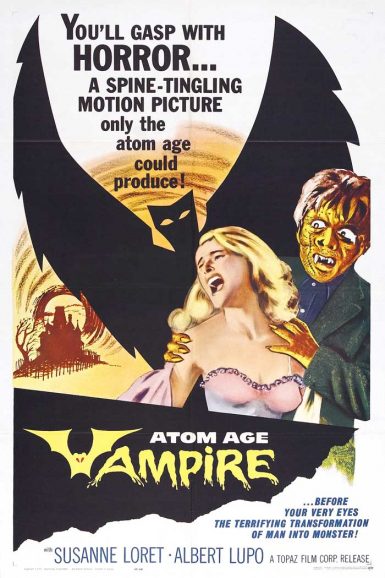 Atom Age Vampire
Although this wacked out horror classic saw a 1960 release in Italy, it didn't see US distribution until 1963 on the bottom half of a double bill with the spaghetti space opus Battle of the Worlds. Shorn of at least 15 minutes when it arrived here, Atom Age Vampire underwent a name change from its original title, Seddok – L'Erede di Satana (or Seddok – Heir of Satan).  Moving at a frenetic pace, laced with overwrought scenes of hyperbolic dialogue, we follow a stripper (Susanne Loret) distraught that her sailor beau (Sergio Fantoni) is having doubts about their impending marriage. Trying to reach him before his ship leaves, she has a car accident, disfiguring her. Nuclear researcher, Dr. Levin (Alberto Lupo) sends his assistant (Monique Riviere) to lure her from the hospital to use her as guinea pig for his cell-regenerating wonder drug, Derma 28. It works, but repeated injections are needed, and Levin is fresh out! To make matters worse, he's fallen in love with Loret. He injects himself with an earlier version of the drug that turns him into a monster, all the better to kill street women for their glands. Will Loret's lover, Fantoni – having second thoughts and just returned – be able to find and rescue her from this fiend? Along with the concurrent The Awful Dr. Orloff (directed by Jess Franco), this is an entertaining knock-off of Franju's Eyes Without a Face. And – surprise – it wasn't the last!
Chris D. discusses Atom Age Vampire and the lure of the mad surgeon on the New Beverly blog.
Director

Anton Giulio Majano
Starring

Alberto Lupo, Susanne Loret, Sergio Fantoni
Year

1960
Country

Italy
Format

35mm
Running Time

87 minutes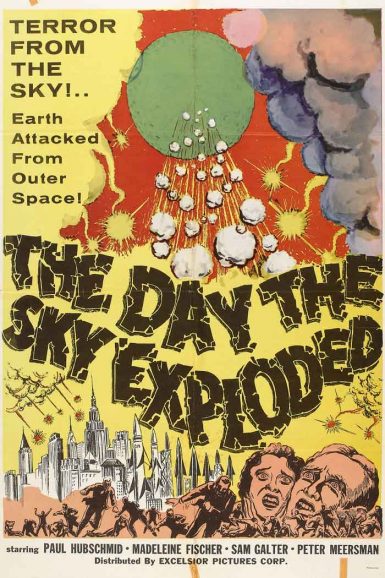 The Day the Sky Exploded
Released in Europe in 1958 but not until 1961 here in the States, this Italian-French co-production was co-directed by Paolo Heusch and (an uncredited) Mario Bava, who did the cinematography and special effects. A manned mission to the moon has to be aborted. The astronauts eject, but the atomic missile booster continues, exploding in an asteroid belt that dislodges many of them from their orbit, sending them hurtling towards Earth. As the tight cluster of gargantuan rocks approach, tidal waves, earthquakes, high winds and firestorms plague the planet. Is our world doomed? Hero scientist/astronaut, John McClaren (Swiss actor, Paul Hubschmid, veteran star of The Beast from 20,000 Fathoms) labors with scores of others to find a solution to the onrushing cataclysm. Wunderkind Bava was also responsible for the ingenious assembly of the prodigious amount of disaster stock footage here.
"The Day the Sky Exploded… drums up a bit of suspense and believability, just so long as you don't ask how 3,000 A-bombs happened to be on warhead rockets capable of reaching outer space on a moment's notice." – Wild Realm Reviews
Director

Paolo Heusch
Starring

Paul Hubschmid, Fiorella Mari, Madeleine Fischer
Year

1958
Country

Italy/France
Format

35mm
Running Time

80 minutes