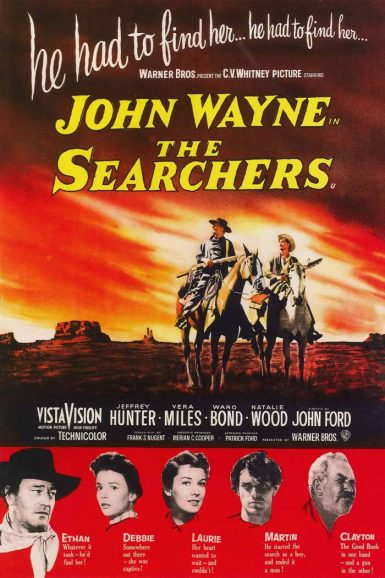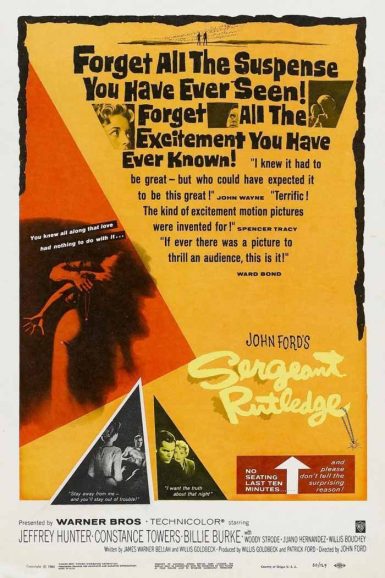 The Searchers
Sergeant Rutledge
Vibrant IB Technicolor 35mm print!
Buy Tickets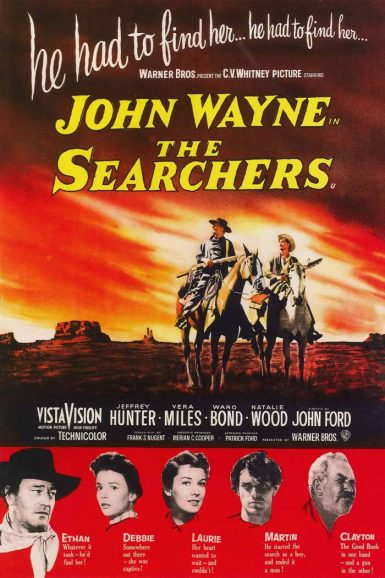 The Searchers
John Ford's most celebrated western is also one of his most controversial and widely misunderstood. Following the journey of Ethan Edwards (John Wayne), a Civil War veteran embittered after losing family members – including his unrequited love (who was his brother's wife) – to a raid by a ruthless Comanche chief, Ethan enlists his brother's adopted son, Martin (Jeffrey Hunter), to help search for his kidnapped niece (Natalie Wood). The trail is treacherous and unforgiving. Unrelenting prejudice against Native Americans colors the outlook of most of the posse led by preacher Ward Bond that occasionally teams up with Ethan to offer assistance. Ethan takes his quest far beyond reasonable limits, driven by a hatred that is just short of demonic possession. Nephew Martin becomes increasingly concerned that Ethan means to kill his niece if and when she's found, unable to suppress his disgust that she may have had carnal relations with 'savages.' Director Ford pushes Ethan far beyond comfortable limits. There are moments that make the audience squirm. Ultimately, Ford is interested in the embers of decency and affection that still lie smoldering in Ethan's gut, a humanity his fury cannot extinguish. And that faint, barely glimpsed hint of love and spiritual redemption is what rivets the viewer to the screen, determined to see whether Ethan will succumb to his demons or pull back from the racism that is eating him alive.
"The Searchers is as beautifully photographed as most of Ford's other films, but the widescreen and Technicolor make his usual location, Monument Valley, explode with weight and meaning. What really sets the film apart though is its dark tone… Ethan is a bitter and lonely man… Wayne gives an astonishing performance, boiling under the surface, laconic on top." – Jeffrey M. Anderson, Combustible Celluloid
View the full set of The Searchers lobby cards on the New Beverly forum.
Kim Morgan discusses The Searchers on the New Beverly blog.
Director

John Ford
Starring

John Wayne, Jeffrey Hunter, Vera Miles, Ward Bond, Natalie Wood
Year

1956
Country

USA
Format

35mm
Running Time

119 minutes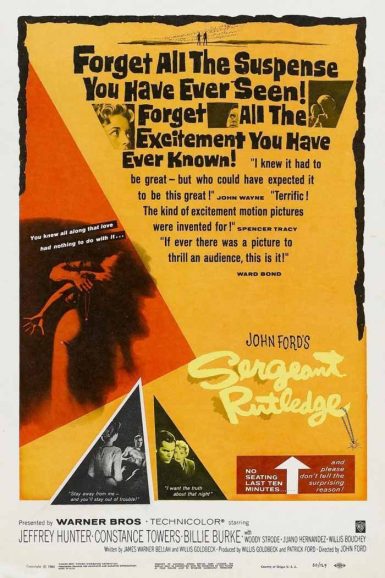 Sergeant Rutledge
Director John Ford spotlights pioneering African-American actor Woody Strode (The Man Who Shot Liberty Valance, The Professionals) in a challenging role as cavalry soldier, his tale told in flashback as he is tried for the rape of a white woman and a double murder. Lieutenant Tom Cantrell (Jeffrey Hunter), assigned to defend Sergeant Rutledge (Strode), is frustrated with the prosecutor's obvious bias and underhanded legal maneuvers to plant prejudice in the minds of the court. Co-starring Constance Towers (The Horse Soldiers, The Naked Kiss), Billie Burke and Juano Hernandez (Intruder in the Dust).
"For once, John Ford gave his black company player Woody Strode a staring role… this effective… western thriller represents one of Ford's late efforts to treat minority members with more respect than westerns usually did (Cheyenne Autumn was another), and Strode takes full advantage of the opportunity." – Jonathan Rosenbaum, The Chicago Reader
View a collection of stills & lobby cards for Sergeant Rutledge on the New Beverly forum.
Ariel Schudson discusses Sergeant Rutledge on the New Beverly blog.
Director

John Ford
Starring

Woody Strode, Jeffrey Hunter, Constance Towers, Billie Burke
Year

1960
Country

USA
Format

IB Technicolor 35mm
Running Time

111 minutes