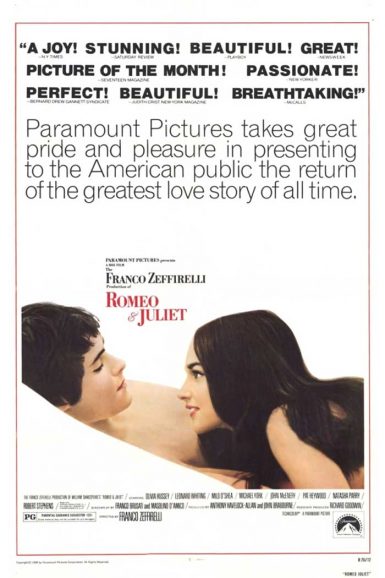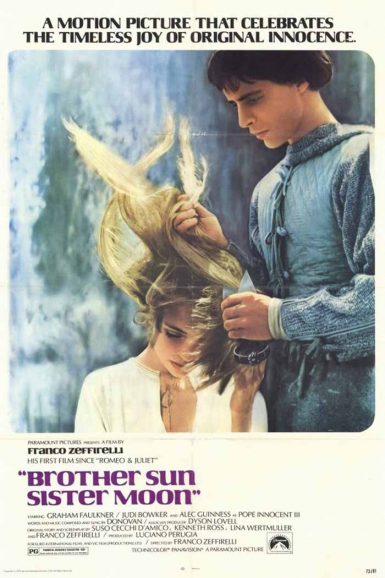 Romeo & Juliet (IB Tech Print)
Vibrant I.B. Technicolor print!
Brother Sun, Sister Moon (IB Tech Print)
Buy Tickets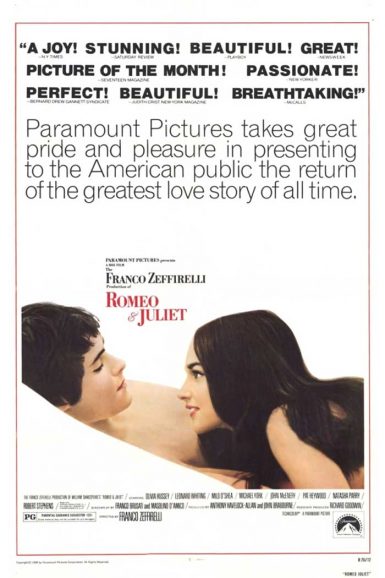 Romeo & Juliet (IB Tech Print)
The Bard's timeless telling of "Two houses, both alike in dignity" (the Capulets and the Montagues) makes a stunning transition from its centuries old telling on the boards, to what Roger Ebert regarded as "the most exciting film of Shakespeare ever made". Pasqualino De Santis took home an Academy Award for Best Cinematography, Danilo Donati also won for Best Costume Design, and Best Director Nominee Franco Zeffirelli beautifully captures the love at first sight attraction between Romeo (Leonard Whiting) and Juliet (Olivia Hussey in an Academy Award nominated screen debut) at the masquerade ball, as well as the tension between Tybalt (Michael York), Mercutio (John McEnery) and the rest of the players whose loyalties are beholden within the ancient grudge – "Where civil blood makes civil hands unclean". Laurence Olivier invites us into the world with his narration, and Nino Rota's lovely BAFTA and Golden Globe award winning score paces the film. Leonard Whiting and Olivia Hussey remarkably embody the hypnotic power of young love and the two "star-cross'd lovers" destiny.
"Franco Zeffirelli's Romeo and Juliet is the most exciting film of Shakespeare ever made." – Roger Ebert
"A lovely, sensitive, friendly popularization of the play – the lovers, Leonard Whiting and Olivia Hussey, as young and full of life as they ought to be" – Renata Adler, The New York Times
"High-minded and lively, with heartbreakingly beautiful actors on show, and all shot in a kind of honeycomb-sunglow light." – Peter Bradshaw, The Guardian
Garret Mathany writes about Romeo & Juliet on the New Beverly blog.
Director

Franco Zeffirelli
Starring

Olivia Hussey, Leonard Whiting, Milo O'Shea, Michael York, John McEnery
Year

1968
Rated

PG
Country

UK/Italy
Format

I.B. Technicolor 35mm
Running Time

136 minutes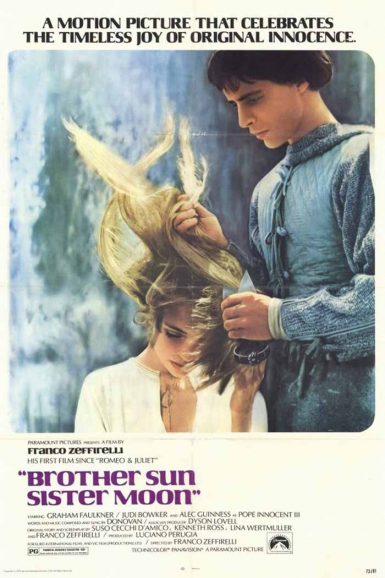 Brother Sun, Sister Moon (IB Tech Print)
A motion picture that celebrates the timeless joy of original innocence. Franco Zeffirelli's lushly-photographed, gorgeously-designed gem tells the story of St. Francis of Assisi and his evolution from wild youth to the changed man who brought the world of pomp and power to its knees through finding God in chastity, poverty, and obedience. Portraying Francis as sort of the first flower child, Brother Sun, Sister Moon cements its counterculture ideals with original songs composed and performed by Donovan. Featuring a script co-written by Lina Wertmüller, Oscar-nominated Art Direction, and a romantic score by Riz Ortolani.
35mm print courtesy of the Academy Film Archive
"Franco Zeffirelli has utilized a style of simple elegance, befitting both the period and the subject." – Variety
Director

Franco Zeffirelli
Starring

Graham Faulkner, Judi Bowker, Alec Guinness, Leigh Lawson, Kenneth Cranham, Lee Montague, Valentina Cortese
Year

1972
Rated

PG
Country

UK/Italy
Format

I.B. Technicolor 35mm
Running Time

122 minutes