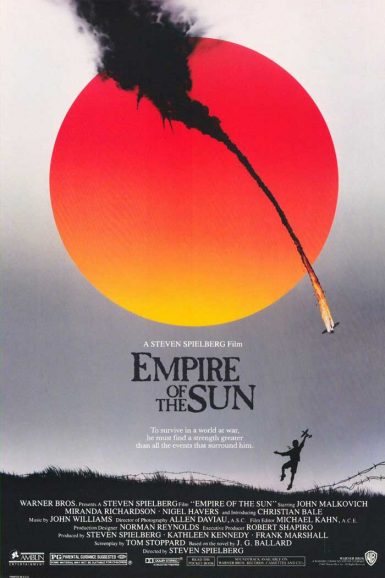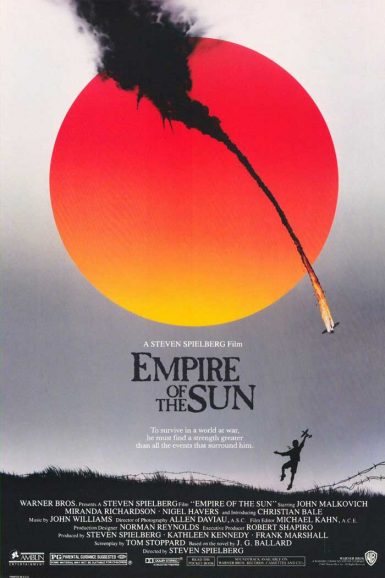 Empire of the Sun
Steven Spielberg's breathtaking coming of age tale set amidst a landscape of brutality, Empire of the Sun finds hope in a child's fight to survive.  Christian Bale soars in one of his earliest roles, starring as a spoiled young Brit in Shanghai separated from his parents during Japan's invasion during World War II. With the help of an American expat (John Malkovich), he must struggle to keep body and soul together if he's going to endure and outlast his oppressors. Nominated for six Academy Awards and winner of Best Cinematography, Best Score & Best Sound BAFTAs, Empire may be Spielberg's most staggeringly beautiful film as well as one of his most unjustly overlooked.
"4 Stars. A great adventure of the human spirit." – Jack Garner, Gannett News Service
View the full set of Spanish lobby cards for Empire of the Sun on the New Beverly forum.
Prevue Magazine talks with Steven Spielberg, producer Frank Marshall and star Christian Bale about Empire of the Sun. Read it now on the New Beverly blog.
Director

Steven Spielberg
Starring

Christian Bale, John Malkovich, Miranda Richardson, Nigel Havers, Joe Pantoliano, Leslie Phillips, Masatô Ibu
Year

1987
Rated

PG
Country

USA
Format

35mm
Running Time

153 minutes