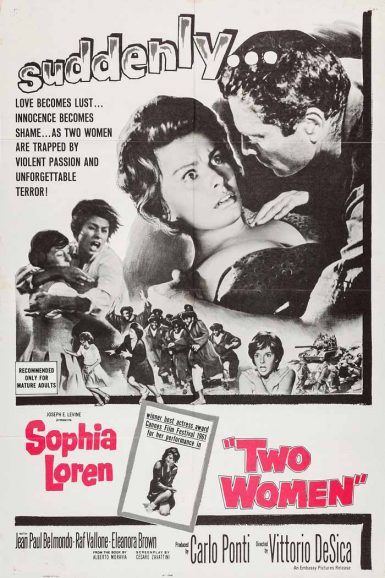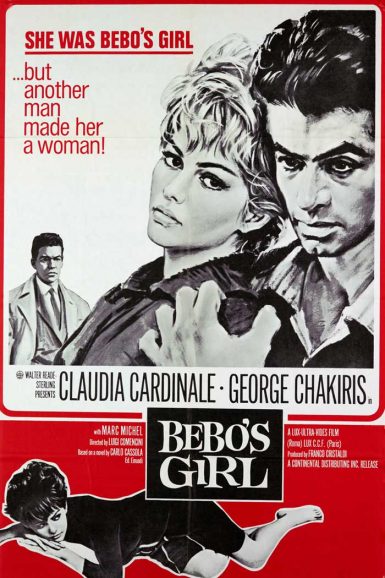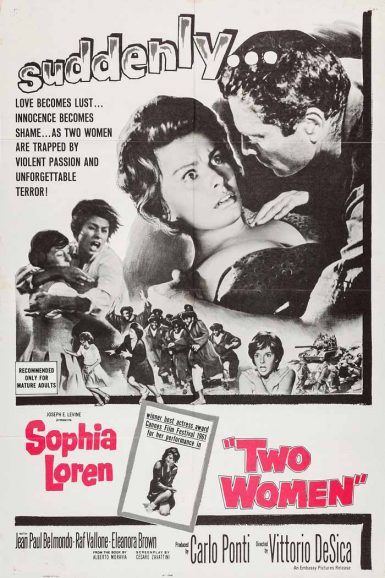 Two Women
Sophia Loren won the Best Actress Oscar for her versatile performance in Two Women, a moving drama set in the closing days of WW2. Loren was only 26 at the time but effortlessly projects a level of maturity as an older, single mother. Widowed shopkeeper Cesira (Loren) decides to close things up and flee Rome with her 13-year-old Rosetta (Eleonora Brown) due to the increase in Allied bombing. Reaching her rural native village, things start to get grimmer when a shy, brainy young man, Michele (Jean Paul Belmondo), to whom both have grown attached, is forced by German soldiers to guide them through the mountains. With reports of the Allies entering Rome, Cesira decides they should return. But on their journey back they have a horrifying encounter with Moroccan soldiers that leaves both traumatized and Rosetta no longer an innocent. Producer Carlo Ponti, Loren's husband, had bought the rights to the novel by Alberto Moravia (The Conformist), and American filmmaker George Cukor was originally slated to direct. But Cukor dropped out at the last minute and was replaced by veteran Italian actor/director Vittorio De Sica.
"The beauty of Miss Loren's performance is in her illumination of a passionate mother role. She is happy, expansive, lusty… she is grave and profound… Signor De Sica's direction has the qualities of fullness and momentum that are familiar and so compelling in his films." – Bosley Crowther, The New York Times
Chris D. discusses Two Women on the New Beverly blog.
Kim Morgan discusses Two Women on the New Beverly blog.
Director

Vittorio De Sica
Starring

Sophia Loren, Jean-Paul Belmondo, Elonora Brown
Year

1960
Country

Italy/France
Format

35mm
Running Time

100 minutes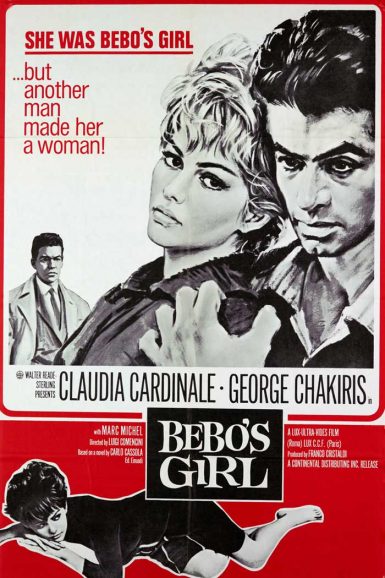 Bebo's Girl
Claudia Cardinale stars as Mara, a young woman in post-WW2 Italy who tries to stay true to her love, an on-the-run partisan (George Chakiris) who killed a Fascist policeman after the war had already ended. The pair had first met when Chakiris had traveled to Cardinale's small village to tell her parents of the death of her brother. With her lover's upcoming trial and a 14-year-jail-term in the cards, Cardinale finds herself attracted to a new acquaintance (Marc Michel), an idealistic young leftist active in printing and disseminating leaflets. She must come to terms with a looming decision that becomes more problematic as she struggles to keep her loyalty and romantic dreams alive, protecting them from being crushed by the omnipresent harshness of reality.
"A tenderly sweet and poignant film… Mr. Comencini has used the real locations of Italian towns and countryside that remind one of the hard and gritty settings of the great neorealist films." – Bosley Crowther, The New York Times
Chris D. discusses Bebo's Girl on the New Beverly blog.
Director

Luigi Comencini
Starring

Claudia Cardinale, George Chakiris, Marc Michel
Year

1964
Country

Italy/France
Format

16mm
Running Time

106 minutes