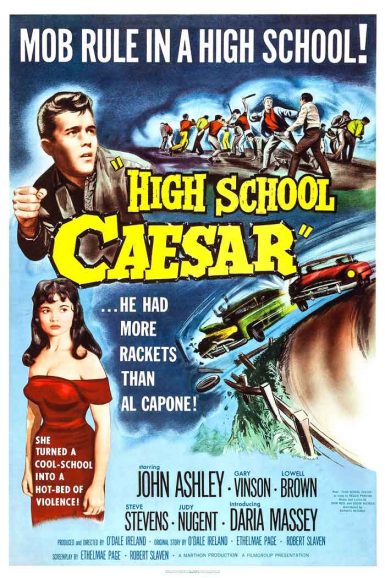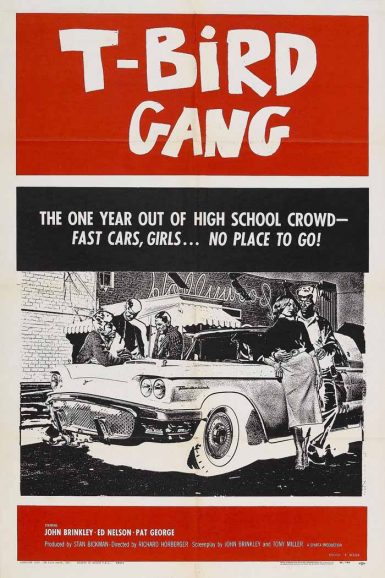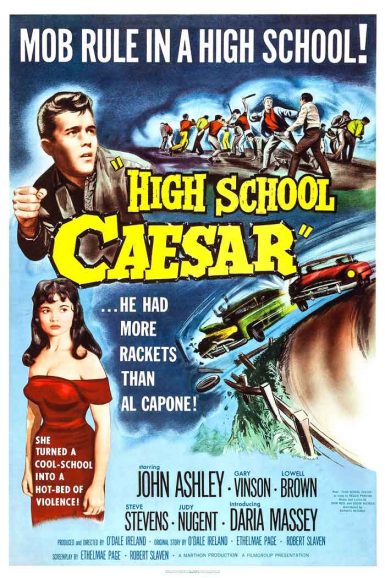 High School Caesar
John Ashley (Frankenstein's Daughter), later to achieve cult fame in the late sixties for his string of Filipino horror potboilers, is a high school bully who rules his roost with an iron fist. A spoiled brat suffering from neglect – his rich parents spend most of their time globetrotting – Matt (Ashley) extorts money, steals, sells answers to school exams and rigs the student election vote. Growing resentment foments discontent amongst his victims that may lead to his comeuppance. Things come to a head at ye olde neighborhood drag race. Complete with a quaint medley of rockin' non-hits, including "High School Caesar," "I Fell for Your Line, Baby," and "Lookin', Waitin', Searchin', Hopin'" Originally distributed by Roger Corman's micro-budgeted Filmgroup.
"Clad in leather jackets, tight blue jeans, and with greasy combed-back hair, Matt's gang do as they please, inducing fear in students who oppose their tightfisted rule… a gripping enough teen soap opera, with an expectedly reliable performance by Ashley and plenty of surprises and plot twists to keep you awake." – Casey Scott, DVD Drive-In
Kim Morgan discusses High School Caesar on the New Beverly blog.
Director

O'Dale Ireland
Starring

John Ashley, Gary Vinson, Steve Stevens
Year

1960
Country

USA
Format

35mm
Running Time

71 minutes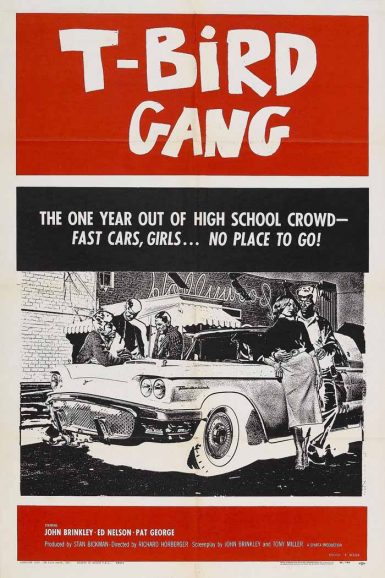 T-Bird Gang
Executive produced by Roger Corman, this JD mini-epic follows a high school student who joins a hot rod gang to find his father's murderer. Starring John Brinkley as well as Corman regulars Ed Nelson (The Brain Eaters, TV's "Peyton Place") and Beach Dickerson (Attack of the Crab Monsters), with Vic Tayback (Blood and Lace, TV's "Alice") and Coleman Francis. Local Los Angeles jazz legends Shelley Manne and his Men provide a swinging bebop score to punctuate the teen noir proceedings.
Director

Richard Harbinger
Starring

John Brinkley, Ed Nelson, Tony Miller, Pat George
Year

1959
Country

USA
Format

35mm
Running Time

65 minutes