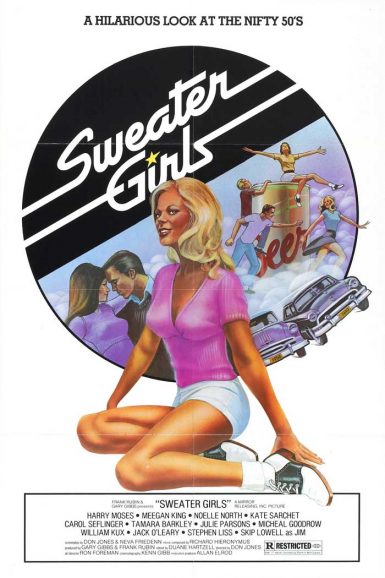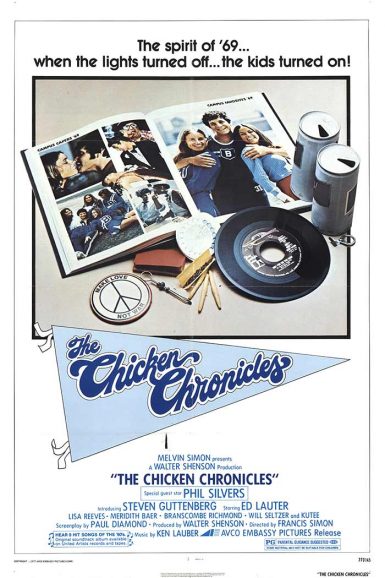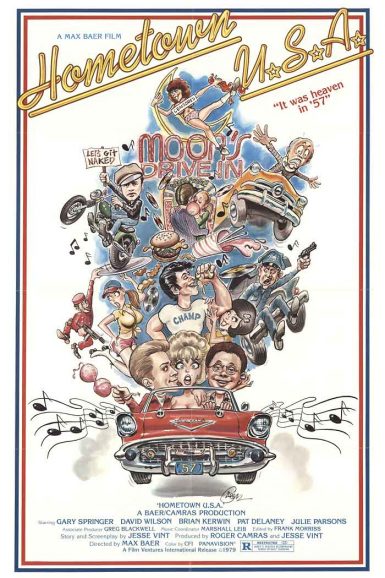 Sweater Girls
The Chicken Chronicles
Hometown U.S.A.
Buy Tickets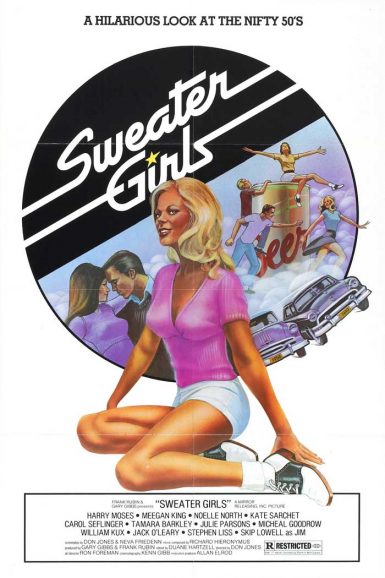 Sweater Girls
Watch out guys – they're bustin' out! Sweater Girls presents a hilarious look at the nifty 50s, sort of an American Graffiti with T&A for the drive-in crowd, that flashes back at one particularly wild, beer-fueled Fourth of July weekend of antics and shenanigans during the summer of '56. When a group of girls vow to keep their chastity, their raging hormones and lustful boyfriends will push them to the edge.
Director

Don Jones
Starring

Harry Moses, Meegan King, Noelle North, Kate Sarchet, Carol Seflinger, Tamara Barkley, Julie Parsons, Michael Goodrow, William Kux, Jack O'Leary, Stephen Liss, Skip Lowell
Year

1978
Rated

R
Country

USA
Format

35mm
Running Time

84 minutes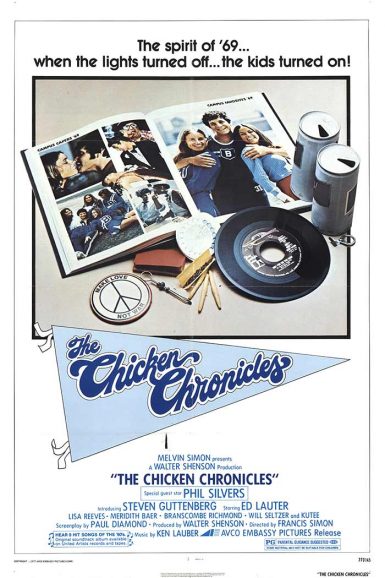 The Chicken Chronicles
A manic tale of mayhem and golden-fried fun, The Chicken Chronicles follows a high schooler giving everything he's got to get his All-American Girl into bed, while trying to juggle his senior year at Beverly Hills High and his gig at the local chicken joint. Set against the backdrop of late '60s Southern California, the film is a nostalgic sex comedy time capsule for a more innocent era of shenanigans, serving as a sort of bridge between American Graffiti and Animal House. Steve Guttenberg stars in his first lead role and The Pom Pom Girls' Lisa Reeves plays the object of his affections, while comedy icon Phil Silvers appears in one of his final performances. Paul Diamond, son of the legendary Billy Wilder collaborator I.A.L. Diamond, adapted his own novel for the big screen.
Director

Frank Simon
Starring

Steve Guttenberg, Ed Lauter, Lisa Reeves, Meridith Baer, Branscombe Richmond, Will Seltzer, Phil Silvers
Year

1977
Country

USA
Format

16mm
Running Time

95 minutes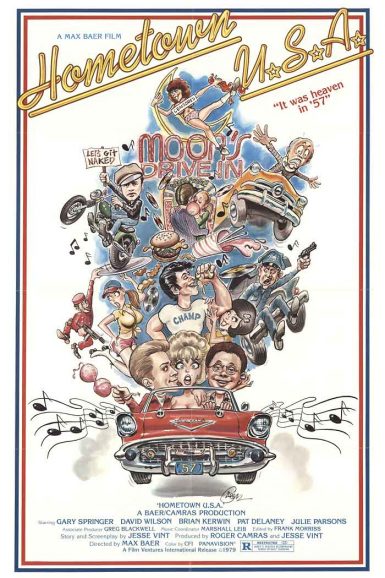 Hometown U.S.A.
On the night of June 3, 1957, nerdy Rodney the Rodent (Gary Springer), James Dean lookalike hunk T.J. Swackhammer (Brian Kerwin), and school hood Recil "the Diesel" Calhoun (David Wilson) got together for a night of cruisin', boozin', flirtin' with girls, and havin' an all-around good time in Hometown U.S.A.. Max Baer Jr. of The Beverly Hillbillies fame directs from a script by cult fave actor Jesse Vint.
Director

Max Baer Jr
Starring

Gary Springer, David Wilson, Brian Kerwin, Pat Delaney, Julie Parsons
Year

1979
Rated

R
Country

USA
Format

35mm
Running Time

93 minutes