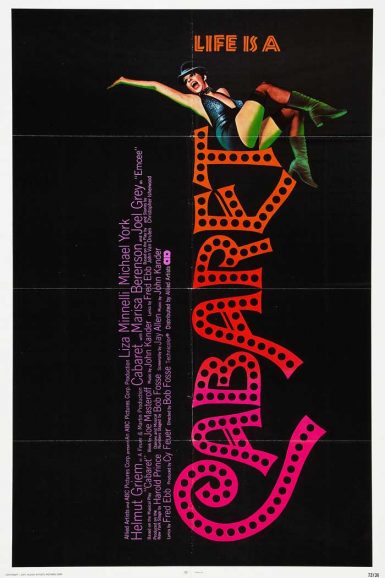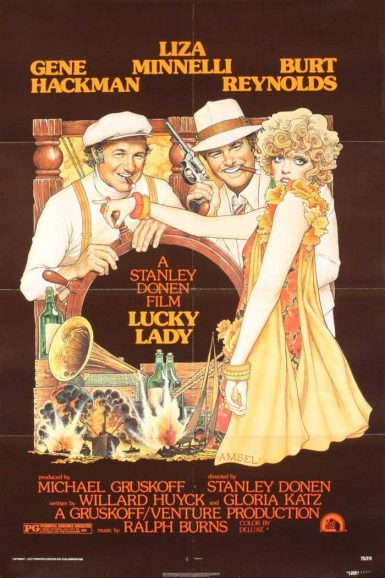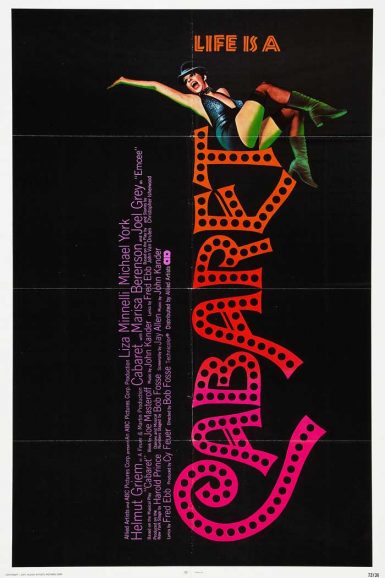 Cabaret
Winner of 8 Academy Awards, including Best Actress and Best Director, director / choreographer Bob Fosse's adaptation of the Broadway show is a stylish, big screen musical masterpiece. Set in 1931 Berlin, Cabaret chronicles young American Sally Bowles (Liza Minnelli) and her bohemian life as a performer at the Kit Kat Klub during the last days of the Weimar Republic, as well as her relationships with a reserved academic (Michael York) and a rich playboy (Helmut Griem). Minnelli is electric in her star-making role and a stellar Joel Grey shines in his Best Supporting Actor performance as the bawdy Master of Ceremonies.
"A great movie musical. Taking its form from political cabaret, it's a satire of temptations. In a prodigious balancing act, Bob Fosse, the choreographer-director, keeps the period – Berlin, 1931 – at a cool distance. We see the decadence as garish and sleazy; yet we also see the animal energy in it – everything seems to become sexualized. The movie does not exploit decadence; rather, it gives it its due. With Joel Grey as our devil-doll host – the master of ceremonies – and Liza Minnelli (in her first singing role on the screen) as exuberant, corruptible Sally Bowles, chasing after the life of a headliner no matter what; Minnelli has such gaiety and electricity that she becomes a star before our eyes." – Pauline Kael, The New Yorker
"Cabaret is most unusual: it is literate, bawdy, sophisticated, sensual, cynical, heart-warming, and disturbingly thought-provoking" – Variety
"This is no ordinary musical. Part of its success comes because it doesn't fall for the old cliché that musicals have to make you happy. Instead of cheapening the movie version by lightening its load of despair, director Bob Fosse has gone right to the bleak heart of the material and stayed there well enough to win an Academy Award for Best Director." – Roger Ebert
Director

Bob Fosse
Starring

Liza Minnelli, Michael York, Helmut Griem, Marisa Berenson, Joel Grey
Year

1972
Rated

PG
Country

USA
Format

35mm
Running Time

124 minutes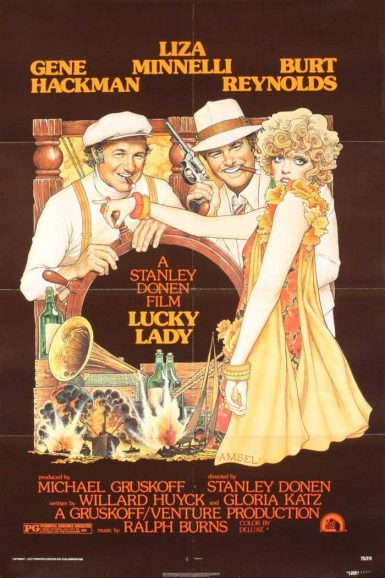 Lucky Lady
Working from a script by American Graffiti screenwriters Willard Huyck and Gloria Katz, director Stanley Donen (Singin' in the Rain, Charade) assembles a charismatic throwback to classic screwball comedies. Liza Minnelli, Gene Hackman, and Burt Reynolds star as a trio of bootleggers running rum from their Lucky Lady yacht during 1930s prohibition. Complications ensue when business turns into menage-à-trois pleasure, all while they try to stay one step ahead of the law. Cinematographer Geoffrey Unsworth (2001: A Space Odyssey, Cabaret) provides some excellent photography that helps set the period mood. Minnelli sings the old-timey title track by Kander and Ebb, the musical geniuses behind Cabaret and Chicago.
Director

Stanley Donen
Starring

Gene Hackman, Liza Minnelli, Burt Reynolds, Geoffrey Lewis, John Hillerman, Robby Benson
Year

1975
Rated

PG
Country

USA
Format

35mm
Running Time

118 minutes