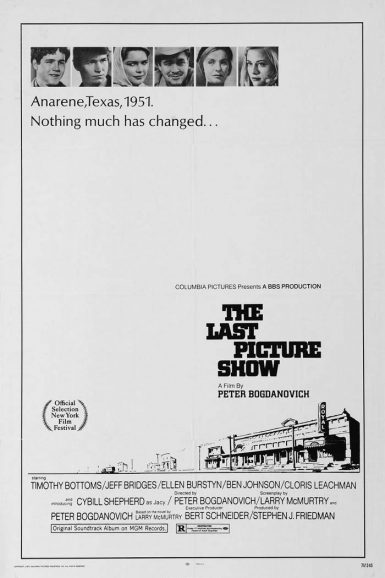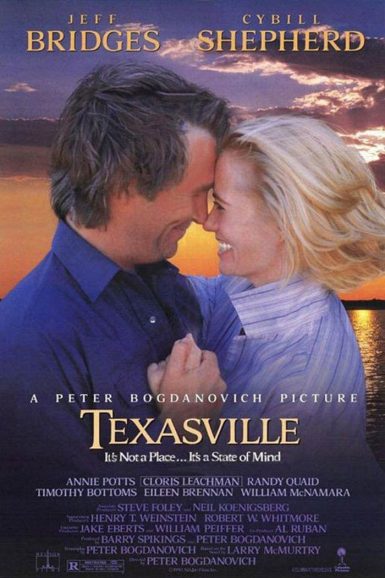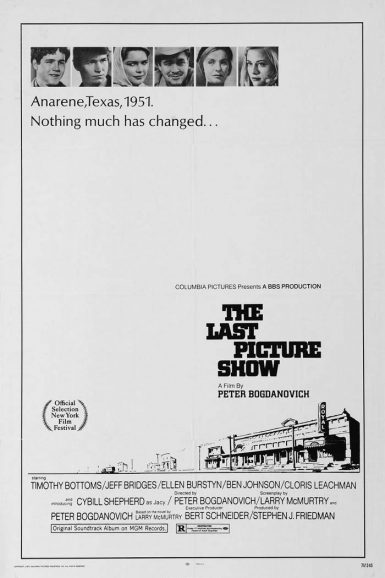 The Last Picture Show
This legendary BBS Production (they'd also bankrolled Easy Rider and Five Easy Pieces), director Peter Bogdanovich's second effort, was perhaps the company's biggest box-office hit. It received universal acclaim, winning two Oscars: Best Supporting Actor for Ben Johnson and Best Supporting Actress for Cloris Leachman, with six other nominations, including Best Picture and Best Director. Circa 1951, teenage best friends Sonny (Timothy Bottoms) and Duane (Jeff Bridges) have little to do in their dying-on-the-vine town of Anarene, Texas. The two daydream, drink beer, play high school football and chase girls when they're not patronizing the lone movie house, diner and pool hall. Sam the Lion (Johnson) owns all three and is a surrogate father figure for them both. He tries to dispense a little wisdom when the boys' knuckleheaded behavior and sexual antics threaten to get them into serious trouble. A slew of great performances punctuate this New Hollywood classic, from both veteran performers and newcomers, including Ellen Burstyn, Cybill Shepherd, Clu Gulager, Eileen Brennan, Randy Quaid and Sam Bottoms. With a stunning score composed entirely of 'needle drops' of the era's most popular country songs, from Hank Williams to Bob Wills & His Texas Playboys.
"The film has an unadorned honesty that came as a jolt after the pyrotechnics of the late 1960s… Bogdanovich went back to the directness and simplicity of Ford, who he admired no less than Welles." – Roger Ebert
View the full set of US lobby cards for The Last Picture Show on the New Beverly forum.
Garret Mathany discusses Ben Johnson and The Last Picture Show on the New Beverly blog.
Kim Morgan discusses The Last Picture Show on the New Beverly blog.
Director

Peter Bogdanovich
Starring

Timothy Bottoms, Jeff Bridges, Cybill Shepherd, Ben Johnson, Cloris Leachman, Ellen Burstyn, Eileen Brennan, Clu Gulager, Sam Bottoms, Randy Quaid
Year

1971
Rated

R
Country

USA
Format

35mm
Running Time

118 minutes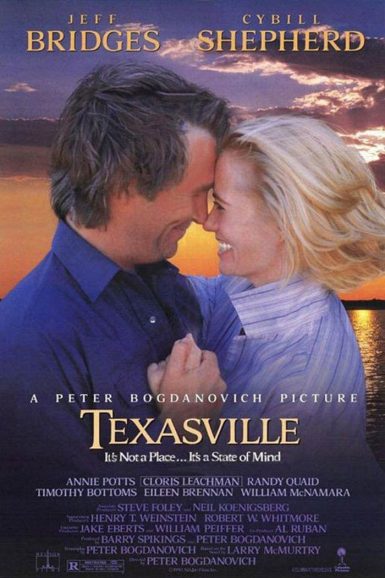 Texasville
Director Peter Bogdanovich and writer Larry McMurtry reteam up for this belated sequel based on McMurtry's novel. Circa 1984, 50-year-old Duane (Jeff Bridges) is an oil tycoon on the verge of financial collapse, married to a wife, Karla (Annie Potts), who believes he's unfaithful, and old pal, Anarene's mayor Sonny (Timothy Bottoms), experiencing mental health issues. Things go even more topsy-turvy when former homecoming queen, Jacy (Cybill Shepherd), returns to town, now a B movie actress who found modest success in Europe before the tragic death of her son. Jacy's flighty, selfish nature has become somewhat tempered with a worldly wisdom. Though sparks still fly between her and Duane, Jacy surprises everyone when she becomes good friends with Karla. Things come to a head when Anarene celebrates its bicentennial. Cloris Leachman and Randy Quaid also reprise their original roles.
"The citizens of Anarene seem so accepting of human nature that they have given up having any dreams or expectations… in a subtle way, Texasville is making the same point as the previous film: That the last picture show has closed…and now under these wide Texas skies people lower their eyes to smaller concerns and lives without vision." – Roger Ebert
Director

Peter Bogdanovich
Starring

Jeff Bridges, Cybill Shepherd, Annie Potts, Cloris Leachman, Randy Quaid, Timothy Bottoms, Eileen Brennan, William McNamara
Year

1990
Rated

R
Country

35mm
Format

35mm
Running Time

125 minutes