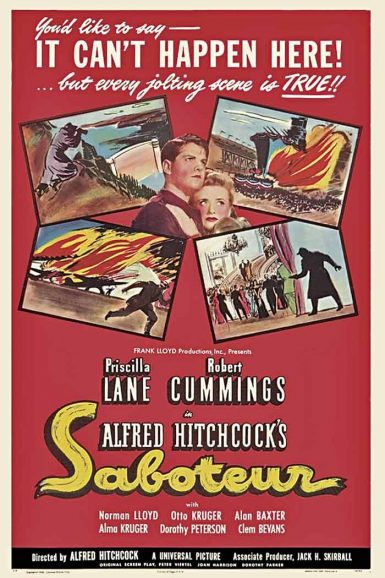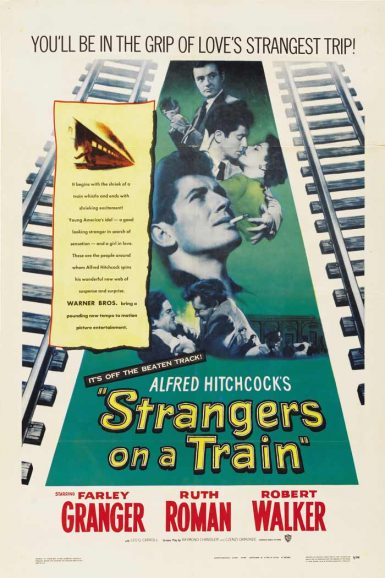 Saboteur
Strangers on a Train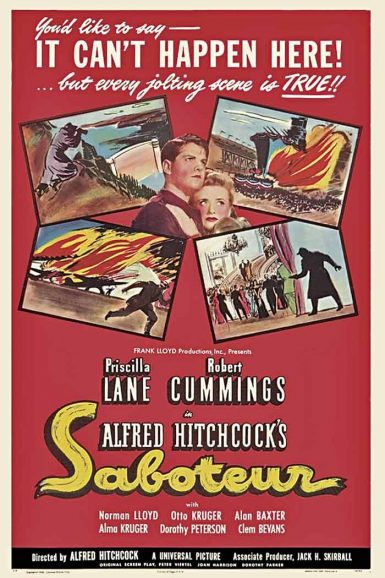 Saboteur
Director

Alfred Hitchcock
Starring

Priscilla Lane, Robert Cummings, Otto Kruger, Alan Baxter, Clem Bevans, Norman Lloyd
Year

1942
Country

USA
Format

35mm
Running Time

109 minutes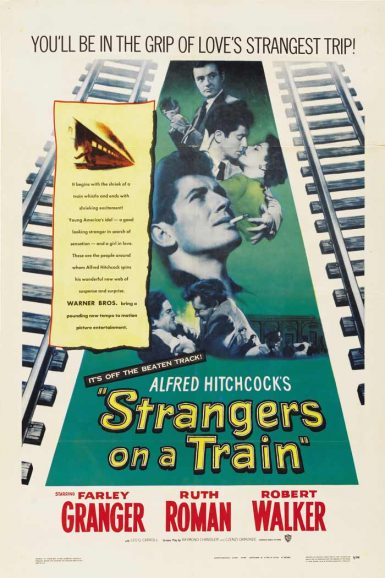 Strangers on a Train
A chance encounter leads to a Faustian bargain in the beloved Hitchcock classic Strangers on a Train. Farley Granger stars as a tennis pro whose wife's refusal to divorce him becomes an obsession for the unhinged socialite (Robert Walker) he meets while traveling. Granger unwittingly colludes with the psychotic interloper to murder Walker's hated father in exchange for Walker's "taking care" of his wife. What begins a hypothetical conversation grows dangerously real as Walker begins to stalk Granger and his wife, plans the deadly crime, and demands Granger do the same. Known for its memorable carnival sequence and coded gay themes, the screenplay was adapted from a Patricia Highsmith novel by Raymond Chandler.
"Ranked among Hitchcock's best … and its appeal is probably the linking of an ingenious plot with insinuating creepiness." – Roger Ebert
"Hitchcock's handling of the suspense is deadly effective and a quality cast breathe life into some delicious dialogue." – Film4
"Given a good basis for a thriller in the Patricia Highsmith novel and a first-rate script, Hitchcock embroiders the plot into a gripping, palm-sweating piece of suspense." – Variety
View a collection of Strangers on a Train lobby cards on the New Beverly forum.
Ariel Schudson discusses Strangers on a Train on the New Beverly blog.
Director

Alfred Hitchcock
Starring

Farley Granger, Ruth Roman, Robert Walker, Leo G. Carroll, Patricia Hitchcock
Year

1951
Country

USA
Format

35mm
Running Time

101 minutes