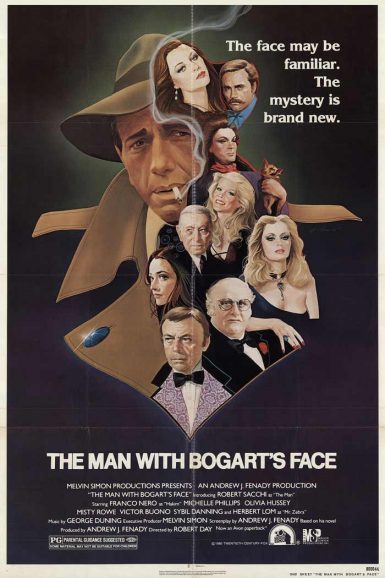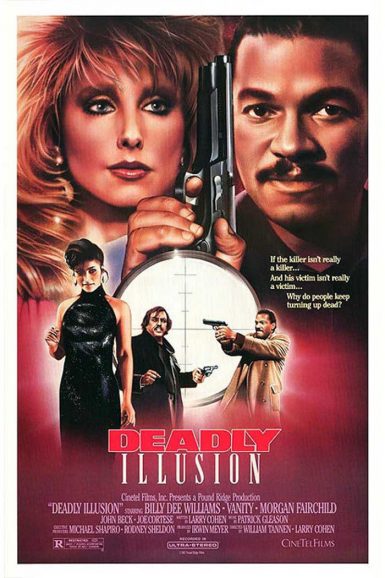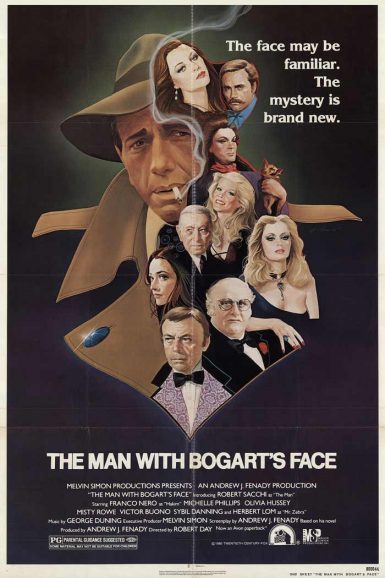 The Man With Bogart's Face
No, your eyes don't deceive you! Humphrey Bogart's legendary mug is resurrected in this jaw-dropping performance by Robert Sacchi. After a man (Sacchi) undergoes facial reconstruction to look like his silver screen hero, he assumes the name "Sam Marlowe" (à la The Maltese Falcon & The Big Sleep) and opens up his own detective agency. Sam's business becomes an overnight success when his picture makes the front page of the paper, comparing him to the Casablanca casanova. As a cast of noir-esque villains hunt for a priceless pair of sapphires called the Eyes of Alexander, The Man with Bogart's Face finds that his new life may be more like Bogie's than he bargained for.
Director

Robert Day
Starring

Robert Sacchi, Franco Nero, Michelle Phillips, Olivia Hussey, Misty Rowe, Victor Buono, Sybil Danning, Herbert Lom, George Raft, Yvonne De Carlo
Year

1980
Rated

PG
Country

USA
Format

16mm
Running Time

106 minutes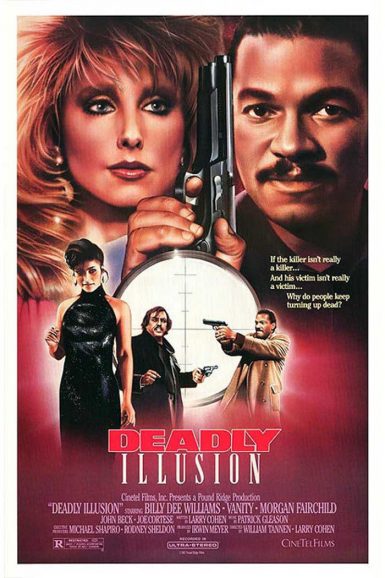 Deadly Illusion
Billy Dee Williams is Detective Hamberger, New York's smoothest-talking private eye, in Deadly Illusion. He solves high-stakes mysteries while punching out bad guys and bedding beautiful women. But when one of these women turns up dead, he's under the gun to prove his innocence and uncover an all-powerful conspiracy involving both high fashion and international drug trafficking. Prolific genre director and New Bev favorite Larry Cohen was fired halfway through production, but his signature zeal and originality remains stamped on this fast-paced holiday urban noir, which oozes no small amount of sex and sleaze. Keep an eye out for the actor who epitomized NYC-sleaze, Joe Spinell, in the raucous opening scene.
Director

William Tannen, Larry Cohen
Starring

Billy Dee Williams, Vanity, Morgan Fairchild, John Beck, Joe Cortese
Year

1987
Rated

R
Country

USA
Format

35mm
Running Time

87 minutes