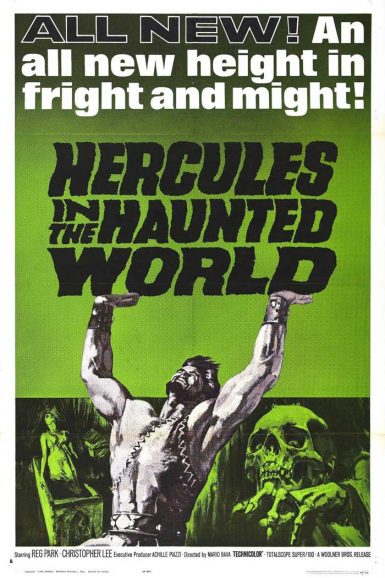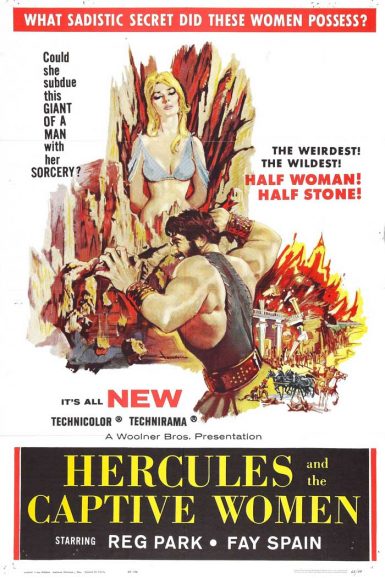 Hercules in the Haunted World
Vibrant IB Technicolor 35mm print!
Hercules and the Captive Women
IB Technicolor 35mm print!
Buy Tickets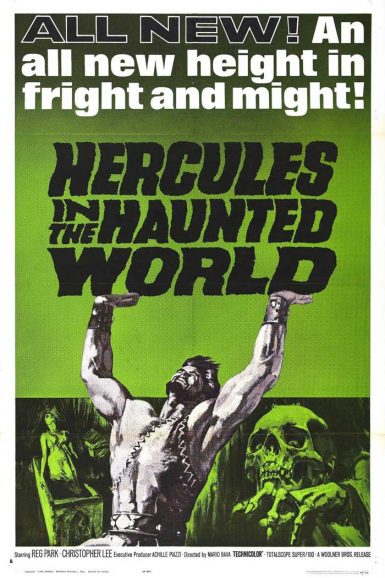 Hercules in the Haunted World
"An All New Height in Fright and Might!" Director Mario Bava's sword-and-sandal spectacle is one of his most visually stunning pictures, as mythological hero Hercules (Reg Park) descends into a hellish netherworld in search of a magic stone that will restore his comatose princess fiancée (Leonora Ruffo) to life. Christopher Lee is wicked Lycos, the vampiric necromancer bent on defeating the legendary Olympian demi-god, stealing the princess and usurping control of the above-ground empire. Bava's color palette and matte work is lush, intricate and dreamlike, a triumph of imagination over an impossibly low budget.
"Bava's interweaving of light, shadow, color, and sometimes literal 'smoke and mirrors' to define space, mood, and even character is consistently impressive… striking set-pieces abound, including Deianira rising from her sarcophagus and floating across the room; Lycos reflected in a pool of his victim's blood; the flying ghouls rising from their slimy crypts…There's almost too much to appreciate in a single viewing." – Savage Cinema
Director

Mario Bava
Starring

Reg Park, Christopher Lee, Leonora Ruffo, George Ardisson
Year

1961
Country

Italy
Format

IB Technicolor 35mm
Running Time

77 minutes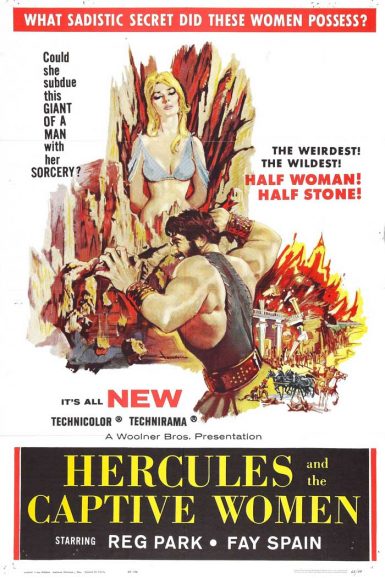 Hercules and the Captive Women
Bidden by the King of Thebes (Ettore Manni), Hercules (Reg Park) sets sail to determine what unseen force is threatening Greece with destruction. Along the way, he must contend with a mutiny as well as an encounter with the shape-shifting villain, Proteus, on a mysterious island where young Princess Ismene is trapped in a rock formation. Rescuing and returning the girl to the island of Atlantis, Hercules meets her evil mother, Queen Antinea (Fay Spain) who has created an army of brainwashed supermen to conquer the world. Antinea attempts to neutralize Hercules by forcing him to fall in love with her.
"Ex-Dragstrip Girl and Teenage Doll Fay Spain is one of the best evil Queen types ever, just terrific. Like all truck stop sirens that get the hots for Hercules, Spain's Antinea tries to lobotomize the (happily married) hunk with a date-rape drug. Herc takes the sleeping potion but is smart enough to spit it all out and escape from her icy clutches." – Glenn Erickson, DVD Savant
Witney Seibold writes about homoeroticism in Hercules cinema for the New Beverly blog.
Director

Vittorio Cottafavi
Starring

Reg Park, Fay Spain, Ettore Manni
Year

1961
Country

Italy/France
Format

IB Technicolor 35mm
Running Time

94 minutes