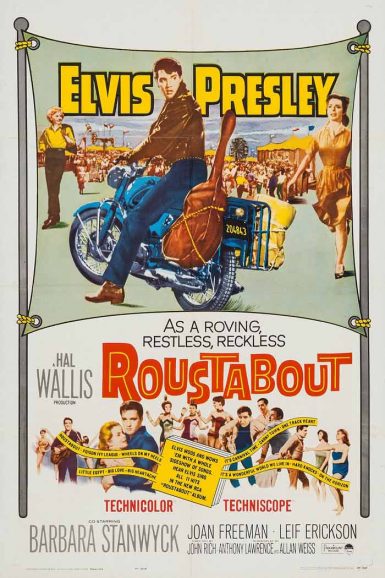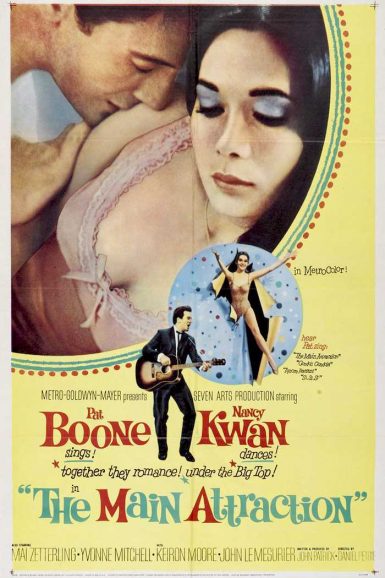 Roustabout (IB Tech Print)
Vibrant I.B. Technicolor print!
The Main Attraction (IB Tech Print)
Not Available on DVD! Vibrant IB Technicolor 35mm print!
Buy Tickets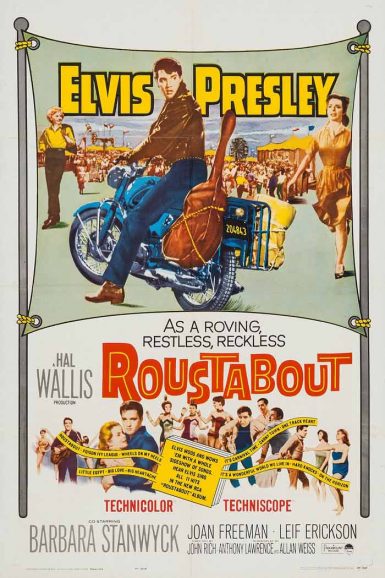 Roustabout (IB Tech Print)
Elvis is a roving, restless, reckless Roustabout in a technicolor carnival of movie, that showcases the King's movie star cool and iconic silver screen charisma. Elvis plays rebel biker and tough guy troubadour Charlie Rogers, who is offered a job by Maggie (Barbara Stanwyck) in her struggling carnival, after her foreman Joe (Leif Erickson) runs Charlie and his motorcycle off the road for making a pass at his daughter Cathy (Joan Freeman), and it doesn't take long for Elvis to become the star attraction. Released in 1964, the same year the Beatles would touch down in America, the Roustabout soundtrack reached solid gold and number one on the charts. Can Elvis take the chip off his shoulder and become a team player that saves the circus and wins Cathy's love?
Director

John Rich
Starring

Elvis Presley, Barbara Stanwyck, Joan Freeman, Leif Erickson, Sue Ane Langdon, Pat Buttram, Joan Staley
Year

1964
Country

USA
Format

I.B. Technicolor 35mm
Running Time

101 minutes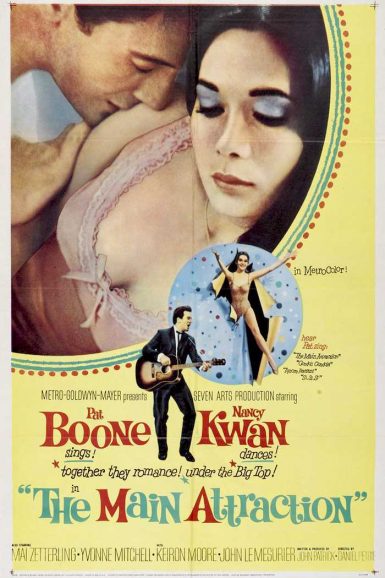 The Main Attraction (IB Tech Print)
There's drama under the big top in the impossibly hard-to-see rarity The Main Attraction when a guitar-slingin', smooth-voiced American drifter (Pat Boone) joins a European circus as the singing, boy-toy sidekick for their ventriloquist (Mai Zetterling). Things get sticky when he falls in love with the circus' horse rider (Nancy Kwan). Their budding romance lights the fuse of already seething conflicts behind the scenes. Co-starring Kieron Moore and Yvonne Mitchell. At the premiere, puritanical Boone was reportedly concerned over the lurid aspects of a few scenes and compromises were negotiated behind closed doors.
"Thanks to the cryptic, lifelike dialogue of John Patrick, the producer, the smooth direction of Daniel Petrie, and the competent playing of a good, small cast, the movie unfolds as a tightly knotted, adult story of sexual tensions and jealousies. Here is a backstage circus yarn, with no spangled nonsense and some workable, simmering frictions – and one ring." – Bosley Crowther, The New York Times
View a collection of rare US lobby cards for The Main Attraction on the New Beverly forum.
Download a PDF of the original press book for The Main Attraction here.
Director

Daniel Petrie
Starring

Pat Boone, Nancy Kwan, Mai Zetterling, Yvonne Mitchell
Year

1962
Country

UK
Format

IB Technicolor 35mm
Running Time

89 minutes