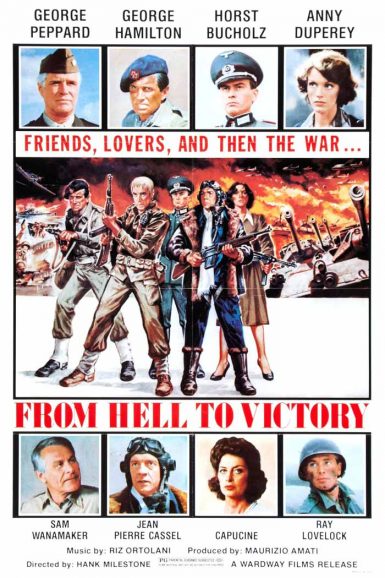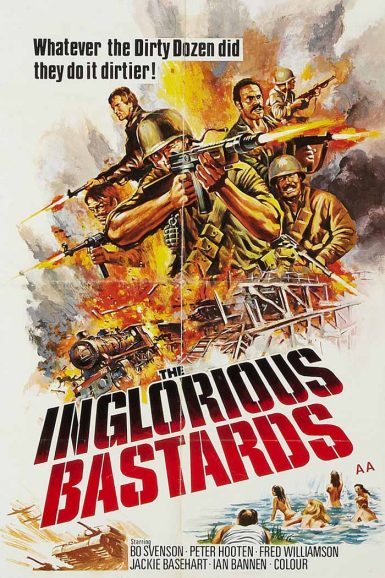 From Hell to Victory
The Inglorious Bastards (Bo Svenson in person!)
Actor Bo Svenson will join us IN PERSON, schedule permitting, to discuss!
Buy Tickets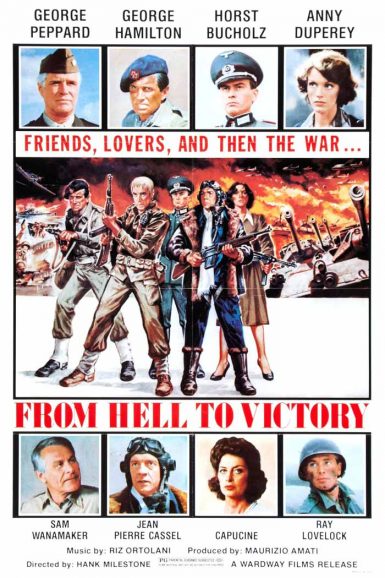 From Hell to Victory
Six friends (George Peppard, George Hamilton, Horst Bucholz, Annie Duperey, Jean-Pierre Cassel and Sam Wanamaker) meet in a Paris café in 1939 and vow to return each year at the same time for a reunion. But the impending world war lasts longer than anyone thought, and it delays their rendezvous, with bittersweet results. The sextet separate and go their separate ways, some ending up in the military and some in the French Resistance. Umberto Lenzi (Paranoia, Nightmare City, Eaten Alive) directed under the pseudonym Hank Milestone. The gorgeous cinematography – at least what isn't stock footage from other previous Italian war epics – was lensed by future Almodóvar cameraman José Luis Alcane and the score is by Riz Ortolani (Mondo Cane, One on Top of The Other). Co-starring Capucine, Ray Lovelock and Howard Vernon.
Marc Edward Heuck discusses From Hell to Victory on the New Beverly blog.
Director

Umberto Lenzi
Starring

George Peppard, George Hamilton, Horst Buchholz, Ann Deperey, Jean-Pierre Cassel, Capucine, Sam Wanamaker
Year

1979
Rated

PG
Country

Italy/Spain/France
Format

35mm
Running Time

97 minutes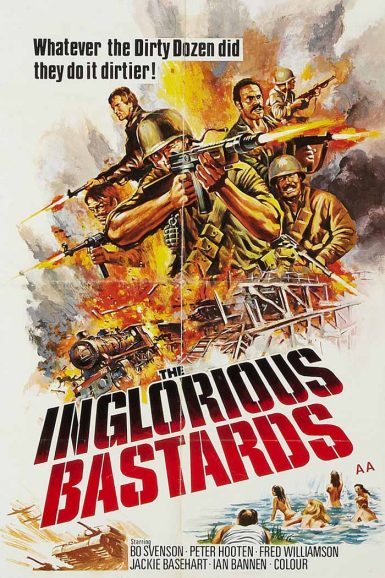 The Inglorious Bastards (Bo Svenson in person!)
Schedule permitting, The Inglorious Bastards star Bo Svenson will join us IN PERSON on Wednesday, January 11, to discuss!
"Whatever the Dirty Dozen did they do it dirtier!" Bo Svenson is one of five survivors when a military prison transport headed to a stockade during WW2 is bombarded by German planes. In agreement with his renegade comrades (Fred Williamson, Pete Hooten, Michael Pergolani, Jackie Basehart), Svenson leads the bunch towards neutral Switzerland where they hope to sit out the hostilities and avoid both fighting and prison. But through a tragic misadventure, they're forced to volunteer for an impossible mission to retrieve a Nazi V2 rocket warhead from behind enemy lines. Co-starring Ian Bannen, Michel Constantin. This gritty, underrated action film served as inspiration for Quentin Tarantino's Inglourious Basterds.
"Marry the gut-level contradictions found in Samuel Fuller's movies, the action poetry of Sam Peckinpah's work, and the verve and intensity of the exclusively male combat units seen in the war films of any number of American filmmakers from Robert Aldrich to Darryl Zanuck, and you'll get a sense of what you're in for." – Marjorie Baumgarten, The Austin Chronicle
Marc Edward Heuck discusses The Inglorious Bastards on the New Beverly blog.
Director

Enzo G. Castellari
Starring

Bo Svenson, Peter Hooten, Fred Williamson, Michel Constantin, Debra Berger
Year

1978
Rated

R
Country

Italy
Format

35mm
Running Time

99 minutes