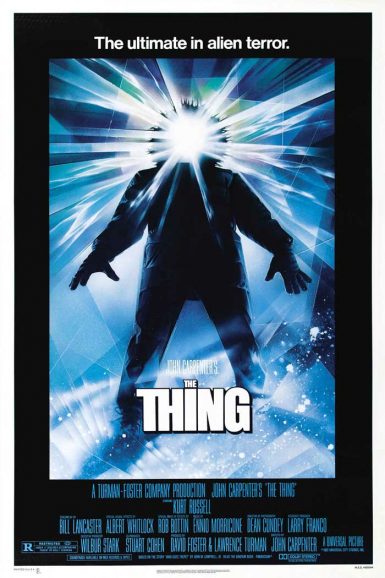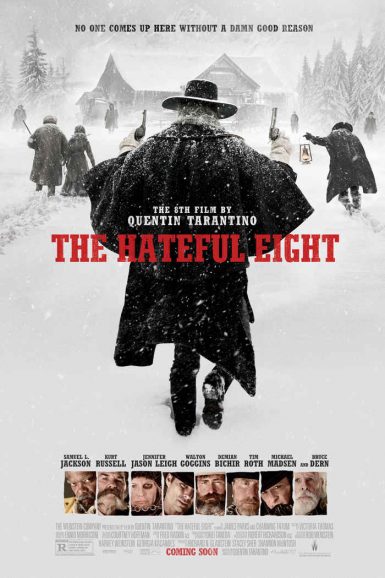 The Thing
The Hateful Eight (Multiplex Version)
Gorgeous 35mm print from Quentin Tarantino's personal archive!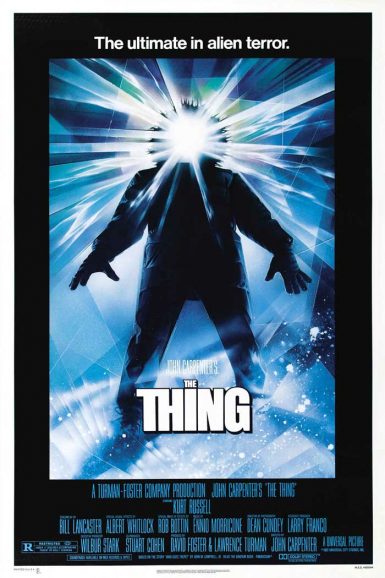 The Thing
As a beautiful black and white Malumute sprints through the pristine snow towards a research station, a Norwegian helicopter fires at it from above in John Carpenter's deliberation on paranoia and trust (or lack thereof), in his horror-thriller-monster-movie remake The Thing, both the cast and the audience get to reconcile in real time – "Who in the hell would shoot at that beautiful dog and why?" The answers come soon enough, and they are as gruesome as they are terrifying, as Kurt Russell leads a strong ensemble cast (Wilford Brimley, David Clennon, Keith David, Richard Dysart, Ricahrd Masur, Peter Maloney, T.K. Carter, Joel Polis, Charles Hallahan, Donald Moffat and Thomas Waites) that fight for their survival against an alien life form that has assimilated into the dog's DNA, and remains alive on a cellular level, even after the dog is incinerated – searching for a living host. With its in-camera special effects that moved the needle forward in that art form, while raising the bar on what remakes should aspire to, The Thing stands as Carpenter's masterpiece, and continues to influence filmmakers both young and old, in this claustrophobic whodunit, paced by Ennio Morricone's atmospherically spooky score.
"A great barf-bag movie" – Roger Ebert
"The scariest movie I ever saw was John Carpenter's The Thing" – John Sayles
"The Thing is a peerless masterpiece of relentless suspense, retina-wrecking visual excess and outright, nihilistic terror." – Adam Smith, Empire Magazine
"Shows more originality, wit and invention than possibly any other film you might call a remake… as influential as Alien for its blend of action, sci-fi and chilling horror." – Film4
View a collection of The Thing lobby cards on the New Beverly forum.
Kim Morgan discusses The Thing on the New Beverly blog.
Garret Mathany interviews actor Thomas G. Waites for the New Beverly blog.
Director

John Carpenter
Starring

Kurt Russell, Keith David, Wilford Brimley, Donald Moffat, Richard Masur, David Clennon, Charles Hallahan,Richard Dysart, T. K. Carter, Peter Maloney, Joel Polis, Thomas G. Waites
Year

1982
Rated

R
Country

USA
Format

35mm
Running Time

109 minutes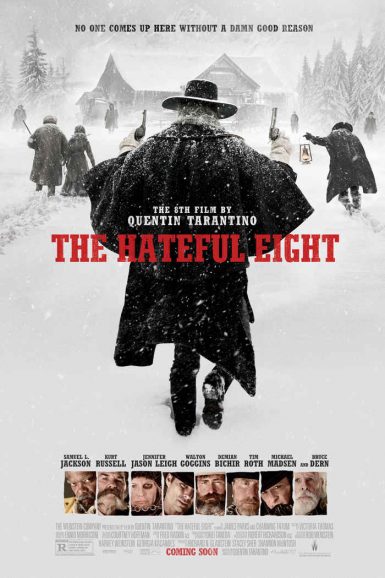 The Hateful Eight (Multiplex Version)
During a deadly snowstorm, a bounty hunter (Kurt Russell) rushes to bring his fugitive (Jennifer Jason Leigh) to justice. But losing their lead on the blizzard, they must seek refuge at Minnie's Haberdashery where the mysterious strangers inside may not be who they seem. Written & directed by Quentin Tarantino and co-starring a stunning ensemble of QT favorites and pitch-perfect additions to his troupe: Samuel L. Jackson, Walton Goggins, Demián Bichir, Tim Roth, Michael Madsen and Bruce Dern round out The Hateful Eight.
"The movie absolutely delivers on the sheer moment-to-moment pleasures fans have come to expect, from dynamite dialogue to powder-keg confrontations." – Peter Debruge, Variety
"An almost three-hour film that never drags, that is enjoyable from beginning to end." – Mick LaSalle, San Francisco Chronicle
Quentin Tarantino joins Bret Easton Ellis' popular podcast for a nearly two hour discussion on The Hateful Eight. Find out more in Tarantino's Vault.
Director

Quentin Tarantino
Starring

Samuel L. Jackson, Kurt Russell, Jennifer Jason Leigh, Walton Goggins, Demián Bichir, Tim Roth, Michael Madsen and Bruce Dern
Year

2015
Rated

R
Country

USA
Format

35mm
Running Time

167 minutes