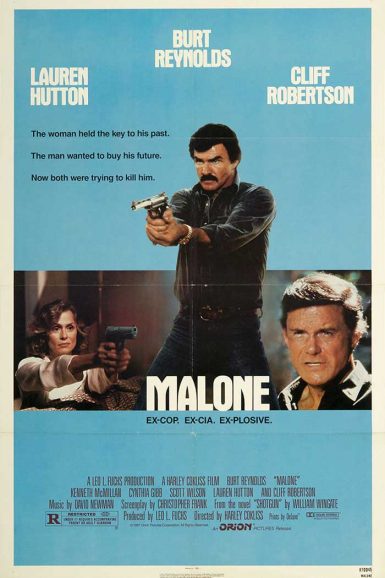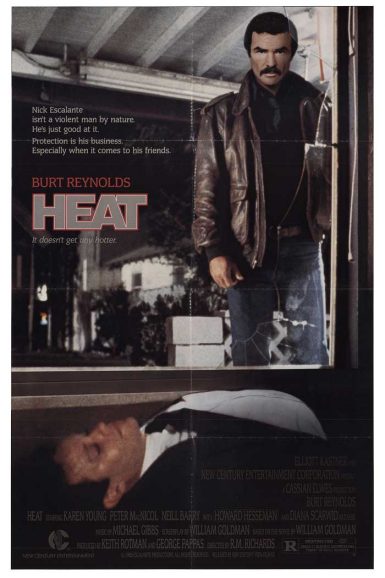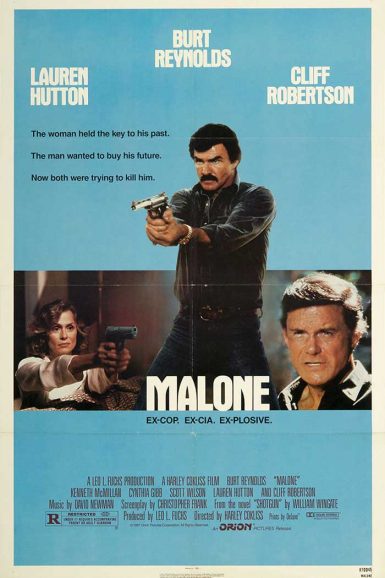 Malone
Determined to walk away from his job as a C.I.A. hitman and hit the Pacific Northwest in his '69 Mustang, Burt Reynolds is Malone (1987), a man whose grown weary of killing, but is warned by his handler and former flame Jamie (Lauren Hutton), that "nobody just walks away from 'the company'." After his car breaks down in a small Oregon town, he is welcomed in by the local mechanic and his daughter – Paul and Jo Barlow (Scott Wilson, Cynthia Gibb) – who invite him to stay in their spare room. Malone soon discovers that the town is being taken over by "land grabber" Charles Delaney (Cliff Robertson), who runs a white nationalist terror group and teaches a doctrine of hatred disguised as patriotism. Delaney sees Malone as a threat who needs to be eliminated and the two men head for a Shane-like showdown, but not before Malone violently takes on any of Delaney's thugs who poke the bear – including a crazed Tracey Walter as a brother dead set on revenge. Malone packs a Peckinpah like shotgun blast of action to the chest, and Burt Reynolds kicks enough ass to make Navajo Joe ride off smiling.
Director

Harley Cokeliss
Starring

Burt Reynolds, Lauren Hutton, Cliff Robertson, Kenneth McMillan, Cynthia Gibb, Scott Wilson, Cliff Robertson
Year

1987
Rated

R
Country

USA
Format

35mm
Running Time

92 minutes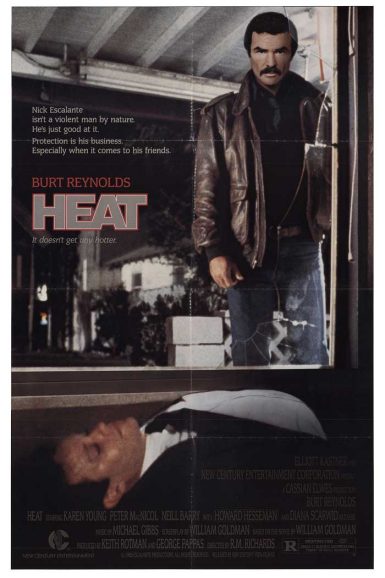 Heat (1986)
In Heat – if it happens in Vegas, Nick "Mex" Escalante (Burt Reynolds) probably knows about it. Nick's a Vietnam hero turned bodyguard – "Chaperone" in the Yellow Pages – who prefers using sharp objects over guns, and dreams of retiring in Venice, Italy – but has trouble staying off the blackjack tables. In a screenplay written by William Goldman (adapted from his novel), Reynolds trades in his bubble-gum chewing nonchalance for a nuanced swagger that's a little world weary, but all tough guy business when he has to be and he's great on every lens. Nick's not above taking a few body shots so a client can impress a girl, or give his new client and fast friend Cyrus Kinnick (Peter MacNicol) a "crash course in bravery" and he's definitely willing to exact revenge on mob-connected high roller Danny DeMarco (Neill Barry), who put his friend and lady of the evening (Karen Young) in the emergency room. When DeMarco decides to press his luck, and go after Nick with his own muscle, Nick just might need Cyrus to show if those bravery lessons have paid off.
Director

R.M. Richards
Starring

Burt Reynolds, Karen Young, Peter MacNicol, Neill Barry, Howard Hesseman, Diana Scarwid
Year

1986
Rated

R
Country

USA
Format

35mm
Running Time

101 minutes